'Lucifer' Star Tom Ellis 'Cannot Wait Until the People See This Episode'
Lucifer Season 5A ended with a heck of a cliffhanger that sparked anticipation for the second half of the season. The star of the show, Tom Ellis, stoked the excitement when he spilled details about an upcoming episode that he is eager to share with the audience.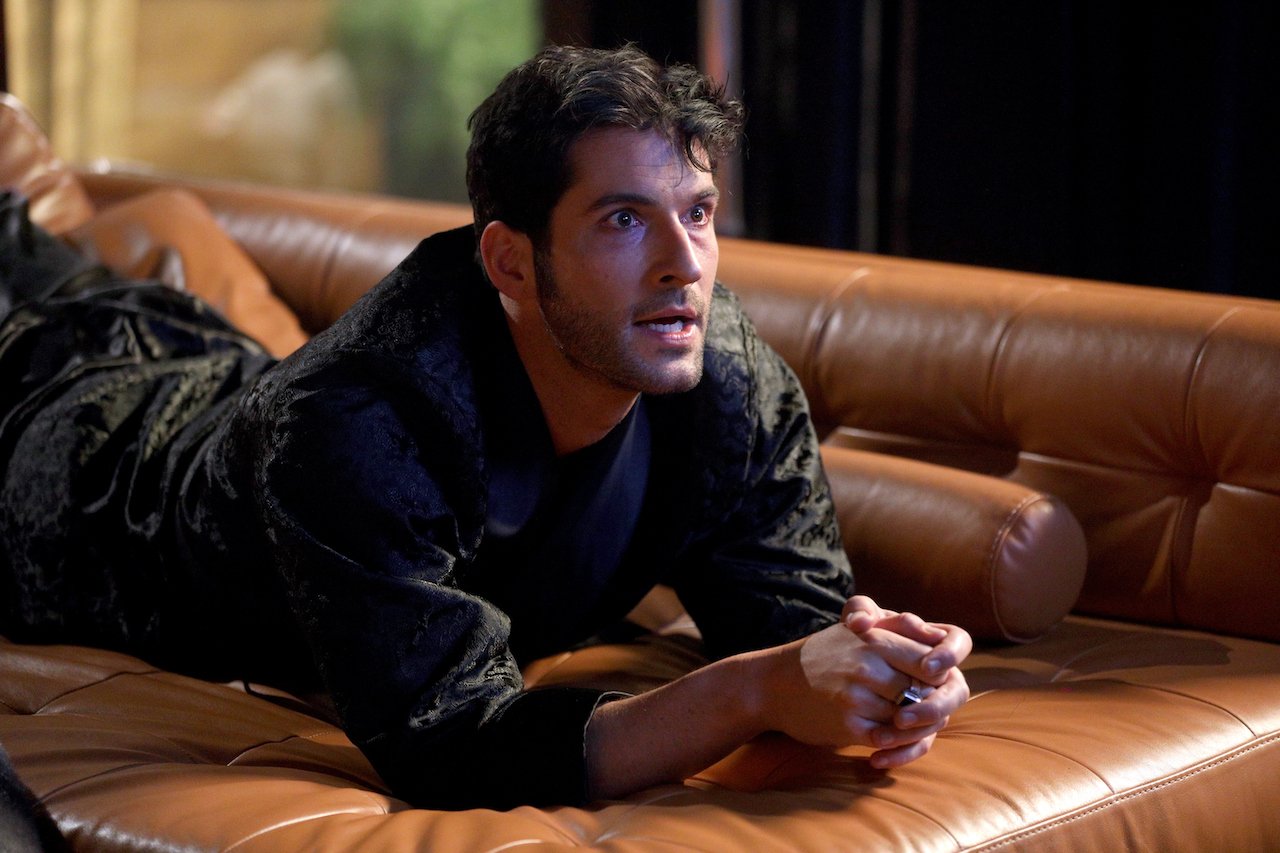 Tom Ellis dished details about a 'Lucifer' episode he 'cannot wait' for fans to see
In a behind-the-scenes video, Lucifer's cast spoke to Entertainment Tonight about the long-awaited musical episode of the show. During his interview, Ellis expressed excitement about bringing the very special episode to viewers.
"I'm having the time of my life," Ellis told Entertainment Tonight. "I cannot wait until the people see this episode." Luci-fans will have to patiently await the episode, which will air in the second part of season 5. But the Entertainment Tonight video blessed fans with a sneak peek.
Fans can catch a sneak peek of the musical episode
RELATED: 'Lucifer' Star Tom Ellis Shared a Sneak Peek of the Musical Episode Featuring Music From Queen
In Entertainment Tonight's Lucifer vignette, fans can catch a glimpse of one song and dance performance involving Ellis as Lucifer, Lauren German as Chloe, Kevin Alejandro as Dan, and Aimee Garcia as Ella.
In the sequence, the crime-solvers break into song and dance while investigating the murder of a referee. Football players, cheerleaders, and marching band members fall into step during the perfectly choreographed number. With the squad of dancers backing them up, the foursome delivers an epic rendition of "Another One Bites the Dust" by Queen.
About the spot-on song choice, Ellis noted, "There were like certain songs that came up when we knew what the situation was. For example, the song we're doing today is like, we were desperate to get this song and get it cleared and be able to use it because it's so perfect. And we did. That's the main thing. We started this going, 'These are the songs we want to do, and we probably won't get this, and we probably won't get that one. So, we'll have a backup.' We got all the songs we wanted."
There's a perfect explanation for why the 'Lucifer' characters break into song and dance
RELATED: 'Lucifer' Season 6 Black Lives Matter Episode Will Not Come From 'A Preachy Place,' Says Show Boss
Lucifer has wowed fans with individual vocal performances in the past, but this will be the first wall-to-wall musical episode. According to what Ellis and Garcia told Entertainment Tonight, there is a narrative explanation for the numerous musical performances.
"Well, it's been a long time in the planning actually, because it's been muted around since we've done a lot of music in the show," Ellis explained to Entertainment Tonight. "We did some dancing in [the] show last season. And people are like, 'Are you ever going to do a musical episode?' We always wanted to find a way to do it where it wasn't just, 'Oh, we're doing a musical episode.' There needed to be a reason for the music and the dancing to happen."
While Ellis remained mum about the plot details, Garcia was forthcoming about the storyline. "There's a good reason to break into song. It's because God's going a little schizo," the actor said in the interview. "He's playing puppet-master, and he's getting old, so stuff's getting a little janky." Until Lucifer returns, fans can catch up on Netflix.
RELATED: Why 'Lucifer' Star Tom Ellis Wants to Spend a Day With 'Mary Poppins' Icon Julie Andrews
Follow Erika Delgado on Twitter.