Does 'Lucifer' Star Tom Ellis Have a Wife IRL?
Lucifer is due to return to Netflix on Sept. 10, 2021. We know Lucifer and Chloe's on-screen love will be in full blossom this season, but what about the man behind the devil? Is Tom Ellis currently single, dating, or does he have a wife — and has he been married previously? Keep reading to learn more about the actor's romantic life behind the scenes.
Lucifer and Chloe Decker's relationship has heated up on the show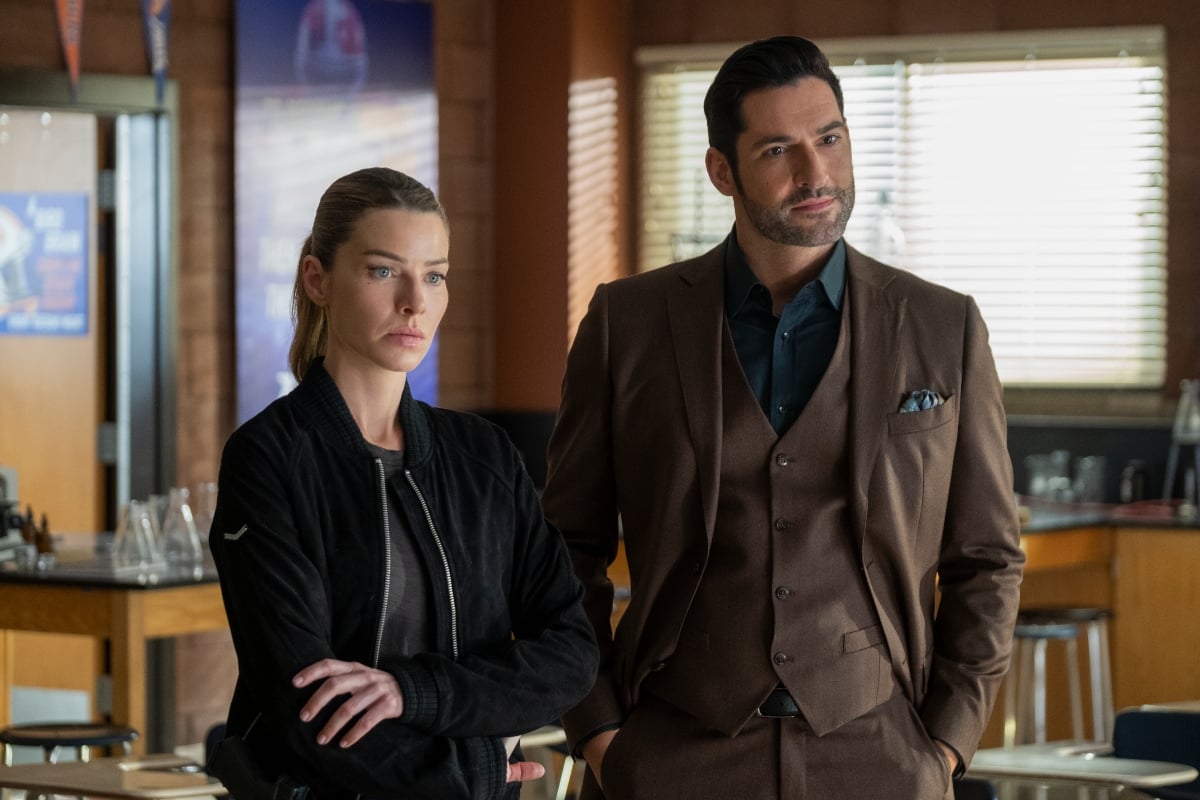 After abandoning his God-given role as the Lord of Hell, Lucifer decides to escape to the City of Angels — Los Angeles — and start a high-end, lavish nightclub called Lux. A good friend of his gets murdered and, wanting his revenge, he inserts himself into the investigation where he meets Detective Chloe Decker (Lauren German). While working with her, Lucifer learns she's immune to his devilish ability to make anyone tell him their deepest desires.
Throughout the series, they gradually grow feelings for each other. We spent a good portion of time waiting for Lucifer to tell Chloe those faithful three words. As Lucifer can never tell a lie, it wasn't until moments before his fiery death before he told her, "I love you," then giving his life so that Chloe's soul can return to heaven. 
In the last five seasons, we got to watch Chloe come to grips with the fact Lucifer was never lying about being the devil from the Bible. Especially after she got to see his demon face that he uses in Hell. At the same time, we saw Lucifer realize how "human" he truly is thanks to his relationships and his soul. 
Tom Ellis and his wife Meaghan Oppenheimer celebrated their second anniversary
In early June, Hello! reported that Ellis dropped a rare photo on Instagram from the wedding date to commemorate the occasion. The picture shows the pair embracing each other on a small wooden pier in front of a lake. There's a small paddle boat docked, a beautiful pattern of lily pads, and the vineyard of the Grassini Family Winery, where they held the ceremony. He captioned the picture, "Happy anniversary to my missing jigsaw piece. I love you more and more."
Ellis received many comments complimenting the couple and the scenery. His co-star Rachael Harris, who plays Dr. Linda on the show, posted, "What a beautiful day it was! Here's to a million more! Happy Anniversary lovelies." Another user said, "What a beautiful couple! I wish you all sorts of blessings! All love!"
Tom Ellis and his now wife broke the news of their engagement in 2017 with a post to Oppenheimer's Instagram. In it, she shows off her ring with the caption that jokingly asks, "Does this ring make me look fat?" Reportedly, Ellis proposed to her the day before her birthday, making both occasions all the more special.
Does Tom Ellis have children?
Yes, Ellis has children — but not with his current wife. Two of his children, Florence and Marnie, come from his previous 8-year marriage with actress Tamzin Outhwaite. Their relationship ended a year before Ellis reportedly started dating Oppenheimer. 
He also has another daughter. The oldest child, Nora, is from Ellis' previous relationship with an actress named Estelle Morgan. Her only film credit on IMDb is listed as "maid" in a movie called Amazing Grace that came out in 2006. 
Oppenheimer seems comfortable in her role as stepmom. She often posts pictures of Ellis and the girls on her Instagram. And she posted this on Twitter, referring to Marnie, "All our family and friends thinks it's bizarre how much she looks like I did as a little kid! And we have very similar personalities. But I think she also looks a lot like her beautiful mama."