'Lucky' Daniel Radcliffe Won the Part of 'Weird Al' Yankovic While He Was Still Playing Harry Potter
Singing a 1950s song on a British talk show might have been how Daniel Radcliffe as 'Weird Al' Yankovic in the upcoming biopic came to be.
Before he left Harry Potter behind, Daniel Radcliffe was carving a unique career path for himself. Radcliffe's parents initially discouraged his acting dream, but he did things on his terms once he finished playing Harry Potter. Yet if it wasn't for Potter and the endless onslaught of publicity appearances for the movies, he might not have been lucky enough to land the lead role in Weird: The Al Yankovic Story.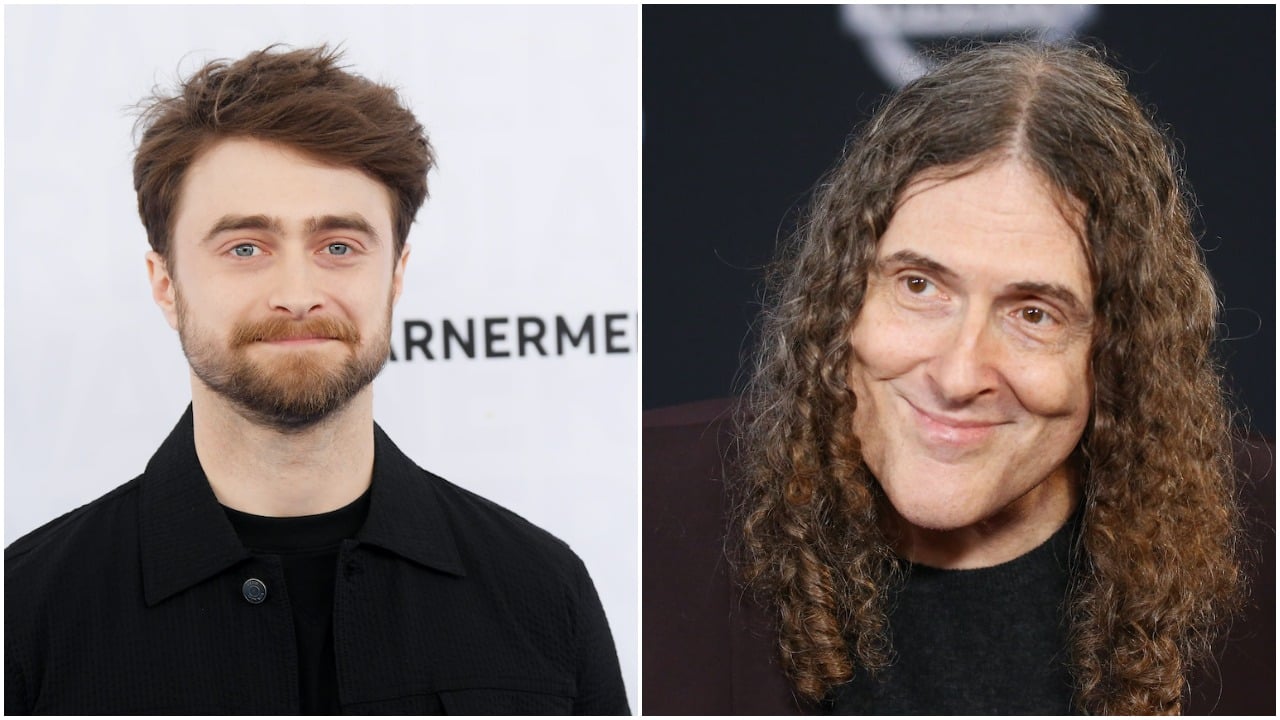 Radcliffe started carving a unique career path during his 'Harry Potter' run
While he was still busy making Potter movies, Radcliffe found time to add other lines to his resume. He starred in several productions of the play Equus, and he filmed December Boys during his Potter stint, per IMDb. 
Radcliffe's unique career choices didn't stop when he left the wizarding world. 
His first three post-Potter movies were the horror/drama The Woman in Black, Kill Your Darlings (in which he played beat poet Allen Ginsberg), and Horns. Amid that run, Radcliffe spent nearly a year on Broadway starring in How to Succeed in Business Without Really Trying.
Later, Radcliffe played a flatulent corpse in Swiss Army Man, an FBI agent attempting to infiltrate a neo-Nazi group in Imperium, and a man made to compete in a real-life battle to the death in Guns Akimbo.
In short, one could describe Radcliffe's post-Potter career as weird. Yet, Radcliffe as 'Weird Al' might not have happened if not for the franchise that made him a household name.
'Lucky' Radcliffe won over 'Weird Al' years ago and effectively won the role in the upcoming biopic
Radcliffe as 'Weird Al' Yankovic is officially in the works. The release date is unknown, but filming of the biopic, where he plays the famous funnyman, started in 2021. Yet the wheels got turning long before that.
As Radcliffe told Jimmy Fallon during a visit to the Tonight Show (via YouTube), he might have won the part of 'Weird Al' years earlier on another talk show.
During an appearance on The Graham Norton Show, Radcliffe sang "The Elements." The 1959 Tom Lehrer song lists the elements of the periodic table set to the tune of the "Major-General's Song" from The Pirates of Penzance by Gilbert and Sullivan. Apparently, that was enough for 'Weird Al' to know he'd found the perfect actor to lead his biopic film.
"When I talked to Al for the first time, I was like, 'I'm immensely flattered by the idea that you would pick me to play you, but, like, why me?' You know, I'm mystified but excited. And apparently so — like 13 or 14 years ago, I sang a version of a Tom Lehrer song on The Graham Norton Show in the UK. I sang 'The Elements' next to Colin Farrell and a very bemused Rihanna, who was just like, 'Who is this kid? And why is he singing all of the elements?' 
"And I guess Al saw that and was like, 'This guy maybe gets it.' And so [he] picked me. So I'm very lucky."

Daniel Radcliffe
That's Radcliffe's version of how he got the 'Weird Al' role. His timing is slightly off, though. 
Radcliffe sang "The Elements" during a November 2010 stop on Norton's couch, around the time Harry Potter and the Deathly Hallows: Part 1 hit theaters, which would have been roughly 11 years before he and Fallon discussed Weird: The Al Yankovic Story in 2021. 
Radcliffe playing the parody song superstar Yankovic might seem like a stretch, but he's something of an old soul.
The former 'Harry Potter' star is a bit of an old soul
'Weird Al' Yankovic shot to fame long before Radcliffe was born in 1989. The 60-something singer could be Radcliffe's dad, but Radcliffe's tastes are older than his age, and it's not just being a fan of Tom Lehrer.
His taste in movies skews toward the classics. One of his favorite films is 1946's Stairway to Heaven, starring David Niven. He's also a fan of 2001 teen rom-com Get Over It, but Radcliffe waxes poetic about Stairway to Heaven.
Though still quite a ways from his 40th birthday, Radcliffe felt old twice before reaching his fifth decade. Once was when he played Minecraft with his godson, and the other was when he saw Olivia Rodrigo at the White House and had no idea why she was famous enough to be there.
If Radcliffe has proven anything since leaving Harry Potter behind, it's that he craves eclectic material for his career. Radcliffe as 'Weird Al' seems like a perfect fit.