Luke Bryan's Estimated Net Worth Is Double Jason Aldean's
Learn what country stars Luke Bryan and Jason Aldean's estimated net worths are and how Bryan's is so much higher than Aldean's.
Country music stars are all about expressions of their feelings, like tributes, and their fans. Luke Bryan and Jason Aldean are no exception and the artists have built impressive careers. The award-winning musicians have millions of fans and some major hit albums. Luke Bryan and Jason Aldean are both very successful, but exactly whose net worth is higher?
Luke Bryan and Jason Aldean's net worth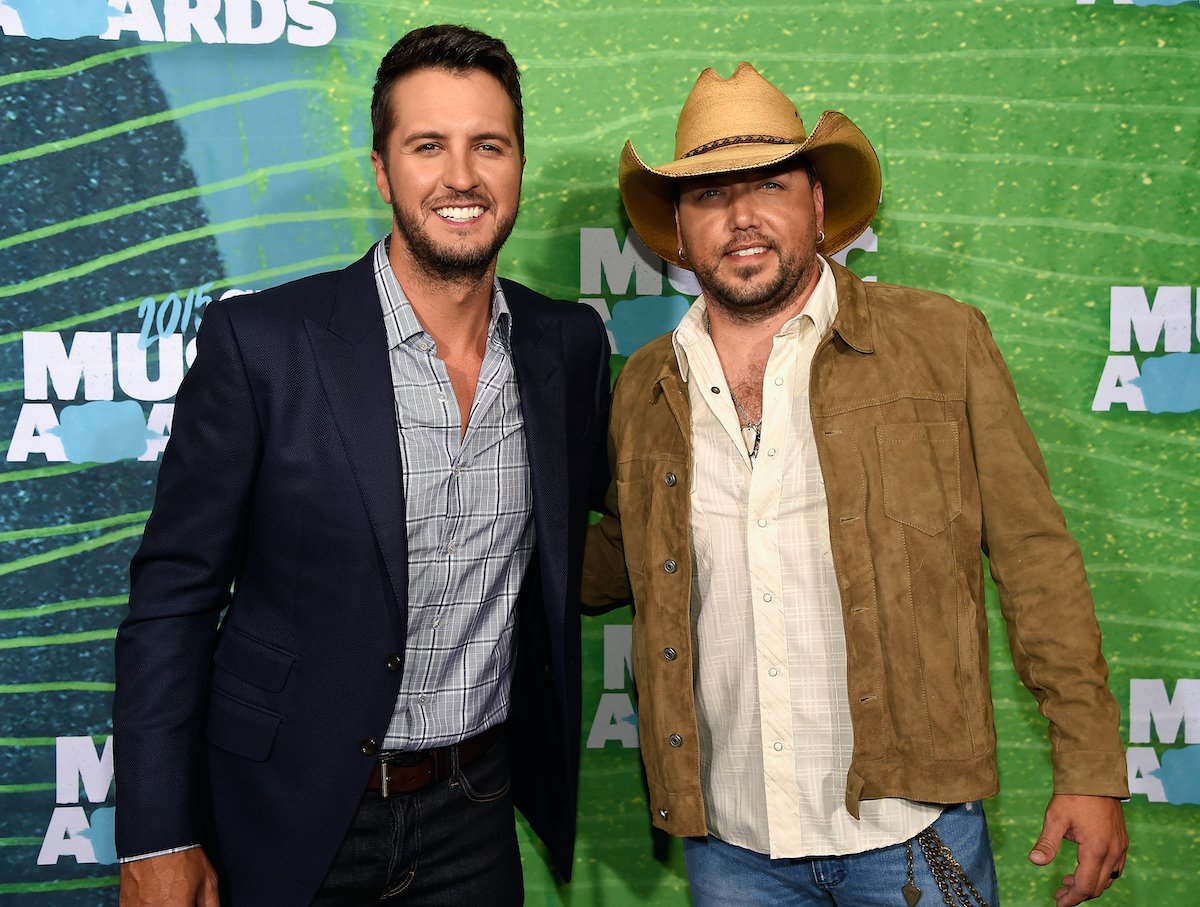 Aldean and Bryan both work extremely hard to write and sing their music, and both have exceptional talents. They both started at the bottom and worked their way up, hitting speed bumps along the way. So, what are the two country stars worth now?
Aldean is worth a whopping $80 million dollars according to Celebrity Net Worth. His career wasn't all roses and champagne though. He started his career by singing songs in a show in Atlanta where he was recruited to the Warner Chappel Music record label. However, they soon dropped him after.
Aldean was picked up by Broken Arrow Records after a disappointing four-year low. Aldean went on to produce a certified platinum album, Old Boots, New Dirt, in 2014. In 2015, Aldean entered his second and current marriage with Brittany Kerr and had two children with her. He has four children total between his two marriages.
Bryan's wealth isn't just from his singing like Aldean's. Bryan's net worth of $160 million comes from different endeavors. Bryan chose to go to a community college near home after a tragedy took his brother from him. He graduated with a degree in business administration. He went on to begin writing music for superstars Travis Tritt and Billy Currington.
During a performance in a club, he was offered a recording contract with Capitol Records Nashville. Since then, he and his wife, Caroline Boyer, have been balancing music writing, performances, and raising their two sons as well as their two nieces and nephew.
How is Bryan's net worth twice Aldean's?
Aldean is an excellent artist but Bryan has a leg up on the monetary income department. Bryan used his business degree wisely and is consistently one of the highest-paid artists in the world. For instance, between June 2019 and June 2020 he managed to earn over $45.5 million, according to Forbes.
During tours, Bryan charges at least $1 million per show. His performances are not the only thing that is earning him money. As a judge on American Idol Bryan earns about $12 million per year. The TV performance alone pushes him over Aldean's net worth, but he isn't done earning yet.
Jason Aldean and Luke Bryan are also co-owners of the show Buck Commander, a sister show to Duck Dynasty, according to Universal Music Group Nashville.
Despite the major difference in income, both stars have a busy home life, exciting career, and a bright future ahead. They both clawed their way out of tragedy and disappointment to make it where they are today, becoming an inspiration to their fans along the way.
Aldean and Bryan's awards
Even if their net worths are nowhere near close, the two country stars are rising through the ranks and making names for themselves. Aldean has earned six Academy of Country Music Awards, four Billboard Music Awards, and has been nominated for four Grammy Awards. Bryan comes close with his two Academy of Country Music Awards, nine American Country Awards, and one CMT Music Award. It will be exciting to watch these two stars as they continue through their careers!