Luke Combs Said He and Ed Sheeran Are 'the Duo Y'all Never Knew You Needed'
Country star Luke Combs surprised fans at a London concert by bringing friend Ed Sheeran on stage for a duet of Sheeran's song, "Dive." Combs called them "the duo y'all never knew you needed," but some were wondering how the whole thing came to be in the first place. And what else do the two singers have in common?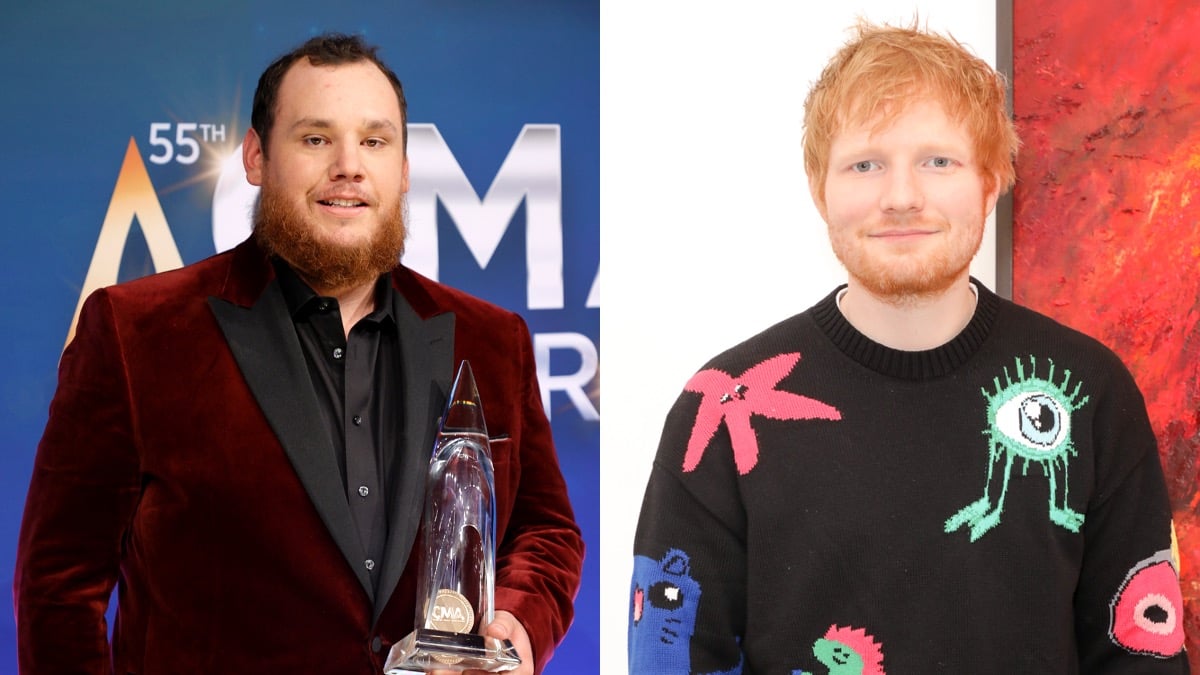 Luke Combs is a fan of Ed Sheeran and 'Dive'
Combs' surprise duet with Sheeran happened during C2C: Country to Country, a yearly festival in the United Kingdom that draws stars from Nashville. Of course, Sheeran is no stranger to country music, as he is also longtime friends with Taylor Swift. And, of course, he's also no stranger to the U.K.
And Combs has been covering Sheeran's "Dive" solo for years. But as all the planets lined up just right, a chance arose for a new friendship — and a memorable duet. So, as Combs told fans on Twitter, they are officially "the duo y'all never knew you needed."
Luke Combs said 'buddy' Ed Sheeran made their duet the 'coolest'
Combs does an impressive cover of Sheeran's song, so it's not too surprising it ended up on the British singer's radar. And fans who were lucky enough to see the show were treated to a beautiful duet, followed by a heartwarming embrace between Combs and Sheeran.
But lucky for the masses of fans who weren't there, Combs shared it all on Twitter. In a second tweet, he wrote, "Covered 'Dive' countless times, but this was by far the coolest! Thanks to my buddy [Ed Sheeran] for joining me on stage in London!!"
Along with that caption, he shared a video of their performance. Since, as he noted, he's covered the song so many times, fans were totally surprised when Sheeran joined him during the second verse.
But, while the audience went wild, one might guess Combs was the happiest person in the room while the "Shape of You" singer was on stage with him.
Ed Sheeran and Luke Combs are both family-oriented
It turns out Combs and Sheeran have more than a shared taste in music in common. Sheeran is already a father, and Combs is expecting his first child.
Sheeran married his wife, Cherry Seaborn, in 2019 and they welcomed a baby in 2020. He told People his daughter is "the most important" thing to him now, even before music.
"I just found that I really didn't have purpose outside of [music] because when I was giving myself fixed time of no work, I wasn't doing anything I enjoyed because I love doing music," he said. "And [being a dad] has actually given me purpose and something in life that's actually more important than my job."
Meanwhile, Combs married his wife, Nicole Hocking, in 2020 and they are expecting their first child in the spring of 2022.
"I don't want to be a dad that's not around or the dad that you see on TV and go, 'oh that is my dad, and that is where he is today I guess,'" he said per CMT. "Family is important to me. I'd like to be the guy throwing the football to them."
RELATED: Luke Combs Wants to Be a Dad That's Around for His Baby: 'Family Is Important'