What Did Macaulay Culkin Say About Having 'Asian Babies' With Brenda Song?
Macaulay Culkin and Brenda Song welcomed their first child in April 2021. So the 'Home Alone' star's previous comments about having kids resurfaced. What did he say?
For those who didn't know that American Horror Story: Double Feature star Macaulay Culkin and The Social Network actor Brenda Song are a couple, the announcement of their first child together was a bit shocking. But Culkin's been talking about their future family for years. Learn what he previously said.
Macaulay Culkin began dating Brenda Song in 2017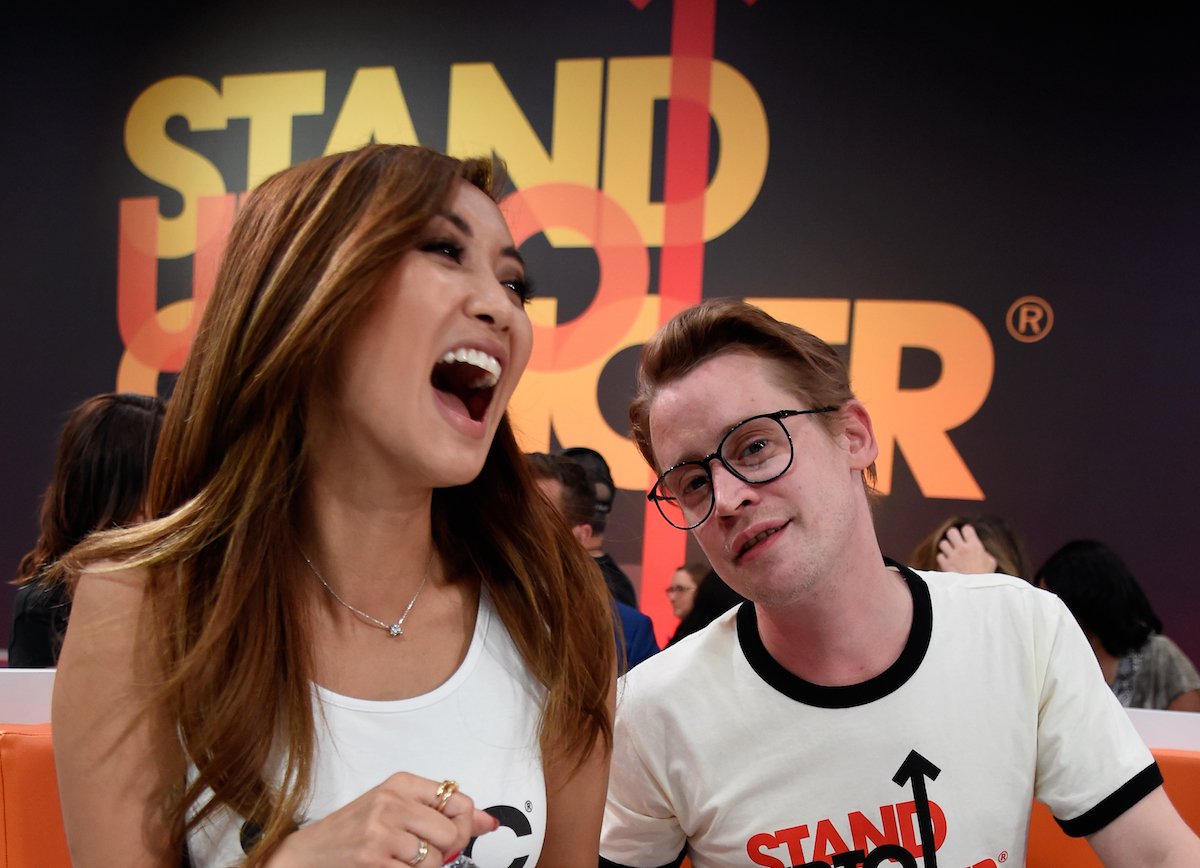 Culkin and Song met while filming the movie Changeland. The flick, released in 2019, was written, directed, and produced by Seth Green. The actor, who also stars in Changeland alongside Breckin Meyer, was friendly with Culkin and Song before shooting and brought them onto the project.
Changeland itself didn't become a big success. But it created a celebrity relationship that has largely flown under the radar. Song recurred in the ABC drama Station 19 and starred in the Hulu series Dollface, while Culkin's kept a lower profile, making occasional appearances and focusing on his podcast, Bunny Ears.
They bonded over being child actors
Culkin and Song have a lot in common. Both began acting at a young age. The former starred in '90s films like Home Alone and Richie Rich. And the latter became famous in the '00s for her lead role in the Disney Channel series The Suite Life of Zack and Cody. This brought them together.
"Child actors, we don't even get to talk about it, you just look each other in the eye, and you nod, and we know," Song told ET in 2019. On his 40th birthday, she deemed Culkin "My unicorn that I never thought could exist." She added, "I am [the] luckiest person in the world because I am loved by you."
Culkin and Song's first child, Dakota, was born in April 2021
Following a few years of dating, it became apparent to those in the know that Culkin and Song were in it for the long haul. "I have a pretty little family — a pretty girl, a pretty dog, a pretty cat, and all that stuff," he said on The Joe Rogan Experience in August 2018. "We're doing the house thing and all that kind of stuff."
Culkin and Song expanded their family in April 2021. A few days after their first child's birth, they went public with the news. The pair announced their son, Dakota Song Culkin, to the world. Dakota is named for Culkin's older sister, who died in an accident in 2008.
Culkin's previous comments about having kids with Song
They didn't announce that Song's pregnancy. But the couple made their intentions for starting a family clear before Dakota's birth. In fact, Culkin's comments on Joe Rogan's show continued. The problem? The way he spoke about race didn't sit well with many of those who heard it.
"I'm going to have some pretty babies," Culkin began. "[Song's] Asian, so I'm going to have tiny little Asian babies. It's going to be adorable — a bunch of Sean Lennon's running around the house, that's what I'm looking for," he finished, referring to the son of late Beatles musician John Lennon and Yoko Ono.