Machine Gun Kelly Called Out This Tiny Detail in Megan Fox's Instagram Photo
Megan Fox and Machine Gun Kelly haven't been hiding their affection for each other. They have spoken about their relationship in several interviews, and they often interact with one another's social media.
Recently, MGK pointed out the smallest detail in his girlfriend's Instagram post that has fans reeling. Here's everything you need to know about Fox's photo and Kelly's comment. 
Machine Gun Kelly and Megan Fox have been dating for over a year
Megan Fox and Machine Gun Kelly met in March 2020. They were working together on a movie, Midnight in the Switchgrass. Fox was still married to Brian Austin Green, the father of their three children, and Kelly was also in a relationship.
Since then, the two separated from their former partners and quickly started dating each other. For the last year and a half, they have made headlines for their PDA photos and shutting down red carpets.
The couple has never been afraid to flaunt their love and attraction for each other, and their recent exchange on Fox's Instagram proves it.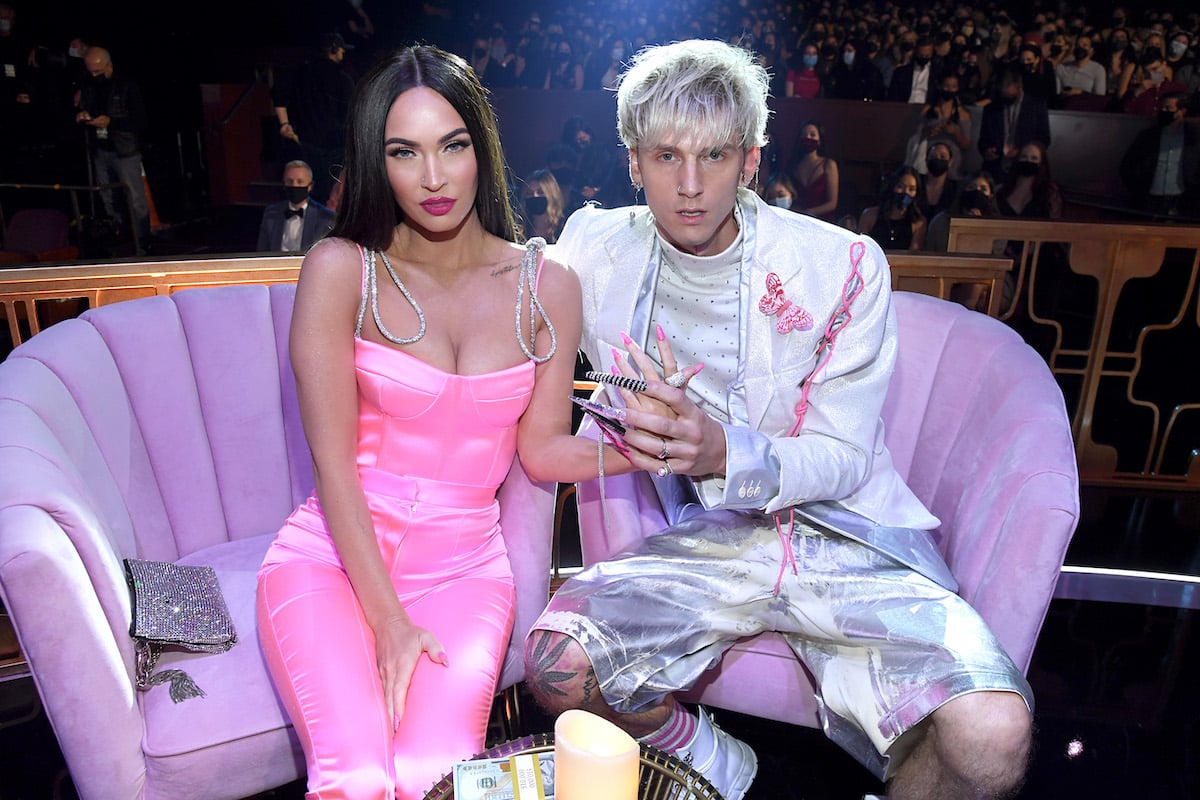 Megan Fox posted a photo of herself going to the grocery store
On August 31, Fox posted a series of photos of herself on Instagram. In the photos, Fox is wearing a two-piece denim set with a lime green top and matching vibrant bag. She walks casually down the street toward the camera in high heels. 
She captioned the post, "This is how I go to Erewhon now. Let's talk about it." Erewhon is a grocery store in California. The caption could be a cheeky reference to Machine Gun Kelly's song "Rap Devil." 
On the track's chorus, the musician raps, "I'm sick of them sweatsuits and them corny hats, let's talk about it; I'm sick of you bein' rich and you still mad, let's talk about it; both of us single dads from the Midwest, we can talk about it; Or we could get gully, I'll size up your body and put some white chalk around it."
The song was a direct response to Eminem's "Rap God" and a crucial part of the feud between the two rappers. 
Fox's caption could also be a reference to how the public wants to talk about everything she says, wears, and does. She might be pointing out the scrutiny she's constantly under, especially regarding her relationship with MGK.
Machine Gun Kelly commented on his girlfriend's photo
Megan Fox's boyfriend, Machine Gun Kelly, was quick to acknowledge her photo. On the same day she put the photos on Instagram, he commented, "what aisle are you gonna be in 😍🧐 i like your lock screen." Kelly pointed out a tiny detail that most fans probably missed. 
In the final photo of the series, Fox holds her cell phone in one hand. She angles her phone slightly toward the camera, giving viewers a glimpse of her illuminated screen. If you look very closely at the photo, you can just barely tell that Fox's lock screen is a photo of Kelly.
Either the rapper and actor was paying meticulous attention to his girlfriend's photos, or he already knew about her lock screen to call attention to it. Either way, Kelly made sure to compliment his partner and let the world know she is his in a single comment.