Machine Gun Kelly Used To Have a Poster of Megan Fox in His Bedroom, Now They Shut Down Red Carpets Together
Machine Gun Kelly and Megan Fox have been the talk of the internet in recent weeks, but the two have frequently been headline fodder for tabloids since going public with their relationship in 2020.
They recently found themselves at the center of attention after Fox revealed that the two had gone to Costa Rica for a three-day ayahuasca ceremony that took her into "hell for eternity."
Now, Kelly is the topic of discussion due to admitting that he used to have a poster of Fox on his bedroom wall when he was a teenager back in high school.
Machine Gun Kelly dreamed about getting with Megan Fox when he was a teenager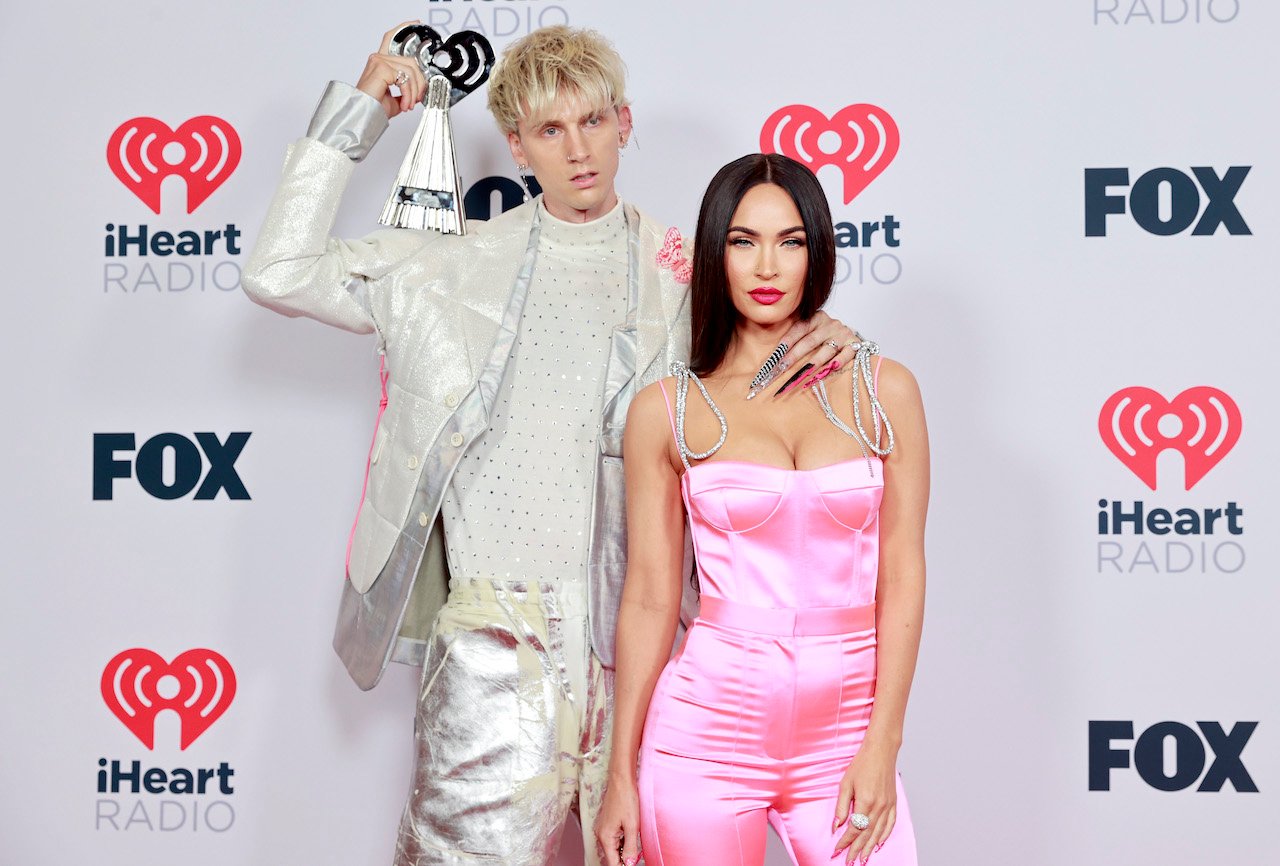 Kelly revealed that he used to fantasize about his current girlfriend during a recent interview with GQ magazine. Now, almost 15 years later, Fox is on his arm when he attends events such as the Billboard Music Awards. 
"You know what the dream was? It was exactly what happened to me [this weekend], which was to go to an awards show, shut down the carpet, go onstage, accept an award," he said.
Their appearance at the 2021 Billboard Music Awards turned heads
Speaking on the Billboard Music Awards, Kelly noted that all of the media attention he received had little to do with his music or his award, but everything to do with he and Fox's red carpet appearance.
"It has nothing to do with the award. I saw a British GQ article that came out this morning that basically was like, 'Despite the fact that BTS was there, The Weeknd was there, Drake was there, the talk of the show was [us].' That overzealous, overconfident 15-year-old must have known that it was attainable, even though everyone else was like, 'You're out of your white-boy-rapping mind.' No one is sitting in math class thinking that [the next] Drake is sitting next to them," Kelly said.
Machine Gun Kelly used to keep a poster of Megan Fox in his bedroom
During the same interview with GQ, Kelly asked Fox — who was in a nearby room — which poster of hers was the one that used to adorn his bedroom wall. "It was the GQ poster, right?"
The image was indeed from a GQ shoot Fox had done around that time he was in school, which Kelly described as "some full-circle s—."
Megan Fox says Machine Gun Kelly is her twin flame
Kelly's admiration for his partner is far from one-sided. During a separate interview with People magazine back in 2020, Fox stated that the two had a deep spiritual connection.
"I knew right away that he was what I call a twin flame. Instead of a soul mate, a twin flame is actually where a soul has ascended into a high enough level that it can be split into two different bodies at the same time. So we're actually two halves of the same soul, I think. And I said that to him almost immediately, because I felt it right away," Fox said.
Fox and Kelly both star in the upcoming film Midnight in the Switchgrass, set to release on July 23. 
RELATED: What Is Megan Fox and Machine Gun Kelly's Age Difference? Why She Told Critics to 'F— Yourself'