Machine Gun Kelly's Name Has a Real Gangster History
Machine Gun Kelly may be in the headlines for his relationship with Megan Fox, but the artist has been on the music scene since 2012. He earned his first Billboard number one for his Tickets to My Downfall album, growing his fan base and attracting fresh attention from those unfamiliar with his work.
Between that and his entry into the acting world, some may be curious about the origin of his name. Modern Machine Gun Kelly's real name is Richard Colson Baker, but his stage name belonged to an actual gangster.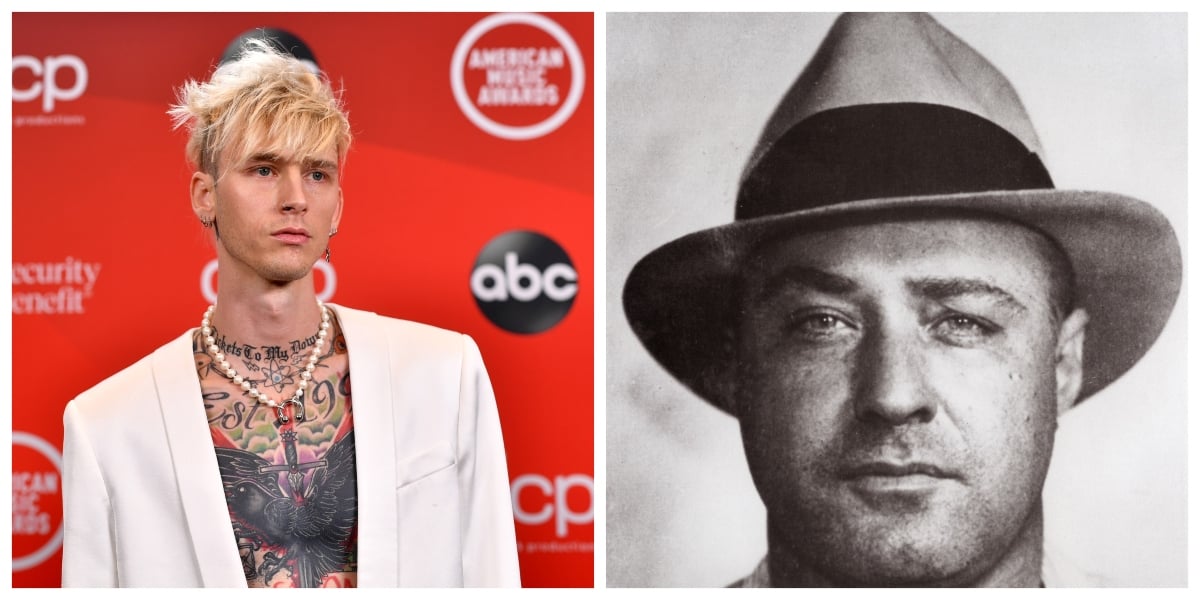 Machine Gun Kelly's wife gave him his name
Before going to prison for a kidnapping heist, George Kelly Barnes was a salesman and then a bootlegger. He married Kathryn Thorne under the name George Kelly, and it was she who goaded him into becoming a career criminal. Per the FBI, she nicknamed him "Machine Gun" and gifted him with the actual weapon.
At first, he stuck to running his illegal alcohol sales, but Kelly also got into robbery. It then escalated to kidnapping.
RELATED: Machine Gun Kelly and Travis Barker Tease New Video for 'Concert for Aliens'
Original Machine Gun Kelly was on the FBI's 'Wanted' list
In July 1933, the FBI conducted an interstate investigation into the kidnapping of two wealthy men who were taken at gunpoint in front of their wives. According to FBI files, one of the assailants had a machine gun and the other a pistol, and they took both men off the front porch of an Oklahoma City home.
One was released after the intended target, Charles Urschel, was determined and the kidnappers kickstarted their ransom plot. After nine days and a $200,000 ransom, Urschel was released. Behind the scenes, the FBI suspected George Kelly and his wife, Kathryn Thorne Kelly.
Kelly had already served a prison sentence for bootlegging and was living a life of luxury with his wife. Per the FBI, they had no documented source of income. But this case led to their undoing as eventually, more than 20 people were convicted in connection to the crime. And they were the masterminds.
After FBI investigators hauled in accomplices,—some willing, some unknowing—the Kellys were still on the run. They did, however, manage to send threatening letters to the victims, witnesses, and prosecutor, making them a top FBI priority. They were captured in September 1933 in Tennessee.
It was discovered they distributed some of the traceable ransom money among their cohorts, put some in the bank, buried a portion, spent some, and kept a stash on their person.
The Kellys were convicted and sentenced to prison in October 1933. George "Machine Gun" Kelly died in the penitentiary in 1954.
Modern-day Machine Gun Kelly says he paid for his name
In an interview with Howard Stern in September, Machine Gun Kelly said he paid a DJ/actor $1,000,000 to use the name.
The owner of the moniker had a lengthy career in radio, television, and film that began in the '70s. His credits include a role in 1976's A Star Is Born and a stint as an announcer for Wheel of Fortune.
Rapper/rocker Machine Gun Kelly told Stern he's been going by the name since age 15, but once he shot to fame, he had to make it official.