'Mad About You': Could Paul and Jamie Buchman Really Afford Their Manhattan Apartment?
Mad About You returned for a reboot on Spectrum. The original series ran from 1992 until 1999, and followed the lives of Paul and Jamie Buchman as they navigated married life in New York City. The series, which was sandwiched in with power-hitters, Seinfeld and Friends, was a hit back in the 1990s, but was it realistic? Could a documentary filmmaker and a public relations specialist, turned student, turned business owner make ends meet in the city that never sleeps?
How much money would Paul and Jamie make if they were real people?
During the run of Mad About You, Paul worked as a documentary filmmaker. Working, seemingly, freelance, Paul's actual salary is hard to pin down. Ziprecruiter notes that filmmakers have a wide salary range. Some individuals in the field make as little as $20,000 a year, while others make as much as $140,000. Assuming Paul was reasonably successful, he could expect to make, on average, about $62,000 a year today.
Jamie, who attended Yale University, found herself working in public relations for a private agency. She eventually was promoted to regional vice president. Someone in Jamie's position could expect to earn over $140,000 a year today. That isn't the job Jamie kept for the duration of the series, though. She eventually quits after her boss refuses to acknowledge her talents. She goes on to start her own agency.
The Buchmans, however, existed on television from 1992 until 1999. In 1992, Jamie would have likely earned around $50,000 if all things are equal. Paul, on the other hand, was probably earned around $27,000.
How much would Paul and Jamie's apartment cost?
When it comes to apartments belonging to TV characters, Paul and Jamie's living space seemed pretty realistic, at least in terms of its layout. The building used in the series is located on the corner of 5th Avenue and East 12th street. Located securely in Greenwich Village, the building is just minutes from Union Square, Washington Square Park, and a plethora of eateries.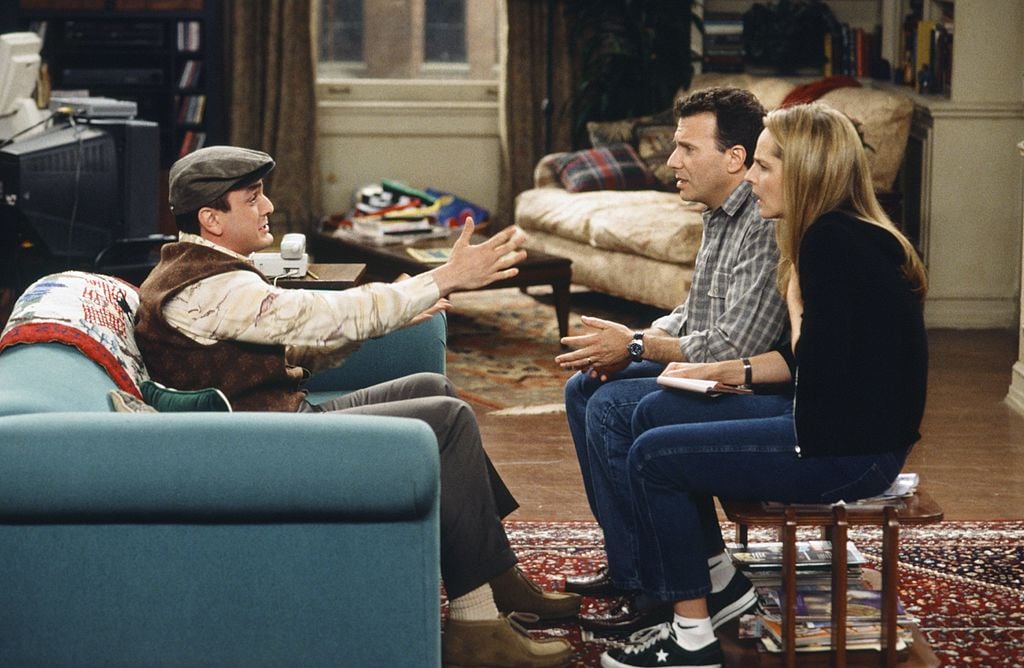 Its location is coveted, and its price point matches. Currently, the building houses 89 luxury co-op units. The building's amenities include a doorman, a fitness center and private storage, according to Street Easy. Sale prices range from $1 million for a low-level one-bedroom, up to $4 million for a larger unit on an upper floor.
Paul and Jamie rented their unit on the 11th floor. Today, an apartment like Paul and Jamie's would cost about $4,000 per month. The Buchmans, however, lived in apartment 11D in the 1990s. In 1992, when the series began, the average rent on a one-bedroom apartment in Manhattan was $1,500, according to The New York Times.
Could they afford their lifestyle?
If Paul and Jamie earned around $77,000 per year back in 1992, they likely could have afforded their rent without much trouble. Together, the Buchmans' pay, after taxes, would have been around $5,000 per month. Assuming they paid $1,500 in rent, an additional $50 a month for electricity, and an additional $30 per month for cable, the duo were left with about $3,300 per month. If you add in a dog walker, at about $200 per month, they still had $3,000 a month to play with.
The young couple didn't have a car payment or insurance to worry about, and it was stated in the series that Jamie's parents paid for her Yale education. Assuming Paul didn't go into debt for his education, the only additional bills the couple would have amassed was basic food and dry cleaning.
Jamie did have a propensity to hand over cash to her troubled sister, Lisa Stemple, so it's possible a portion of the couple's savings went to support the wayward Lisa. Either way, it's safe to say Jamie and Paul could afford their bills if they were able to snag an apartment in such a prime location for $1,500 per month back then.