Why 'Mad Men' Star January Jones Will Likely Never Answer This 1 Question (So Don't Ask)
January Jones played a number of roles before landing Mad Men, which catapulted her into a household name. Jones played Betty Draper from 2007-2015, though the show is just as popular today. If there's one thing Jones wants you to do, it' focus on her work. That said, read on to discover the one thing you shouldn't ask the Spinning Out star.
Fans don't always respect boundaries with January Jones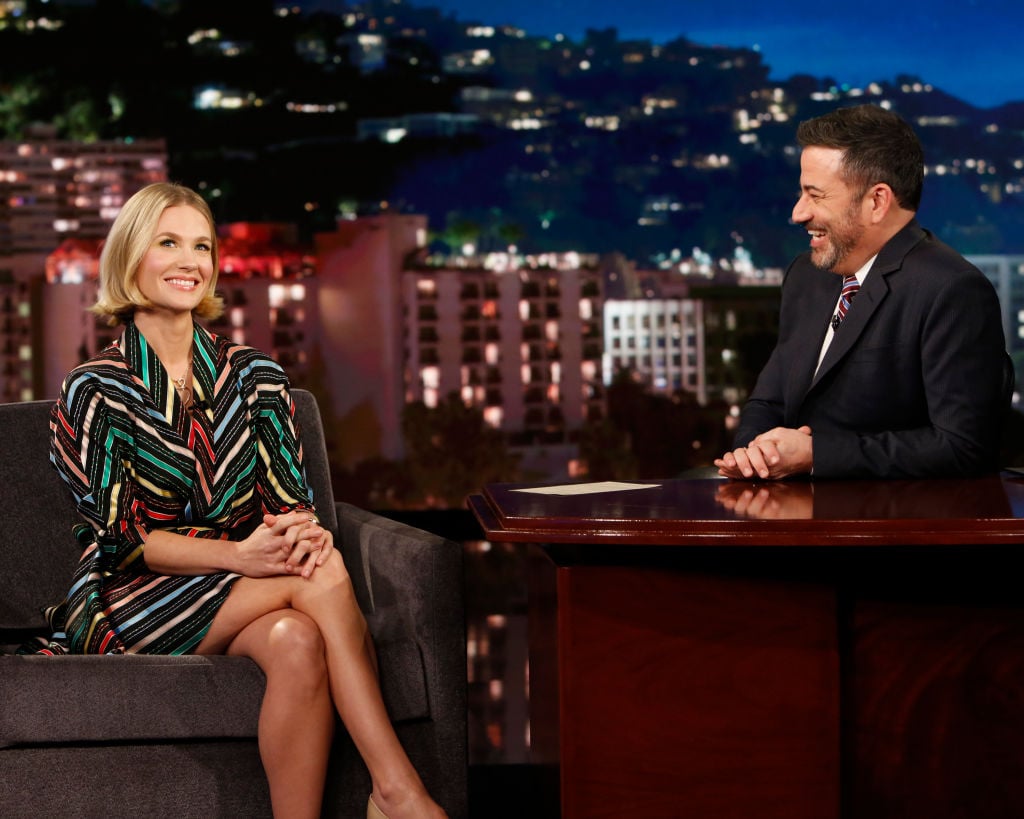 Actress, January Jones, started her career in 1999, but she's most known for her role on Mad Men, opposite Hamm, Christina Hendricks, Elizabeth Moss, and more.
After the first two seasons, Jones received backlash from fans who didn't take to Betty's changes as she transitioned away from her husband, Don (Hamm).
"The first couple seasons, people were very empathetic and felt bad for her … and was like 'Poor Betty' and people would come up to me and feel bad for me," she told ABC News. "Once she left Don and gained her independence and started speaking out for herself, started to empower herself…people hated her."
She explained how fans approached her on the street to declare their dissatisfaction saying they were "mean" to her. She added that by the time Betty gained weight later in the series, fans sympathized again.
"I'm sort of sick of defending her, I love her and I'm sad I'll never get to speak for her again because she's brave in a way I'll never be," she said. "She's seriously flawed too but we all are."
Jones has said in other interviews, she does prefer to keep the focus on her career, as opposed to her personal life. Still, some insist on asking the kinds of questions Jones may never answer (and doesn't have to).
Jones was involved in a hit-and-run in 2010
According to TMZ, Jones was involved in a Los Angeles car crash after watching a basketball game. That June 2010 incident still follows Jones today due to the call she made immediately afterward.
The bizarre accident, in which she allegedly struck three parked vehicles, then fled on foot, continued. The site reported Jones left her license with a witness, called 911 from her house, then and returned wearing a different set of clothing. She reportedly told the police the accident was caused by paparazzi following her.
From home, Jones also made another call — to celebrity chef, Bobby Flay. One witness questioned Jones's sobriety while Flay explained he'd only just met Jones that night. He claimed he gave her his number after they spoke about remodeling her kitchen and that he had no idea why she'd call him after something so terrifying.
Many rumors circulated, especially since Flay and his [now] ex-wife, Stephanie March, already had their fair share of marital troubles. Flay's divorce wasn't finalized until 2015 but amid Jones's crash, headlines of an affair with Jones spread.
March and Flay fought it out in court, but in September 2011, Jones gave birth to a baby boy, Xander Jones.
Here's the 1 question never to ask Jones
Because of the timing between that car crash, the curious call to Flay, and the birth of her son a year later, many are tempted to ask Jones about the paternity of Xander. Don't.
"It's just not something the public needs to know. I don't divulge my sexual preferences. There are parts of your life — no matter what your job — that should remain private," she said in a 2013 interview.
Flay isn't the only name some have speculated as Xander's father. SNL alum, Jason Sudeikis, X-Men: First Class director, Matthew Vaughn, and actor, Michael Fassbender, have remained the top suspects among theorists. Jones refuses to confirm or deny any rumor related to Xander's biological father, and we can't blame her.
"Other actors advised me to keep certain things close to the vest. When you become a public figure people want to know everything about you, and then [they] pick it apart — it becomes negative. When my son asks those questions, I want him to [hear it from me]. I don't want him to be able to Google it."
Parents everywhere might agree that Jones protecting her son from potential emotional pain is totally relatable. That aside, Jones said she wants the focus to be on her projects.
"As an actor, if people know too many things about you they won't believe you in a certain character," she said. "You don't want people to have a preconceived notion of who you are."
As for any misgivings about choices made, Jones takes it all in stride.
"I don't believe in regret. I just try to be a better person. Try to be a better mom," she told Red. She added that her son is surrounded by positive male role models and she doesn't "need" a partner.
"It would have to be someone so amazing that I would want to make room. Someone who would contribute to my happiness and not take away from it."
Xander is eight-years-old now. Despite the unforgiving news cycle, Jones is doing what's best for her, and Xander.