'Mad Men': What Is Betty Draper Actor January Jones Doing Now?
Life was very different in the 1960s. While young people protested the Vietnam War seeking peace and love, married housewives across the country struggled to find their identities. No show portrayed this attitude as appropriately as Mad Men. 
The critically-acclaimed AMC television series followed the lives of young advertising executives who believed a woman's place was in the home. The show's most tragic character, Betty Draper, played by January Jones, is the epitome of everything wrong with that way of thinking.
Brilliantly playing the role for seven seasons, the quintessential wife and mother went on to portray similar characters on other projects.
'Mad Men' brought attention to the way women were treated in the '60s
Mad Men was one of the first original series to be produced by AMC. Its success paved the way for other iconic programs such as Walking Dead and Breaking Bad. 
From 2007 until 2015, the series accumulated 116 Emmy Award nominations, winning 16 times. The long-running show focused on the fast-paced lives of New York advertising executives during a time that men ruled the workplace.
Jones plays an unhappy housewife, struggling to find her identity as she maintains an image of perfection. Married to the show's main character, Donald Draper (Jon Hamm), she strives to make others believe she has a perfect life.
The picture-perfect beauty is fixated on her appearance and comes off as icy and unapproachable. Her vulnerabilities are exploited by her womanizing husband, who is frustrated by her dissatisfaction.
Fans of the show will never forget when Jones grabs a shotgun and takes target practice on the neighbor's pigeons to let out her aggression. The scene is symbolic of her attempting to gain power and take control of her life.
January Jones had to deal with a philandering husband on 'Mad Men'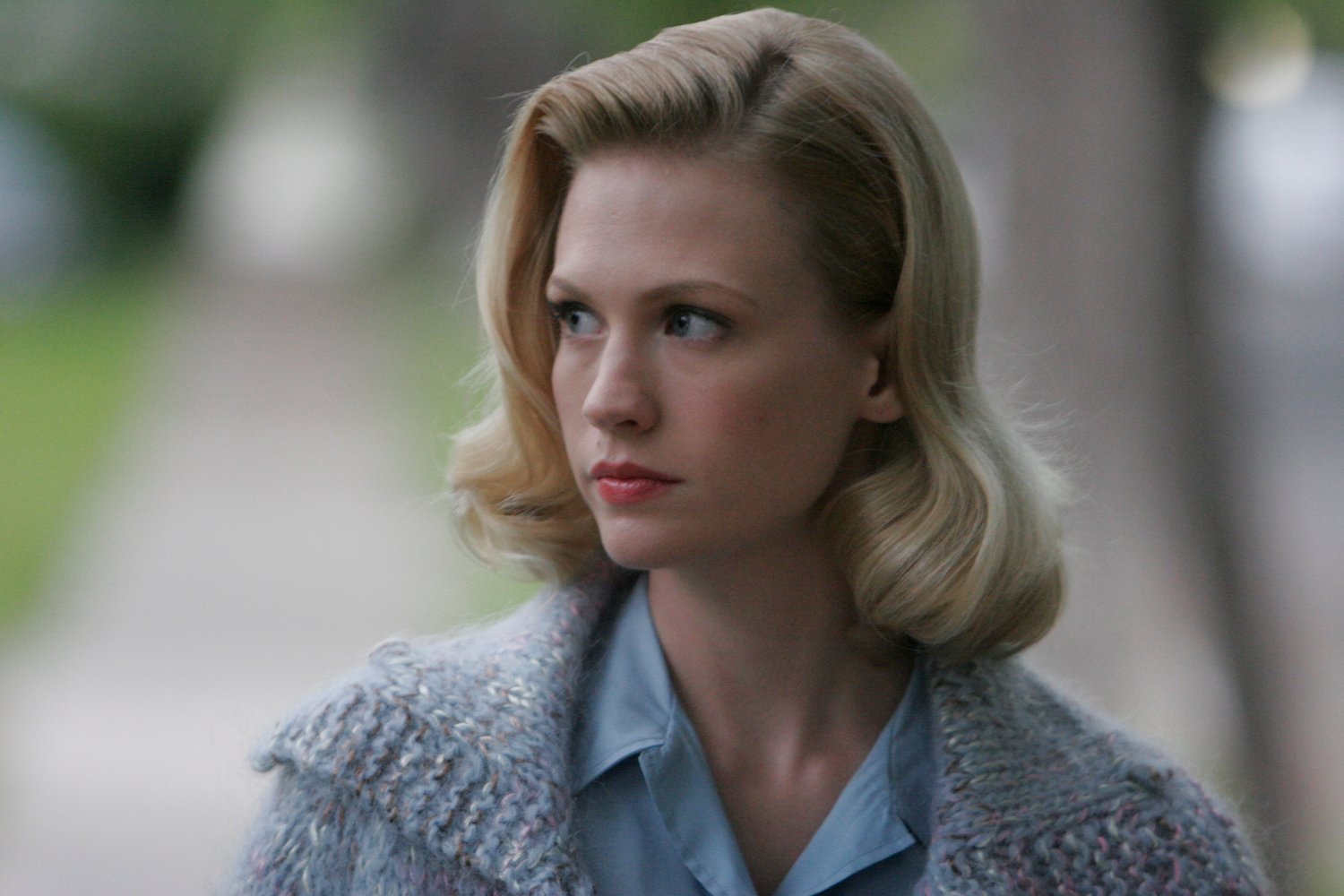 The distracted housewife cherishes her physical beauty above all else, even her children. Her philandering advertising executive husband has made her believe that her only worth is her beauty.
The handsome couple appears to have an idyllic life, but nothing could be further from the truth. Despite how good they look together, Draper has an abusive relationship with her husband and children. She wants the world to believe she has it all together but secretly hates being a mother and the work that comes with being the consummate housewife.
Aware that her appearance is her most valuable asset, Draper must find a way to overcome her feelings of inadequacy. Esquire points out that despite her flaws and constant struggles, "Draper was truly a force to be reckoned with."
January Jones is 'Spinning Out'
The Mad Men actor started gaining traction in the industry in 2001 when she played a beautiful seductress in the film Bandits. She went on to land minor roles with some of Hollywood's biggest talent. It wasn't until 2007, when she won the role of Betty on Mad Men, that she started to become a household name.
Jones received two Golden Globe nominations and an Emmy Award nomination for Outstanding Lead Actress in a Drama Series in 2010 for her role as Betty Draper.
IMDb said, "Her cool, Grace Kelly-ish blonde ice queen looks – counterpointed by her soul burning in her bright blue eyes – have established her as a retro icon of the 21st Century."
When Mad Men finished filming in 2015, Jones portrayed Melissa Chartres on the Fox comedy series The Last Man on Earth until 2018. She went on to work on the television series The Politician and is currently playing Carol Baker in the Netflix original series Spinning Out. 
The series focuses on Jones' character, who is the mother of two competitive figure skating daughters. According to Deadline, "Carol fiercely pushes the girls to become Olympians to fulfill the dream she could never achieve herself. Simultaneously, she struggles with personal demons that threaten to ruin her relationships with her daughters."