Maddie Ziegler Recalled Millie Bobby Brown's Constant Pep Talks
These days Millie Bobby Brown is famous in her own rite. However, before she landed her role as Eleven in the wildly popular Netflix show, Stranger Things, she was just a normal preteen. Before becoming a celebrity herself, Brown was a bit starstruck by well-known figures. One person whom she was particularly enamored by was Maddie Ziegler.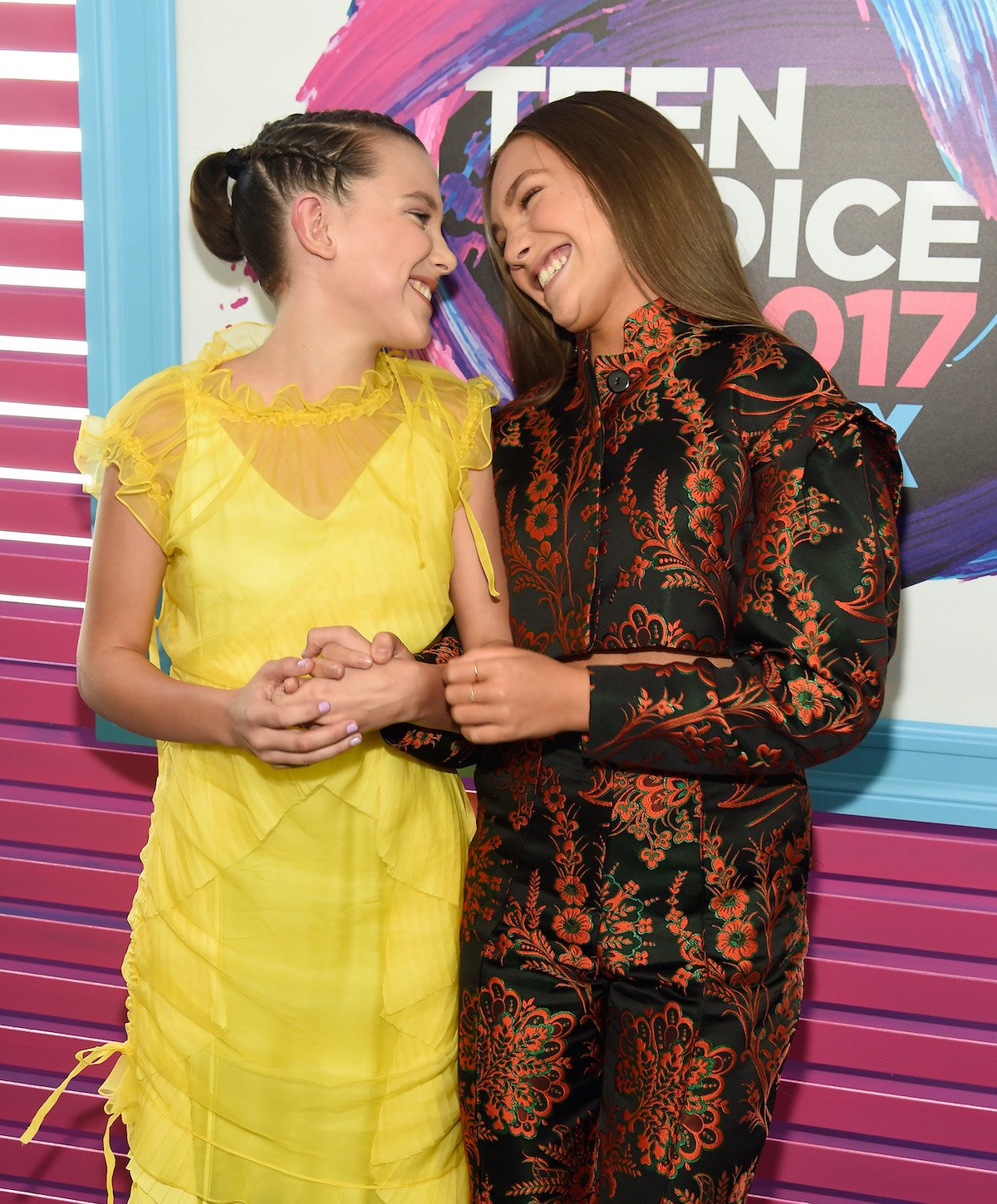 Ziegler, of course, became a household name thanks to her appearances on the hit reality TV show, Dance Moms. The West Side Story actor developed a reputation for telling complex narratives through dance and winning competitions. It wasn't long before she caught the eye of Australian singer, Sia. And once Ziegler began appearing in Sia's music videos, she became a bonafide celebrity with millions of fans.
How did Millie Bobby Brown's friendship with Maddie Ziegler begin?
Brown was certainly a fan of Ziegler's and was bubbling over with enthusiasm when she met the dancer at a taping of So You Think You Can Dance: The Next Generation. After their chance meeting, Ziegler followed Brown on Twitter and the pair struck up a fast friendship. It wasn't long before they were having sleepovers, interviewing each other, attending award shows together, and more. Of course, a lot of their friendship was built on sweet private moments as well.
RELATED: Millie Bobby Brown and Maddie Ziegler Slapped Each Other at a Sleepover
"I literally love Millie so much, she's so cute," Ziegler shared in an interview with Hollywire. "And she's definitely one of my best friends and she's always there for me. I know I can always count on her." In the conversation, Ziegler also shared that she often traded advice with Brown. In fact, the Enola Holmes star was fond of calling the dancer up and giving her sweet pep talks.
The 'Dance Moms' alum reveals the 'Stranger Things' star gave her pep talks
"I love her so much because she's obviously such an incredible actor and very experienced," Ziegler shared about Brown. "And I'm very experienced in dance and so we kind of help each other like vice versa. We always like — I'll teach her some dances and she'll teach me like some things. And she always just like always will FaceTime me and she's like 'You're gonna do amazing. You're gonna do so well, just be yourself."
RELATED: How Did Millie Bobby Brown and Drake Meet & What Do They Text About?
While the pair both had hectic schedules, Ziegler explained that it was nice to have a friend in the industry. Their similarities allowed them to understand what the other was going through. Zeigler shared that Brown could really relate to the instant-fame that she, herself, had experienced.
Ziegler explained her bond with Brown
"Well I mean I think we both have a really similar thing that happened to us both," Ziegler shared. "You know I was a little well-known. I did Dance Moms and whatever and then I did the Chandelier video and everything exploded for me for that from there. And same with Millie. She's done like Grey's Anatomy and other things like that and then Stranger Things and she blew up. So I think what we love about each other is we can so relate to all of our past experiences and, you know, now are best friends."
RELATED: 'Dance Moms': Maddie Ziegler Was 'So Terrified to Be Known as a Reality Star'
It's nice that Brown and Ziegler were able to connect and relate to one another. Though they haven't been seen together for a quite some time now, clearly they had a strong bond a few years back.