Maddox Jolie-Pitt Seemingly Confirms His Relationship With Brad Pitt Is Over In Shocking New Interview
In one of his first interviews ever, Maddox Jolie-Pitt seems to confirm what has long been rumored - that his relationship with Brad Pitt is in real trouble.
Maddox Jolie-Pitt is enjoying his first semester in college at Seoul's Yonsei University, yet he still cannot escape questions about his relationship with Brad Pitt. In a shocking new interview, the 18-year-old opened up about where his relationship with Pitt currently stands — and it's not looking good.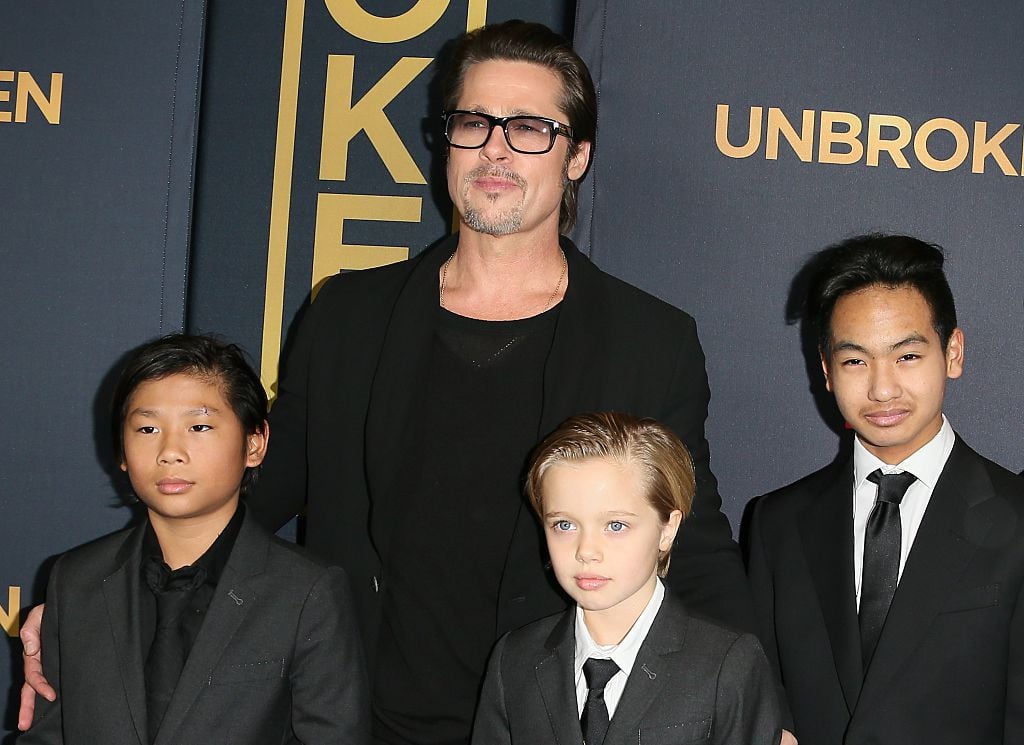 Maddox dishes on Pitt
A reporter caught Maddox in-between classes at his new university in South Korea, where the young biochemistry major was asked about his family. After saying that his brothers and sisters — Pax, Zahara, Shiloh, Knox, and Vivienne — are probably happy for him, Maddox was asked if Pitt was planning a visit.
According to Us Magazine, Maddox had no idea if his father was going to see him at college. He also seemed very unconcerned when asked if his relationship with Pitt was over, telling the reporter, "Well, whatever happens, happens."
"I don't know about that [or] what's happening," Maddox added.
Brad Pitt and Maddox have had a strained relationship for years. In 2016, Pitt allegedly abused Maddox on a private plane, an incident that was reportedly the catalyst for Jolie filing for divorce that same year.
While Jolie and Pitt fought a bitter custody war, the actor's relationship with his son continued to deteriorate. In fact, Pitt was not present when Jolie took Maddox to Seoul last month and has yet to visit him.
Inside sources claim that Pitt did not find out about Maddox going to college until it was confirmed online. The World War Z star has yet to say anything about his relationship with Maddox, but based on the recent interview, it sounds like they are not on good terms.
What really happened on the plane?
After news of the plane incident broke, the FBI and the Los Angeles Department of Child and Family Services looked into what happened between Pitt and Maddox on the private plane. Early reports claimed that Brad Pitt struck Maddox after he stood up for his mom.
Other sources, however, revealed that Pitt did not physically hit Maddox in any way. The actor was, however, drunk and was being verbally abusive to both Maddox and Jolie.
In fact, investigators later cleared Pitt of any wrongdoing. Sources also noted that Pitt remembers what he did that night and was not black-out drunk at the time of the incident.
Pitt has not commented about what happened on the plane, though it is clear that it was the final straw for Jolie, who filed for divorce soon after.
Maddox wants nothing to do with Brad Pitt
Prior to Maddox's recent interview, sources claimed that he and Pitt are no longer close. Following the incident on the plane and the messy divorce, Maddox reportedly does not see Pitt as his father — which is pretty heartbreaking if true.
Jolie adopted Maddox way back in 2002 from an orphanage in Cambodia. Pitt became Maddox's legal father in 2006, a year after he started dating Jolie.
This, of course, is not the first time Maddox has given Pitt the cold shoulder. In Christmas of 2018, Maddox refused to go to Pitt's house to open presents. Pax also opted to stay with his mom over the holiday, and their behavior was chalked up to teenagers wanting independence.
While Maddox's relationship with Brad Pitt is on the rocks, he is very close to Jolie. When the Maleficent star dropped him off at college, she could hardly fight back the tears. Pitt may not be planning any visits in the near future, but we're pretty sure Jolie is already booking flights for her next trip to South Korea.
Pitt is not giving up
Despite Maddox's recent interview, sources say that Pitt is doing everything in his power to make things right. The actor hopes that time will heal their fractured relationship and that Maddox will eventually come back around.
In the wake of the divorce, Pitt agreed to undergo family counseling and got help for his drinking habits.
Pitt and Jolie have yet to finalize their divorce, but they have come to a custody agreement — which is definitely a step in the right direction.
Maddox, meanwhile, has four years to go until he finishes his degree, giving Brad Pitt plenty of time to make things right.