'Madea's Farewell Play' Might Not Be Goodbye: Why Tyler Perry Says Madea May 'Show Up Again'
Superstar filmmaker, mogul, and actor Tyler Perry appeared on Good Morning America to plug the highly anticipated BET+ special, Tyler Perry's Madea's Farewell Play. While there, he hinted that the show might not actually be the last time we get to see the gun-toting matriarch in action. Here's what Perry dished during his interview.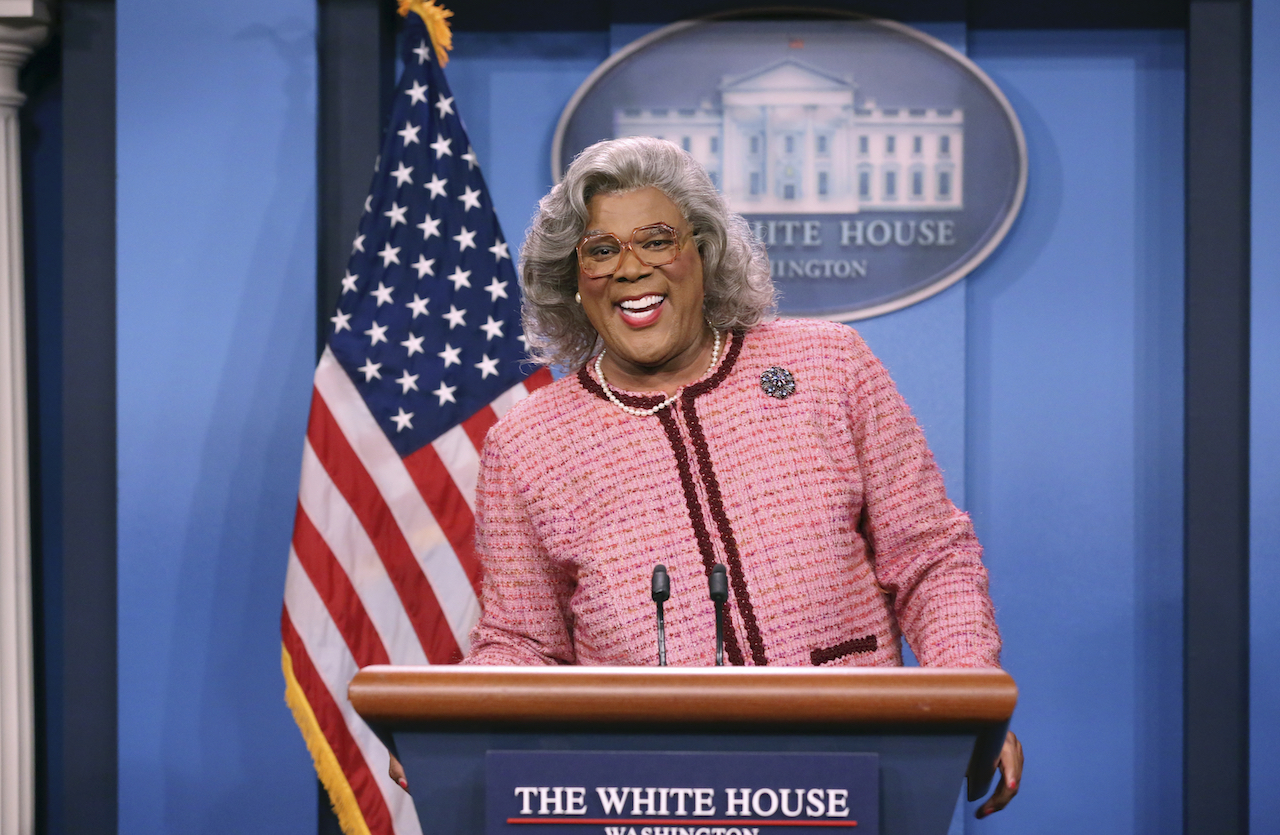 Tyler Perry's Madea character was launched on stage before gracing the big screen
Before Perry struck creative gold in Hollywood, he shared his art with live theater audiences. Following in the footsteps of the likes of TV stars Flip Wilson and Martin Lawrence, Perry found success writing and starring in stories as Madea, a strong and funny female character. Then, after creating a series of hit plays, he introduced the character to movie fans.
Madea debuted in the 2005 film, Diary of a Mad Black Woman, starring Kimberly Elise, Steve Harris, Shemar Moore, Cicely Tyson, and the incomparable Perry performing triple duty as Brian, Joe, and Madea.
In the scene-stealing role of Madea, a no-nonsense woman with a trigger finger, Perry garnered laughs dishing out sharp one-liners and pearls of wisdom. After the warm reception from audiences in Diary of a Mad Black Woman, Perry brought Madea back to the silver screen in numerous other films. Madea's most recent appearance was in the 2019 comedy romp, Tyler Perry's a Madea Family Funeral.
'Tyler Perry's Madea's Farewell Play' could be goodbye, just for now
After his latest feature film appearance as Madea, Perry created a farewell play as the "final stage run" to say goodbye to the character. He captured Madea's Farewell Play on film to share the Madea-themed event with wide audiences. But, in his interview with Good Morning America, Perry pondered bringing the character back in the future.
"Just looking at all that's going on in the world, people want to laugh," said Perry. "So, once they see the play, they're going to get a lot of laughter. But I think she may have to show up again just to bring some joy. We'll see." In a nod to Beyoncé's Black Is King, Perry quipped, "I think she's working on a visual album called Madea Is Queen."
Fans can stream 'Tyler Perry's Madea's Farewell Play' beginning in August
Tyler Perry's Madea's Farewell Play drops on Aug. 27 on BET+, the streaming service of which Perry boasts partial ownership. The mogul told Good Morning America, "It's been awesome to have this moment with the show, and having my farewell tour be on BET+, which airs in about a week now. So, people can actually get a chance to see the farewell tour on BET+. You know, we're just so excited about all of it."
BET+ subscribers can also check out more of Perry's extensive catalog of work on the platform. The streamer houses plenty of Perry's movies, including the crowd-pleasing Tyler Perry's a Madea Family Funeral and the bittersweet drama, Tyler Perry's The Family That Preys. Fans can also browse numerous plays and television series from the mind of Perry.
Follow Erika Delgado on Twitter.