Madonna and Courtney Love Hung Out 2 Years After Their Infamous Award Show Encounter
Everyone remembers when Madonna and Courtney Love had an awkward moment following the VMAs. But did you know they hung out shortly after?
The world of music has seen many high-profile altercations over the years. For '90s kids, the quintessential example was the VMA interview between two icons of the decade: Madonna and Courtney Love. Despite how awkward this was at the time, though, things appear to have changed between the two in the years that followed.
Courtney Love and Madonna had a famously contentious encounter during an interview
The 1995 VMAs was a wild time. What started like any other awards show quickly turned late in the night. Vice's Garage has created a helpful recap for those too young to remember.
Everything started when Kurt Loder from MTV took Madonna aside for an interview. A makeup compact flying through the air interrupted their discussion of the artist's upcoming album. A confused Loder was the first to spot who threw it — Love.
After Loder beckoned her over (despite Madonna's objections), Love threw another compact while making her way toward them. As she approached, Madonna quipped, "Courtney Love is in dire need of attention right now." Moments later, Love pops up next to the two, sitting in an empty seat.
What follows is a truly awkward experience. The Hole singer asked the odd question, "Am I fully hinterruptus?" as she proceeded to sit down. For the rest of the interview, she slurred her words and talked over Madonna and Loder, frequently going off on indecipherable tangents. At one point, she gets up from her seat to kneel for the remainder of the interview. 
After a short time, Madonna gets up to leave, at which point Love begins questioning both her and Loder. "Did I bum you out? Are you pissed at me?" she asked.
Their bad blood apparently faded fast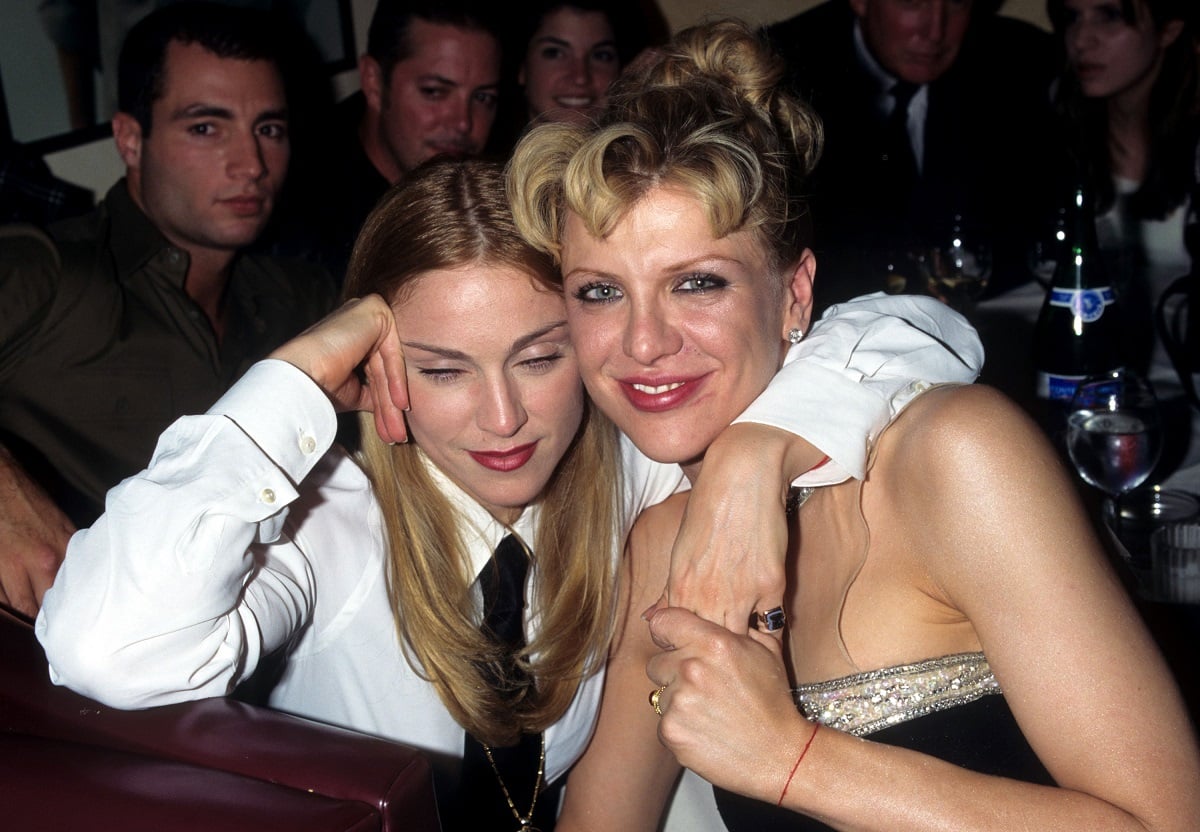 Despite undoubtedly the most bizarre interview of her career, Madonna didn't take Love's interview bomb personally. In fact, the two were seen palling around together in photos taken at the 1997 Maverick Party. If you didn't know any better, you'd never even suspect anything had happened between then not that long ago.
While Madonna and Courtney Love certainly don't aren't best friends, they aren't enemies, either. Whether there was a genuine reconciliation between the stars or they simply put the past behind them for the sake of politeness is anyone's guess. Of course, however, Love has stoked the internet fires on a few occasions, taking to Twitter to let the masses relive their beef.
Love has been a part of numerous celebrity feuds
Celebrities having disagreements is not at all uncommon. For the most part, though, these fights often end without much fanfare, either because of genuine forgiveness or just for appearances. From Brad Pitt and Jennifer Aniston's post-divorce friendship to The Rock and Vin Diesel burying their Fast and Furious hatchet, these things typically work themselves out.
However, Love herself certainly breaks this trend. She's well-known for picking fights with people all across Hollywood. Of note, she's carried on a decades-long feud with former Nirvana member Dave Grohl.
Though they were initially friends, Love and Grohl's relationship went sour sometimes after the death of Kurt Cobain. Grohl has famously accused Love of not writing her own music. He even implied she drove Cobain to suicide. Meanwhile, she's accused him of using her late husband's image for his own personal gain.
However, the two seem to have reached a tense truce in the last few years. They finally reconciled in 2014 as Nirvana was inducted into the Rock and Roll Hall of Fame. While they've still had spats since they seem to be trying to keep things civil, Love even apologized after one of her more recent tirades against him on social media.