Madonna Schooled Johnny Carson on Buying Lingerie in Spicy 1st 'Tonight Show' Appearance
Pop legend Madonna has been in the spotlight of fame since the early '80s, carving a place for herself as a solo act with lasting appeal. Now 63, she's presented many identity reinventions to the world throughout her decades-long career. But the virgin version of herself she chose to save for late-night king Johnny Carson left him momentarily speechless.
What did the flirty singer teach him about lingerie? And why did she tell him she thought he should be her first?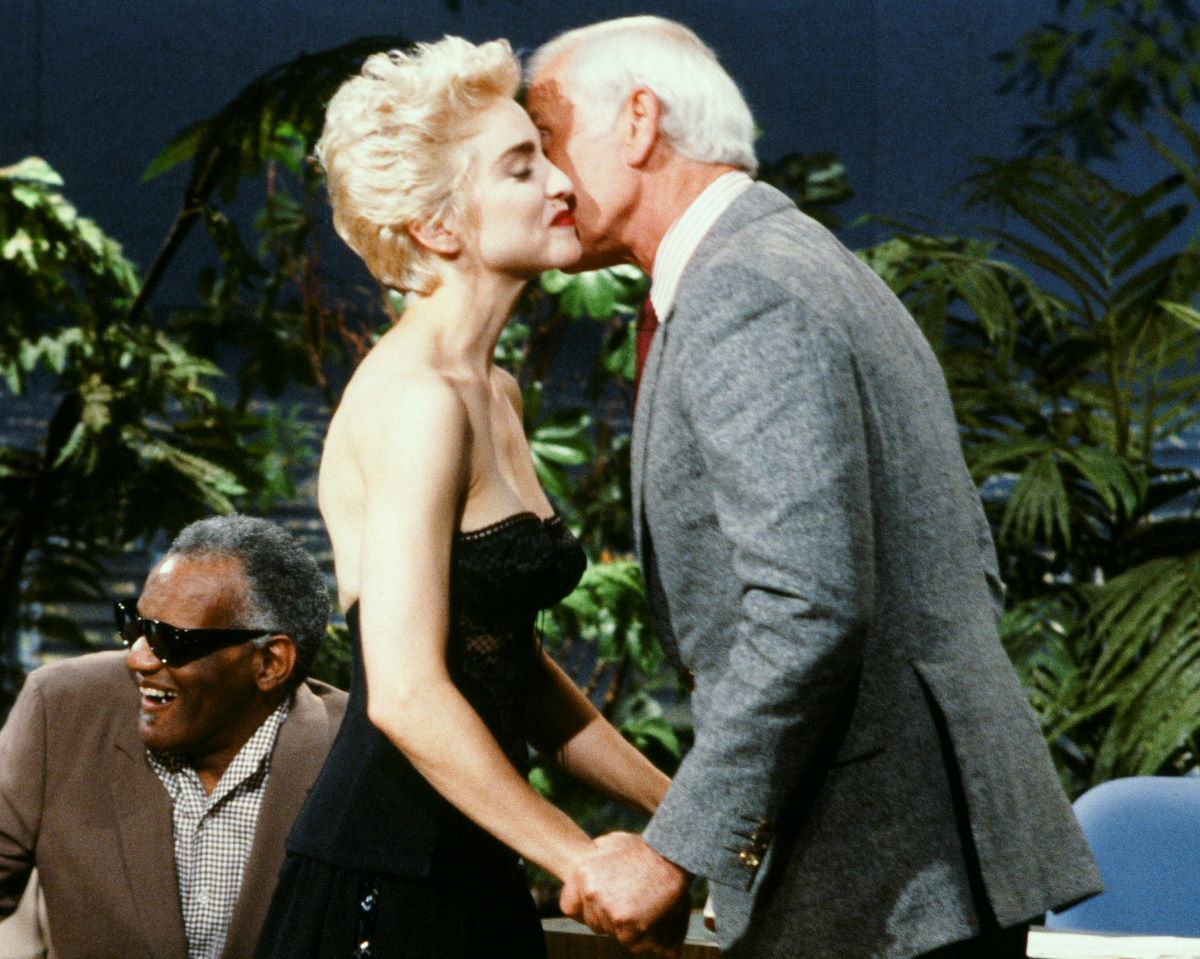 Madonna taught Johnny Carson about bustiers
At this point, Madonna's impact on fashion and pop culture has more than 40 years of documented support. However, in 1987, as she took her seat next to Carson for their Tonight Show interview, her choice to wear lingerie uncovered was seen as a bit more salacious by some audiences.
For what it's worth, Carson didn't seem to mind. After sharing a kiss on the cheek, the charismatic host told her, "Now, that is a nice outfit."
The host was under the impression that she might have designed and created the top. She told him, "What I'm wearing right now is just something I bought in a lingerie store."
In reply, he started to ask what the top was called but danced around his words a little. However, the pop star keenly cut him off and finished his question by asking, "What am I wearing?"
"Yeah," Carson replied. "If I went into a lingerie shop and I wanted to buy one of those for somebody … what would I call it?"
"It's called a bustier," she told him before they chatted about how it enhanced the bust. So, Carson apparently learned a few things from her. And his conclusion was the bustier has a nice name and is "very attractive."
Madonna: 'This is the first talk show I've ever done.'
As they continued to chat, Carson went on to tell the pop idol that he was happy to have her on his show. He mentioned that he hadn't seen her make many television appearances. To that, she told him, "This is the first talk show I've ever done."
As Madonna had already enjoyed years of massive success at that point — including hit singles like "Holiday" and "Like a Virgin" — Carson seemed surprised. He replied by asking her, "Really?"
After she assured him it was true, the audience erupted in applause. But her reasoning for choosing the iconic show as her first got an even stronger reaction from both the host and the crowd.
Madonna wanted to 'present herself as a virgin' to Johnny Carson
The fact that Madonna had avoided talk shows before then seemed to intrigue Carson, who asked if she was uncomfortable. She calmly told him, "No, I don't feel uncomfortable. I don't know. I just never thought about doing one."
Then, she revealed that he had some influence over her choice to make The Tonight Show her first talk show appearance.
"I figured if I was gonna present myself as a virgin to anyone," she said to the charming host, "it should be you."
Carson seemed speechless, then told her it would be a first for his life. To conclude their talk, Madonna bet him that she was the first girl he'd spoken to in a bustier and he said, "Yes, I think you are. At least on television."