Magic Johnson's Life Changed Forever After His Dad's Advice About Trash: 'I Became a Perfectionist'
Few sports stars can say their working life started like Magic Johnson says his did. For the former LA Laker, it all began in the trash.
Most NBA superstars have humble beginnings. Few, however, can say their working life started like Magic Johnson's. For the former LA Laker, it all began in the trash.
Johnson wound up making hundreds of millions of dollars. He had two distinct career acts in the public eye: as a player and an executive. Yet, to this day, he credits these feats to his father who provided for their working-class family in Lansing, Michigan.
Magic Johnson's $600 million career started with hauling trash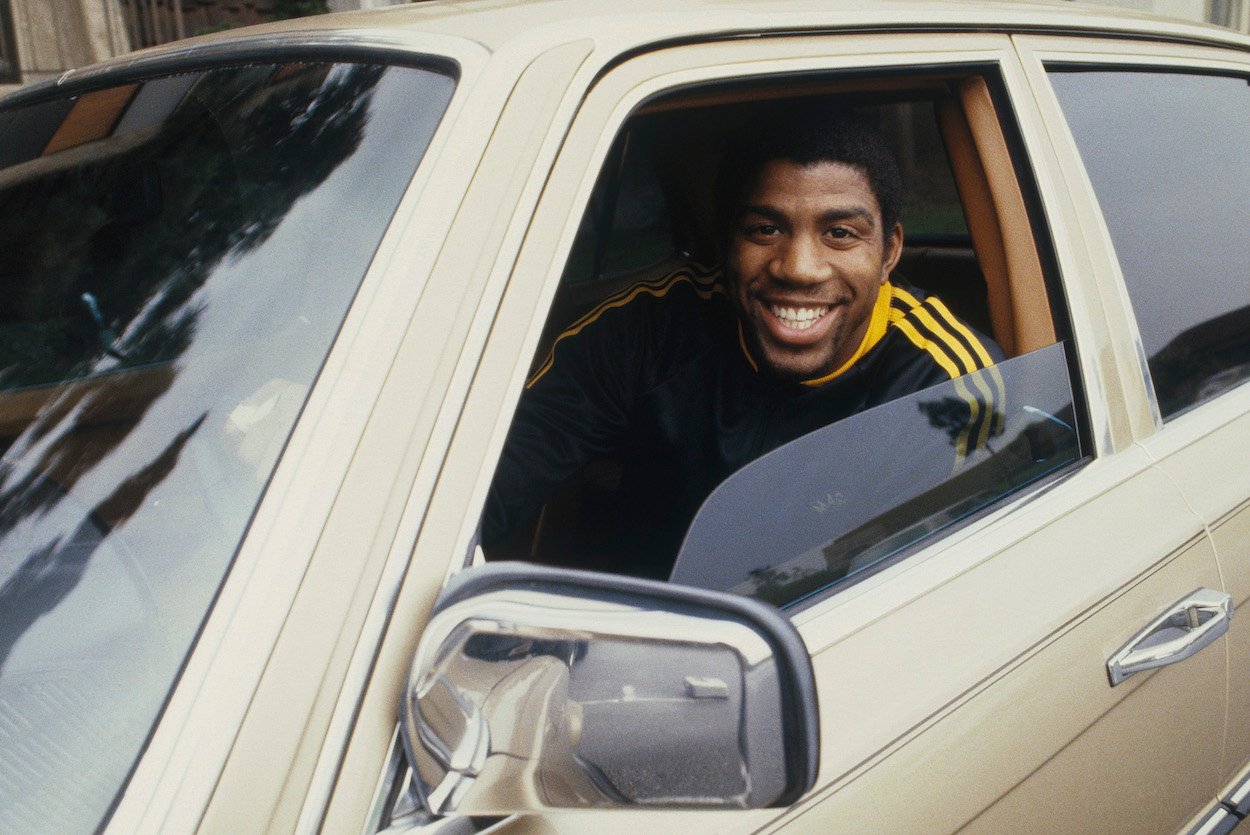 Johnson was known for a relentless work ethic that stood out even among the greatest basketball players in the world.  His mindset predates his time in basketball. He told NBC News that he simply grew up that way, following the example of his parents. He saw just how hard they worked to keep a roof over their heads, and food on the table.
"My dad worked two jobs. [At] General Motors, as well as he had a trash hauling service," Johnson said. "My mother worked for the local school in the cafeteria." When the future NBA Hall of Famer was old enough to help his dad, he asked to ride along on his trash hauling route to help out. It turned out to be one of the more pivotal experiences of his life.
Johnson's perfectionist stance still guides his every move today
He told Balance the Grind that on one frigid winter day, he rushed to quickly deal with a snow- and ice-covered pile of refuse. He took the big chunks but left behind smaller pieces because they were embedded in ice. His father told him "If you do your life halfway, that's how you'll practice basketball, that's how you'll do your homework — you'll always be a person who doesn't finish the job."
Johnson didn't push back. He dutifully followed this advice, chipping out each small piece. He got the job done right, and says that this advice still guides his every move in sports and business to this day. At 61, he hasn't stopped living for perfection.
Johnson is completely out of the NBA in any official capacity. His playing days put him in a position to succeed in business, which led him back to the Lakers as an executive. After that ended abruptly — the moment he thought he wasn't the right man for the job — it seemed like it might be time for Johnson to finally relax.
Magic Johnson still pushes himself hard every day
That day chiseling trash out of the ice hasn't lost its meaning to him, though. His daily routine, CNBC reports, continues to be nearly as demanding as when he was staying in shape to play for the Lakers.  With no external pressure at all, he starts his day at 4:00 am and it only gets harder from there.
He sometimes wolfs down a banana, but usually simply goes straight into working out. Five days a week, the workout stretches across two hours, including a five-mile power walk. After cooling down, he enjoys a protein shake and a bowl of oatmeal.
Then, at 9:00 am, he heads to work at Magic Johnson Enterprises. The investment firm has a broad portfolio that requires constant attention. Johnson spends an eight-hour day in the office, then walks home for more exercise. He has a meal, then gets back to work until 9:00 pm. He's never truly off the clock, always available for calls at any time. And Johnson wouldn't have it any other way.