Magic Johnson Recalls Pickup Game With Barack Obama: 'He Hit the Winning Shot'
Magic Johnson shared a basketball anecdote about playing with former POTUS Barack Obama.
Many funny celebrity basketball stories involve odd face-offs. Prince versus Eddie Murphy, Justin Bieber and Scottie Pippen in an All Star game, and apparently, Magic Johnson and former president Barack Obama are all legit examples. With the latter team-up, Obama couldn't resist gloating a bit on the court as some ballers are prone to do.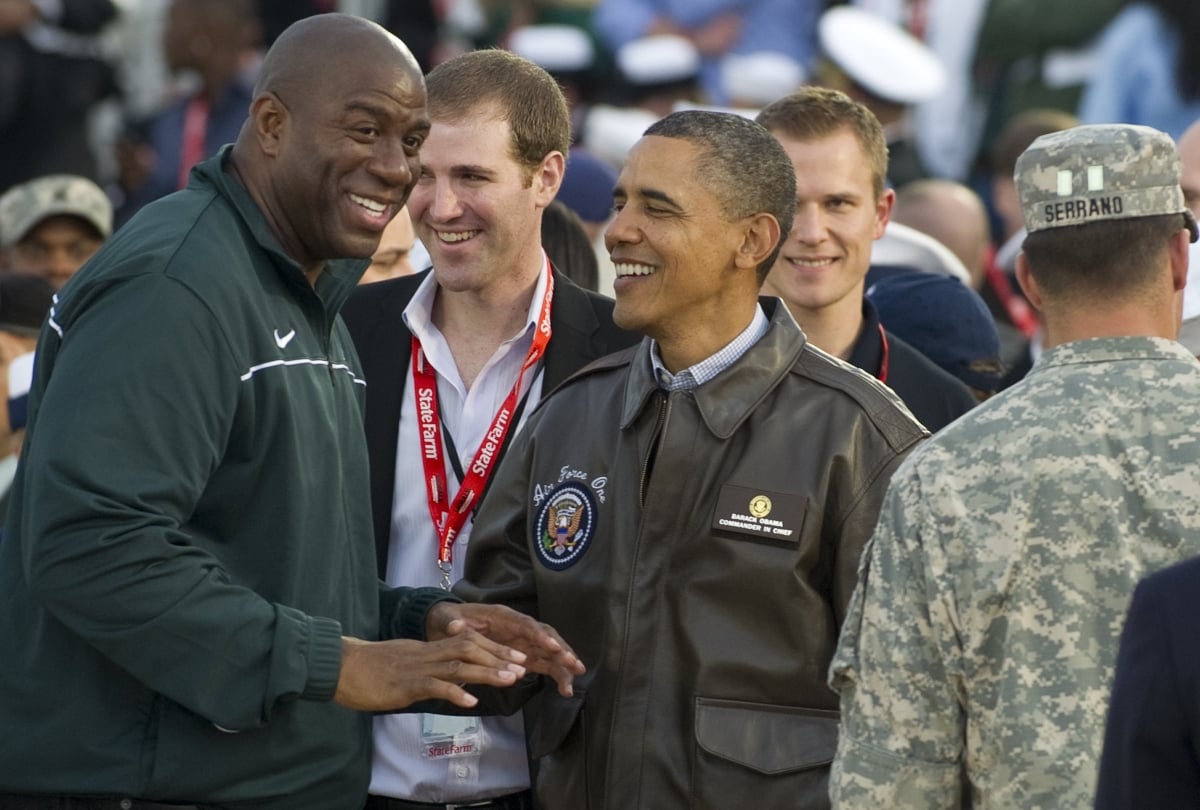 Magic Jackson invited to play basketball with President Obama
During his tenure as president, Barack Obama regularly held basketball events at the White House. Magic Johnson, LeBron James, and Carmelo Anthony were among the former and current NBA players invited to shoot hoops to entertain troops and various children's groups.
According to ESPN, Johnson came out of retirement for one game in 2010 for a group of wounded warriors and some kids who were part of the White House's mentoring program. Obama also played ball with his guests who included not only a roundup of NBA pros, but some of his friends as well.
The event was closed off to the public — and press — and it was played at a gym close to the White House. Afterward, they held a barbecue to celebrate the president's birthday.
It was at one of these games that Johnson witnessed Obama reveling in his own bucket-sinking glory.
Magic Johnson says Obama won the game with his shot
Johnson recently appeared on The Late Show with Stephen Colbert to talk March Madness, family, and playing with Obama. He spoke on how many people he's played against — including in his own family — and Colbert asked if he ever faced off against Obama.
"I didn't play against him. I played with him, and we actually won the game," said Johnson. "It was 1-1 tied; they beat us one time and we beat them one time, so we played in a championship game. And it came down to the last second and he hit the game winning shot."
That's not all. Not only did Obama score the winning shot, but according to Johnson, he kind of basked in it. "And he left his hand up. You know how you swish it and leave your hand up?" Johnson gestured.
Johnson told Rob Lowe the same thing
Back in July 2020, Johnson shared the same story but gave a little more detail about the former president's basketball skills. Lowe welcomed Johnson to his podcast, Literally! With Rob Lowe, and specifically asked if Obama "has game."
Johnson didn't hesitate when replying yes, and he added Obama has a nice jump shot and has instincts for the game. He recalled being shocked at that pickup game and said Obama did a pump fake before taking his shot. There was one other thing Johnson remembered from that event.
"And he loves to talk trash too! He was out there talking trash too, Rob. Talking big time trash at the same time," Johnson laughed. He admitted that it wouldn't have been a good idea to respond given the secret service was standing right there.
Though there aren't any equally entertaining tales about Prince playing basketball with Obama, he reportedly performed for him at a private White House gathering.