Magnolia Network: A Complete Breakdown of Every TV Series Chip and Joanna Gaines Confirmed for Their New Network
Fans were not too happy to hear that Chip and Joanna Gaines had to delay the premiere of their highly anticipated Magnolia network. Ever since Fixer Upper aired their last episode in April 2018, their followers have been eagerly awaiting the Waco-based duo's return.
The network was scheduled to replace DIY as part of the Discovery family in Oct. 2020, but with the coronavirus (COVID-19) pandemic causing industry-wide delays, that's all been put on hold indefinitely. However, knowing how much their fans were looking forward to the new content, Chip and Joanna teased a four-hour special on DIY in late April.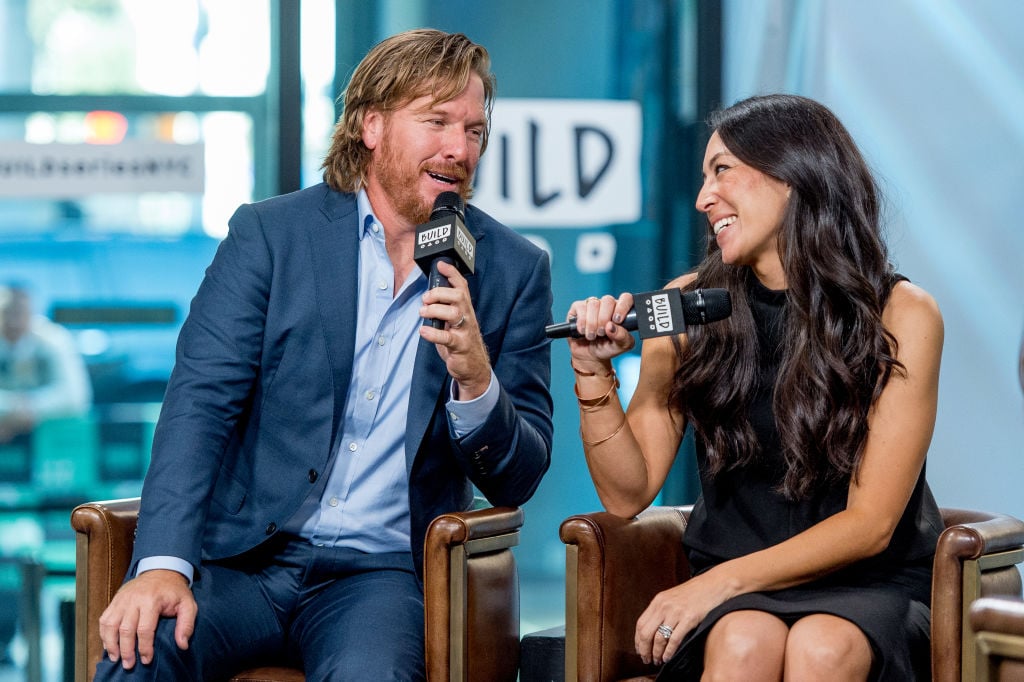 Magnolia Presents: A Look Back & A Look Ahead gave almost no details about the shows Chip and Joanna will personally appear on — though we do know they'll be cooking and renovating at some point. But it did explore 10 of the brand-new shows that you'll be able to watch on Magnolia network once it does launch. Here's what they are.
'Home on the Road'
The first show Chip and Joanna ever announced for their network seems to be the one that's nearest and dearest to their heart. Joanna discovered the folk duo Johnnyswim and quickly decided she wanted to use their original single "Home" as the Fixer Upper theme song.
Husband and wife duo Abner Ramirez and Amanda Sudano initially declined Joanna's request for them to perform at Chip's birthday.
"At that point, we had never watched [Fixer Upper], so we were like, 'No, we're good, we're on tour. We don't really have time to go around and do all these things,'" Sudano told People. "And then we went home for Thanksgiving to Abner's mom's house, and she was like, 'You have to watch this show. You're going to love this show, love these people.' And all of a sudden, we're like, 'Oh, that's the couple that asked us to come perform!'"
Ramirez and Sudano did end up playing at the party and consider themselves "kindred spirits" with Chip and Joanna. Home on the Road documents life on tour with their two children (plus one on the way) as they travel around the country making music.
'Bespoke Kitchens'
Not every show on the new network is based in the United States. For example, the series Bespoke Kitchens shows the work of England-based team at deVOL and the dreamy kitchens they design.
Paul O'Leary and Helen Parker appeared in the preview and admitted how they strive for creating kitchens that look classic and timeless. "I always want it to feel like it's not new — like it's always been there," Parker said during the special.
'Family Dinner'
Celebrity chef Andrew Zimmern hosts meals that are more than just food and speaks to one of Joanna's cardinal values: quality time around the table in the series Family Dinner.
Zimmern is best known for the Bizarre Foods series on Travel Channel and also hosts a cooking web series on YouTube. He's won the James Beard Award four times.
'Restoration Road'
Fixer Upper fans already know Clint Harp from Harp Design Co. He's the one Joanna always calls when she needs a custom piece of furniture made or refinished. Rather than taking place in his workshop, Restoration Road follows Clint as he travels the country seeking artisans who are as enamored by history as he is.
On the preview, Harp teases the incredible renovation of a pre-revolutionary hotel where George Washington stayed that's being painstakingly disassembled and shipped to Texas.
'Growing Floret'
Joanna's followers already know about her green thumb and true love for plants. In Growing Floret, flower farm owner Erin Benzakein takes viewers on a journey as she expands Floret Flower Farm from two to 20 acres in Skagit Valley, about an hour north of Seattle.
"We're so excited to be a part of the Magnolia family and can't wait to share more of our flower-filled journey with you in the months ahead," Benzakein shared on Instagram.
'The Fieldhouse'
Joanna's influence is obvious but she wasn't the only one recruiting talent for Magnolia. Chip is responsible for finding Justin Bane, a former football player who dreamed of playing in the NFL but had his career cut short during college after a catastrophic injury.
Bane and his wife started a fitness center called The Fieldhouse — also the title of the show — with the intention of becoming the most positive, uplifting atmosphere for getting fit or recuperating from an injury. The short clip showed that this series will have plenty of inspirational stories.
'Super Dad'
DIY enthusiast Taylor Calmus insists that the only way for dads to create cool play spaces for their kids is for them to build it themselves. He's taking his love for fun and adventure to the next level and traveling around the country helping regular dads become Super Dad.
Is Calmus the next Chip Gaines? The similarities are uncanny.
'Home Work'
Candis and Andy Meredith became like a real-life Brady Bunch when they got married and each brought three sons into the marriage. Now they also have a daughter together and are expanding their living space by renovating a 20,000 square foot former school into their dream home so they can spread out and live spaciously with their family of nine.  
Like Chip and Jo, the Merediths believe in restoring old structures to their former glory rather than tearing everything down and starting over. Home Work tells their story.
'The Lost Kitchen'
There's something so romantic about this intimate, cozy Maine restaurant that only accepts reservations via postcard.
Owner Erin French runs The Lost Kitchen in Freedom despite having no formal culinary training. Plus she only hires women to work at her business, and limits seating to 50 people per night.
'Inn The Works'
Renovating a house takes dedication. Renovating an entire resort requires a whole other level of commitment.
Inn the Works tells the tale of Lindsey Kurowski's massive renovation project of Oak Knoll Lodge in California. She and her team, including two of her siblings, hope to restore this outdated campground to its former glory while hosting guests the whole time.
Fixer Upper fans are all but guaranteed to fall in love with Kurowski's upbeat, fun personality, plus the purity of her mission.