'Maid': Andie MacDowell Dishes on Playing Mom to Real-Life Daughter Margaret Qualley in Netflix Series: 'The Person That Knew I Could Do It Was My Daughter'
Netflix likes to put out dramas that tackle real-world issues, from Orange is the New Black's exploration of the US prison system to Squid Game's more fantastical criticism of capitalism. Maid is no exception, and though it stemmed from a memoir written by somebody who had experienced the difficult life of poverty while working to make money as a maid, it's become a popular show with an A-list cast.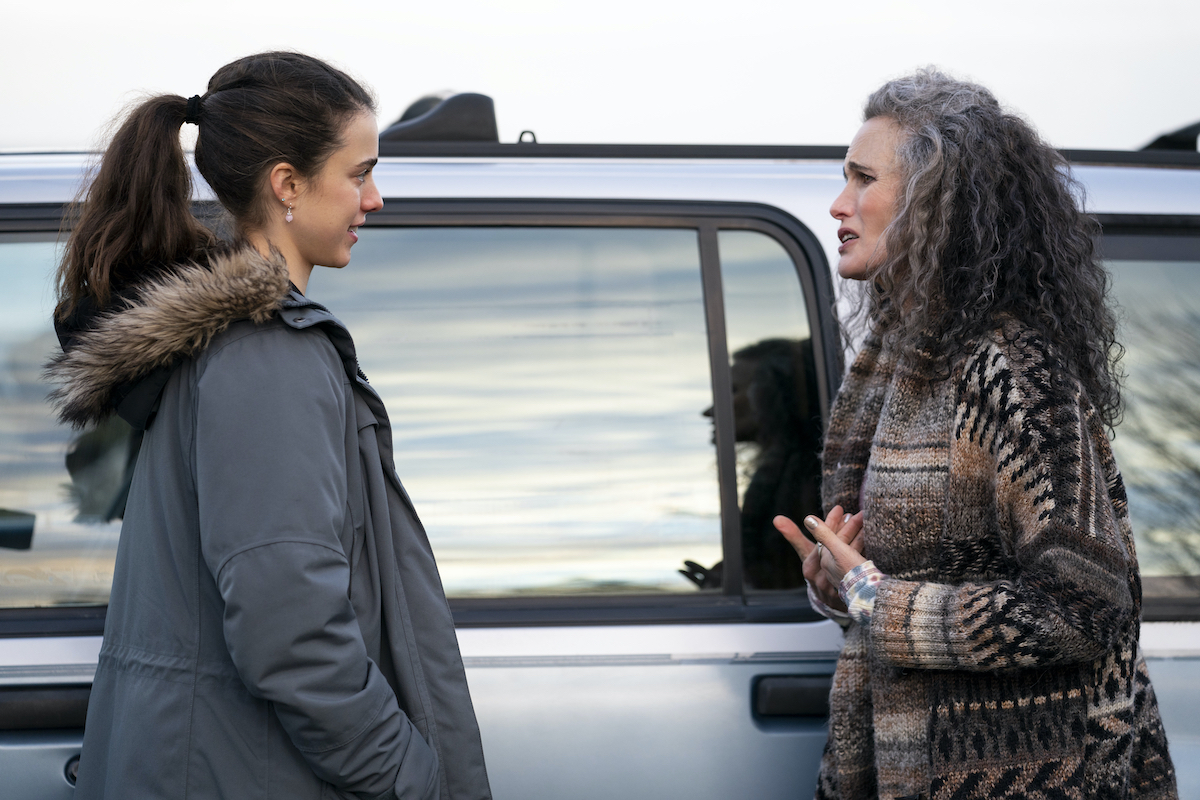 Though the cast represents some major names in entertainment, there still might be facts about them that would surprise a viewer – like, for example, the fact that the actors who play Alex and Paula, mother and daughter on the show, are mother and daughter in real life!
Andie MacDowell, Paula's actor, spoke about what playing a mother to her daughter for a show was like. How did it impact her performance?
Margaret Qualley wanted her real-life mother to play her character's mother
Margaret Qualley plays Alex on Maid, and Andie MacDowell plays her mother, Paula. This is uncannily fitting: MacDowell is Qualley's mother in real life, too! This casting was actually Qualley's idea. According to an interview with Collider, Qualley had been cast as Alex relatively early on, and there were a lot of roles that were still open.
One of them was the role of Paula, and Qualley found herself thinking, "Whoa, this is it. My mom's gotta do this." Apparently, she had wanted to do an acting project with her mother for a long time, and though the characters have a difficult relationship on the show, Qualley found that working with her mother was "a real dream," and really added to both actors performances!
Andie MacDowell had a difficult relationship with her own mother
MacDowell also discussed her experiences on the show with USA Today. The relationship between Alex and Paula on the show is difficult and very different from MacDowell and Qualley's close relationship. It is, however, akin to MacDowell's relationship with her mother.
MacDowell's mother lived with addiction and mental illness, leading MacDowell to describe her as "always struggling."
Qualley was aware of this and took it with her for the role. MacDowell talked about the difficult role, saying, "the person that knew I could do it was my daughter." The fact that MacDowell was working with her daughter also led to her seriously dedicating herself to the role.
"Every moment was precious for me. I really wanted to do a good job because it meant everything to me because I was scared it would never happen again."
Her commitment, effort, and experience clearly paid off – all the critical praise for the acting and the show indicates that MacDowell and Qualley both excelled at acting alongside each other.
'Maid' is a serious look at poverty, gender, and abuse
Netflix's Maid is an adaptation of a memoir by Stephanie Land entitled "Maid: Hard Work, Low Pay, and a Mother's Will to Survive." The book discussed Land's experiences as a single mother who had dealt with abuse and trauma, and who faced poverty while working as a maid to earn income.
On the show, the character based on Land, Alex, lives in a trailer park with her abusive boyfriend and young daughter. The show begins with Alex deciding to leave the abuse, but finding herself out of place in a domestic violence shelter, seeking out employment as a maid.
The show explores the dynamic between domestic workers and their wealthy employers, as well as with the companies that employ them. The series received high praise for its realism and its deft handling of difficult subject matter, and for the cast's performances.