Malcolm McDowell Can't Stand the Thought of Watching 'Clockwork Orange' Again
Stanley Kubrick's famously brutal A Clockwork Orange is about to celebrate a landmark anniversary. In a new interview, the movie's star Malcolm McDowell says he's had enough of watching it. Here's what he said about the dystopian cult classic. 
'A Clockwork Orange' will celebrate its 50th anniversary in December 2021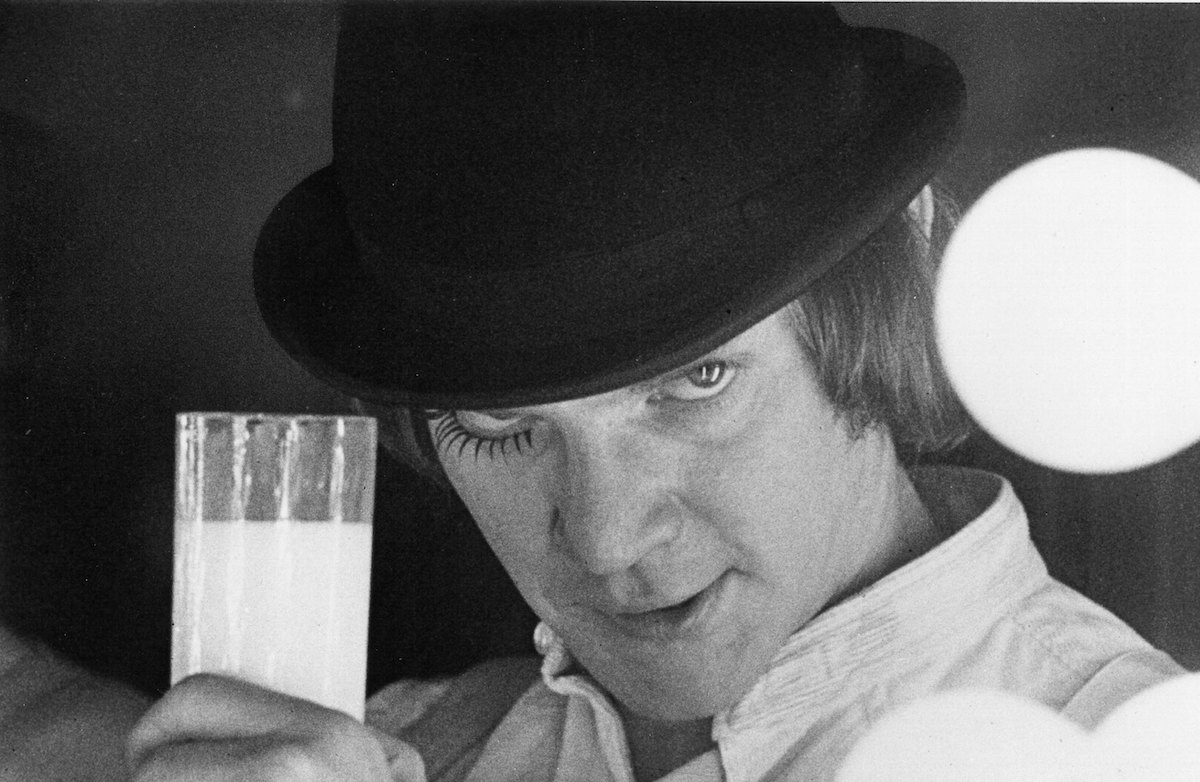 The 1971 movie reaches half a century of horrifying viewers in December. As a result, SDS/Warner Bros. is releasing a new 4K HD Blu-ray on September 21, 2021. Malcolm McDowell said he "couldn't stomach" watching the Kubrick film again in an interview promoting the release.
"To be honest, I really couldn't really stomach watching it again," McDowell told Yahoo! Entertainment.  I mean, give me a break here. It's still the same movie. It may look a little sharper, the color [might] be a little brighter, but it's still the same movie." 
Indeed, it is. In nearly 50 years, the movie has lost none of its original shock value. McDowell played Alex, the movie's despicable, criminal antihero navigating a horrifying British dystopia. He champions "a little of the old ultraviolence" before landing in jail. As a consequence of his horrible behavior, Alex eventually winds up the victim of self-inflicted karma.
Malcolm McDowell called the classic 'cinema history' 
He had an understandable hesitance to re-watch the film. However, McDowell said he's grateful for the rare experience. 
"But listen, I'm thrilled to be a part of it," he said. "I mean, my god, it's cinema history. Not many actors in their careers can have such an experience."
McDowell continued, saying that many of his unwilling encounters with the Kubrick masterpiece have been at film festivals.
"A lot of times it's been at some festival and I'm stuck watching it," the Bombshell actor said. "The last time I was stuck watching it was at the Cannes Film Festival, sitting next to one of the head honchos of Warner Bros. because we were celebrating the 40th anniversary. Thank god we don't have to go to Cannes because I'd be stuck up there watching it again."
'A Clockwork Orange' is an adaptation of a novel by Anthony Burgess
Published in 1962, Anthony Burgess' sci-fi novel focused on a dubious futuristic society. As a result of the subversive culture, an extremely violent youth subculture emerges.
Modern Library anointed the book one of the 100 best English-language novels of the 20th century. Its influence on dystopian literature was palpable and measurable. And then came the film. 
McDowell said the deeply disturbing themes all boil down to one thing.
"It's about the freedom of man to choose about which path he desires to take," explained McDowell. "It may be an immoral one or it may be a moral one, but I think we should have the freedom of choice."
Naturally, the movie touched nerves. People blamed the movie for crimes similar to those depicted in the film, for instance. Kubrick consequently removed the movie from the public's reach until he died. 
McDowell told Yahoo! that it was "just something for the tabloids to have fun with."
"Did I feel any responsibility? Absolutely not," said McDowell. "We made a movie that was reflective of the times we lived in. Anything else would've been a form of censorship."
Nobody has ever accused Kubrick of holding back on A Clockwork Orange. And it never did submit to any form of censorship. Contrary to certain reports, nobody banned it; Kubrick had voluntarily pulled it from circulation. 
But neither is anyone forcing anyone else to watch it — and these days, McDowell is grateful for that. 
RELATED: Shelley Duvall Once Said Working With Stanley Kubrick Made Her 'Smarter'