Mandy Moore Fans Have an Insane 'A Walk to Remember' Theory That Changes Everything
'A Walk to Remember' gave Mandy Moore her big break as an actress. Fans fell in love with Jamie and Landon's story. This theory suggests a different ending.
Mandy Moore wasn't always Rebecca Pearson on This Is Us. The star's humble beginnings began with theater, transitioning to pop music, and finally, her big acting break on A Walk to Remember. The opposites-attract love story broke hearts everywhere in 2002. Luckily for fans, there's one theory where this story goes on forever.
Mandy Moore starred in 'A Walk to Remember' in 2002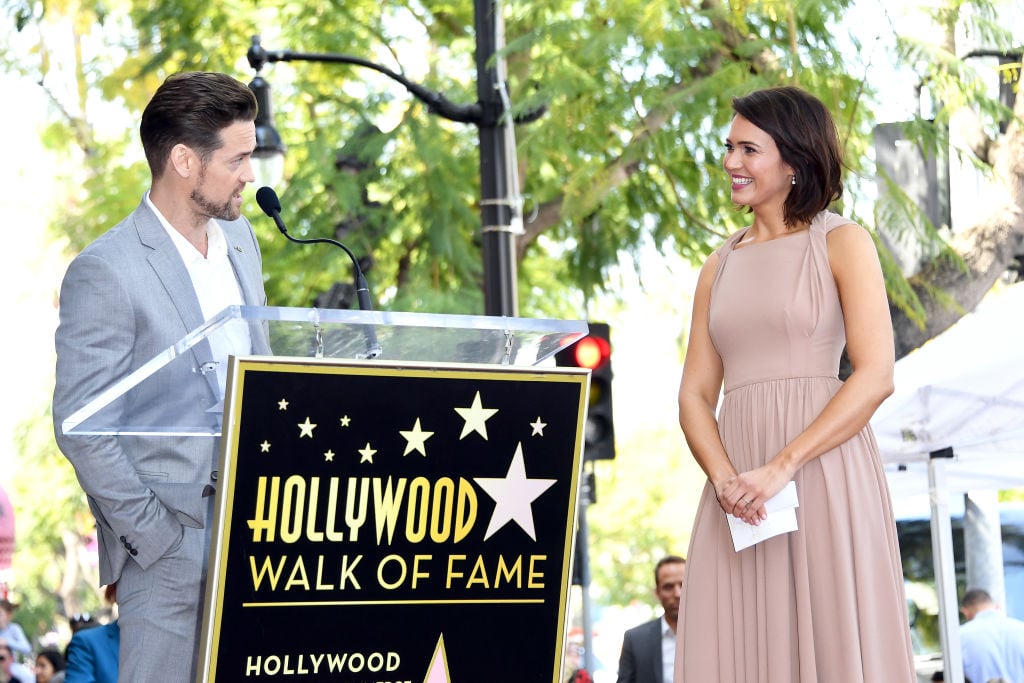 The Nicholas Sparks novel-turned-film, A Walk to Remember, was the launching pad for Mandy's Moore's acting career. In the 2002 film, Moore played Jamie Sullivan. She caught the eye of a local troublemaker, Landon Carter (Shane West), and the two fall in love.
The romance is short-lived because — spoiler alert – Jamie dies. The ending is not ambiguous in any way. Jamie dies after a battle with leukemia and Landon grieves the loss.
Still, fans have always wished West and Moore could reunite for A Walk to Remember 2 in some shape or form.
Here's how the novel differs from the film
Sparks previously mentioned that the book-length version of A Walk to Remember is a little different than the film. Sparks' sister, who died at age 33 in 2000, inspired Jamie's character. However, the character may have had a slightly different ending.
Via Sparks' website, he admitted to leaving the book version of Jamie's fate open-ended for good reason.
"As to whether she actually lived or died, it's ambiguous and purposely meant to be that way. If you wanted Jamie to live, she lived. If you knew that Jamie would die, she died. As for me… I thought there was a good chance that Jamie lived," he said.
This fan theory proves Jamie and Landon are still happily married
If you go the movie route, Jamie will not make it. Sparks, however, threw fans a curveball on his website, giving hope to those who want to believe otherwise.
"As far as I can tell, about 70% of the people think Jamie passed away, another 30% believe she lived, and when asking the question, they offer ''proof'' for their reasoning," he said.
One fan said, "when she tells Landon that she's sick, he thinks, 'I knew it would take a miracle to save her'. & at the end of the book, he talks about never taking his wedding ring off because he has never felt the desire to and says something along the lines of "I smile, knowing here is one."
She added, "the thing I haven't told you. I now believe in miracles." He hasn't taken his ring off BECAUSE THEY ARE STILL MARRIED. He believes in miracles BECAUSE SHE LIVED."
Others chimed in saying, "mind blown." Another said that's such a good interpretation!"
Here's why Sparks wrote it the way he did
Clearly Moore fans want to know she made it out OK. Anything less is not happening. Sparks had his own reasoning.
"When I started the novel, I knew that Jamie was going to die. Every page, every scene, every chapter was written with that idea and it continued to proceed that way right up until the end of the novel when the time came to write those words. But strangely, I couldn't do it. I just couldn't do it," he said.
Sparks said he'd grown to love the character and, like many fans, didn't want her to die. His sister was still alive as he approached the end of his novel. But, he didn't want to manipulate readers by giving Jamie a sudden cure.
"I opted for the only solution, the solution that best described the feeling I had about my gravely ill sister at that point: namely, that I hoped she would live. That's the ending, folks," he said.
"I wanted readers to finish with the hope that Jamie lived. As to whether she actually lived or died, it's ambiguous and purposely meant to be that way. If you wanted Jamie to live, she lived. If you knew that Jamie would die, she died."
He concluded by saying he hoped Jamie lived. Landon refused to remove his wedding ring after she passed. If you want to believe Moore's heartwrenching portrayal of Jamie Sullivan ended with her finding a cure to avoid sobbing the rest of the day, we're OK with that.