Mandy Moore Has Anxiety About Touring for the 1st Time in 15 Years — With a Baby
After focusing on her acting career, Mandy Moore returned to music and touring in recent years. But this time is going to be a little different.
TV audiences know Mandy Moore from the Emmy-winning series This Is Us. But many of her fans remember her from her first hit single, "Candy," in 1999. Since then, she released seven studio albums — So Real, Mandy Moore, Coverage, Wild Hope, Amanda Leigh, Silver Landings, and In Real Life — and starred in more than 80 film and TV projects. 
While acting was her priority over singing for over a decade, the "Crush" singer has found her way back to music. Following the finale of This Is Us, she resumes touring. However, the difference with the In Real Life Tour is her husband and their son will join her this time.
Mandy Moore will tour for her seventh album 'In Real Life'
Although Mandy Moore once said she hates her earlier work and wants to give fans a refund for it, many still remember dancing to her early 2000s hits. But her return to music with Silver Landings sounded very different. The album, which she worked on with her husband, Taylor Goldsmith, marked her first since her divorce from Ryan Adams. She followed it up with In Real Life.
"It was a way of finding some sort of catharsis during the pandemic," she told Health in February 2022. 
The pandemic canceled her 2020 tour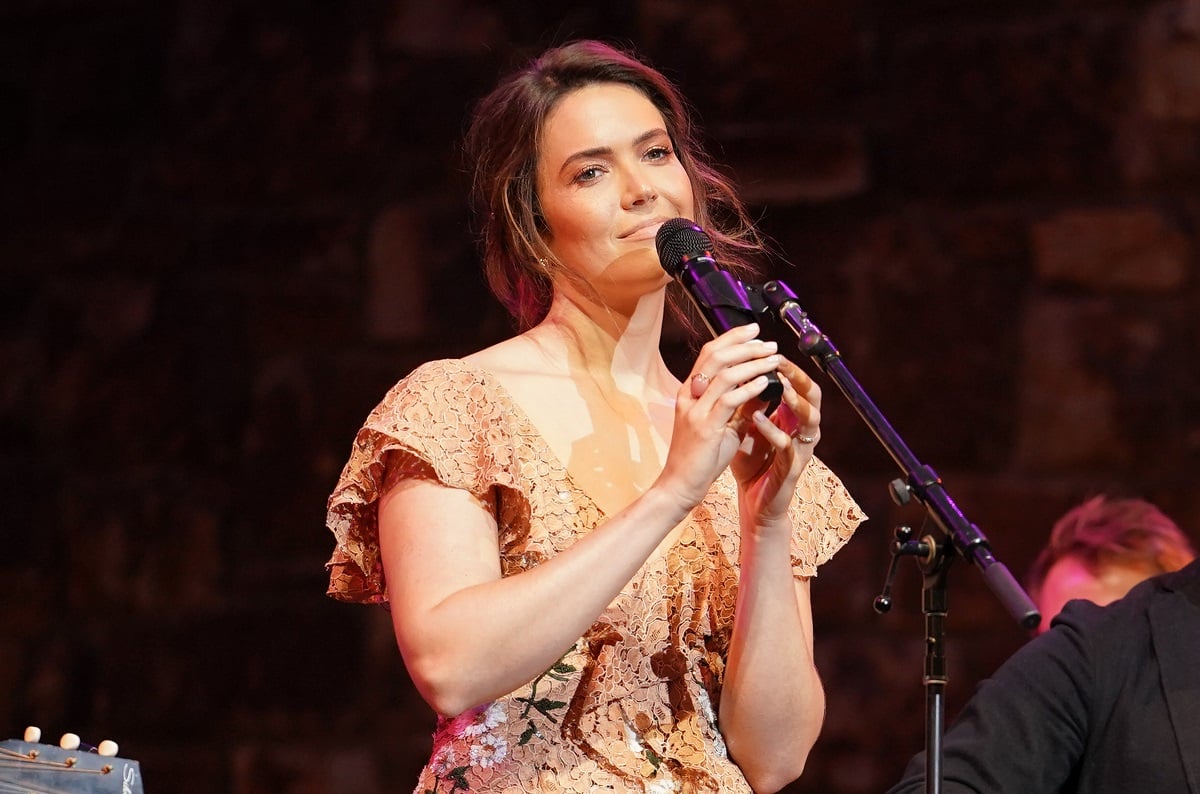 In an interview with Dax Shepard on his Armchair Expert podcast, Mandy Moore explores her excitement about finally getting out on the road after her 2020 tour was canceled — only this time, she'll be adding a small addition to the tour bus. 
"We were four days away from going on the road — I put out a record on March 6 of 2020, my first album in 11 years [laughs] — and we were four days away from going on tour when the world shut down," the A Walk to Remember star explained. "I have a new record now called In Real Life, so we're gonna hit the road now and play the last record, this new record."
"Does it give you anxiety, having a baby [on tour]?" Shepard asked Moore. "Yeah," the singer admitted. "I haven't been on the road since 2007."
However, she isn't too worried about bringing August Harrison Goldsmith on tour. She'll have her husband and most of the Dawes band to back her up on stage. "The family band," she called it. "Gus will be with us. It's gonna be great."
Moore told Shepard that she and the family will be on a bus while touring for "two weeks, a two-week break, and another two weeks." While that might seem like a lot for a first-time mom, she says, "it's gonna be fun and intimate."
Mandy Moore's family life
As a celebrity since her teen years, Moore has been involved in several high-profile relationships. She dated Wilmer Valderrama, Andy Roddick, Zach Braff, and Adam 'DJ AM' Goldstein. But few have received the attention her marriage and divorce from Adams did. Though she refrains from speaking about him now, she's happy to discuss her personal life these days.
In 2018, Moore married Goldsmith. They welcomed their first child on February 21, 2021. While taking a baby on the road may cause Moore some anxiety, she's clearly ready for whatever life throws at her.