'Manifest' Fans Have Spoken, and Here's Why They Want Zeke Gone
On 'Manifest,' Michaela and Jared split and she chose Zeke. But fans don't seem to be on board. Here's what they are saying about Mic's new beau.
NBC's Manifest is famous for the topsy-turvy sci-fi storyline that keeps viewers guessing. But the series also throws in a fair amount of relationship drama for good measure. Last season, Jared, Michaela, and Zeke became embroiled in a juicy love triangle, which resulted in Jared being left out in the cold. Although the dashing police detective seems to have finally come to terms with Mic's choice to shack up with Zeke, fans don't seem to be on board. Here's what some Manifest Jared and Michaela shippers are saying in response to the show's latest promotional Instagram post.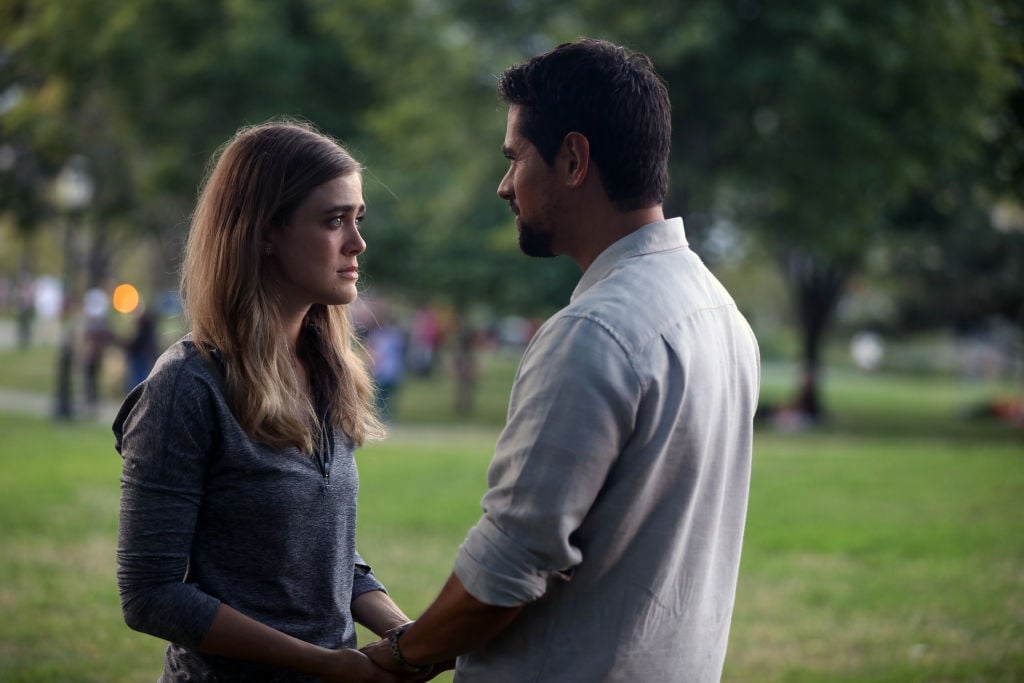 Zeke's big decision
Manifest Season 2 is going into the final three episodes with the Zeke storyline front and center. Although he was not a Flight 828 passenger, he is experiencing similar phenomena after nearly freezing to death. Like the 828ers, Zeke has Callings, leading him to help others out of danger. But with the psychic visions also comes a Death Date, which is fast approaching for Zeke, so his own mortality is top of mind.
Based on a cryptic Manifest Instagram post, the character may soon come to a crossroads. The show's Instagram page teases, "Zeke has some decisions to make," and fans have taken the opportunity to voice their opinions on what moves the character should make next.
'Manifest' Jared and Michaela shippers have spoken
In the Instagram comments on the Zeke-centric promotional image, there is an overwhelming appeal from fans for Zeke to end his relationship with Michaela and step aside so that she can reunite with Jared. The following comments speak volumes:
"Can we all agree as Manifests' fan base that Zeke and Mik just DONT work and she's meant to be with Jared," asked one fan.
Another chimed in with, "Let's hope he decides to leave Michaela so she can get back with Jared."
Adding to the conversation, a user wrote, "Finally. I thought I was the only one who felt so. Hope he leaves her asap."
And the hits just kept coming with jabs like this one, "I'm guessing he's leaving Mic for good cuz those two just don't go together."
And yet another follower griped, "I hope that happens. I can't believe people ship them."
One Jared-Michaela shipper seemed to nail the consensus with a simple plea, saying, "Please decide to leave Michaela. I want her with Jared."
Are Jared and Michaela end game?
Although Michaela and Zeke seem to be committed, the chemistry is palpable between Michaela and Jared, even when they are fighting. And some would say especially when they are fighting. The on-screen fireworks between the characters are impossible to ignore. Still, the exes would have lots of baggage to unpack if they were to attempt to reconcile.
In Michaela's eyes, Jared deserted her when she returned after being presumed dead for five years. What's more, he married her best friend while she was gone. But it didn't take long for the old flames to make up and start an affair, which wrecked Jared's marriage. Unfortunately, the romance faded quickly, and Michaela moved on with Zeke, leaving Jared to pick up the pieces. But are Michaela and Zeke in it for the long haul?
On Instagram, Manifest was vague about what decision Zeke will make soon, but fans hope it means he's ending things with his ladylove. Despite Michaela and Jared's complicated history and their mutually destructive behavior, they still appear to care deeply for each other. And viewers are really digging that twosome.
Read more: 'Manifest': Parveen Kaur Beats Josh Dallas in a Game of Wits