'Manifest': Questions We Have About Season 2 Episode 9 'Airplane Bottles'
Manifest Season 2 Episode 9, 'Airplane Bottles,' picks up several threads that were left hanging in the previous episode. Season 2 Episode 8, 'Carry On,' was an emotional gauntlet that added another layer of mystery. 'Airplane Bottles' carries the 828ers further down the rabbit hole along with the audience. With that in mind, these are a few questions to ponder from the latest chapter of Manifest.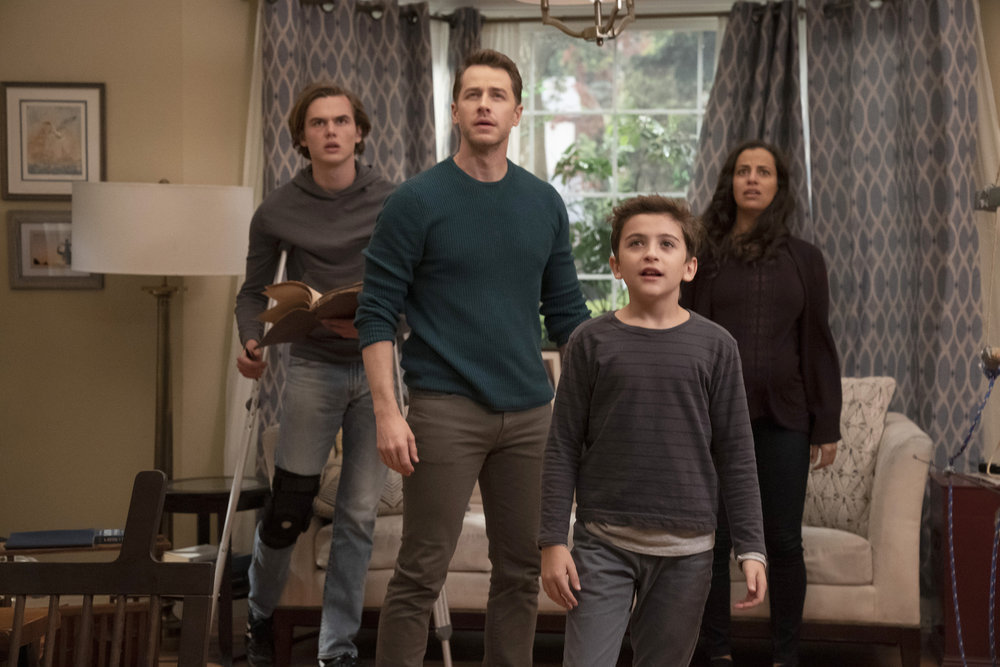 What's next for Michaela, Jared, Saanvi, and Zeke?
'Airplane Bottles' touched on a few different storylines. It seems that Jared isn't as dedicated to the Xers as Michaela was led to believe. At the police station, he sniffs out a mole who means to do her harm on Simon's orders. So, Jared arrests Michaela and locks her in a cell for her protection. Has Jared blown his cover with the Xers by interfering with their plan to shut Michaela down?
On the other side of town, instead of taking Saanvi's flawed Death Date cure, Zeke intervenes when the doctor exhibits impulse control issues. He hightails it over to Alex — Saanvi's ex — because she's the only physician that Saanvi trusts.
The good doc treats Saanvi's out-of-balance dopamine levels and gives her a little tough love to boot. It turns out that Saanvi's erratic behavior is a side effect of the serum that she tested on herself. With Zeke's looming Death Date, can she beat the clock and produce a viable cure?
To make matters worse, Ben has an epiphany about a warning in Al-Zuras' journal that could mean bad news for Saanvi. The passengers must follow the Callings to survive. Any other path, like Saanvi's cure, leads to disaster in the form of insanity or even death. Ben's discovery comes after a particularly challenging Calling that monopolizes the majority of the episode.
Why don't the Stones (and TJ) know they are experiencing a Calling?
'Airplane Bottles' deals, in part, with deciphering more clues about where Flight 828 went when it disappeared for five years. In the episode, a Calling awakens Cal. The youngest 828er claims to have had a vision of the airplane at the time of its disappearance. As a storm rages outside, he becomes obsessed with building an apparatus that he saw during the vision.
Ben and Grace offer their assistance, but Cal becomes uncharacteristically agitated. Meanwhile, TJ and Olive read more of Al-Zuras' journal and discover a passage about a silver dragon. But as the storm rages outside, TJ becomes irrational, Ben's patience disappears, and Grace gets queasy.
Thankfully, Olive rights the ship, reveals to them that it is not actually raining outside, and helps them realize that they are, in fact, in the midst of a shared calling. Callings typically have characteristics that help the passengers distinguish the psychic visions from reality. What makes this instance different? In the future, will Callings continue to blur the 828ers' perception of reality?
How did Flight 828 travel to the same time and place as Al-Zuras' 16th-century ship?
Based on the hints from Al-Zuras' journal, the passengers are experiencing the same symptoms as Al-Zuras' crew, including seasickness, rage, hallucinations, and emotional imbalance. They deduce that the only way to end the delirium is to help Cal finish building what the kid can only describe as a "spider web."
The Stones (and TJ) get cooking and finish the project, which turns out to be a ship's mast. As a result, Ben, Grace, Cal, and TJ are transported to a ship in the middle of a storm – likely Al-Zuras' vessel. Even stranger, they look up to the sky and see an airplane, the silver dragon that Al-Zuras wrote about in his journal, and presumably Flight 828.
In 'Airplane Bottles,' the Stones (and TJ) can call their revelation a win. They answered the Calling, solved the puzzle of the week, dodged insanity, and uncovered another part of the mystery. That said, their breakthrough also spurred more questions to ponder as the show soars toward the season finale.
What occurrence caused the airplane to disappear?
How did it travel to a storm at the same place and time as Al-Zuras' 16th-century ship?
Where and in what time period did they land?
Is there something special about that particular storm or location?
What happened over the course of five years, and why don't they remember?
How many other people have experienced this same phenomenon over time? 
Read more: 'Manifest': Parveen Kaur Beats Josh Dallas in a Game of Wits