'Mare of Easttown': Kate Winslet Says She's 'Much More Like Mare Sheehan' Than Any Other Character She's Played
Kate Winslet says she's "much more like her 'Mare of Easttown' character, Mare Sheehan, than any of the characters she's "ever played in any period films."
Kate Winslet's played all sorts of characters throughout her acting career. However, it's her latest role she sees herself in most. The 45-year-old stars on HBO's Mare of Easttown as a divorced mother living and working in a small Pennsylvania town. Winslet's character wears flannel, drinks beer, and eats spray cheese. It's a departure from her previous roles but it's the one Winslet identifies with most. 
Kate Winslet's a small-town detective on 'Mare of Easttown'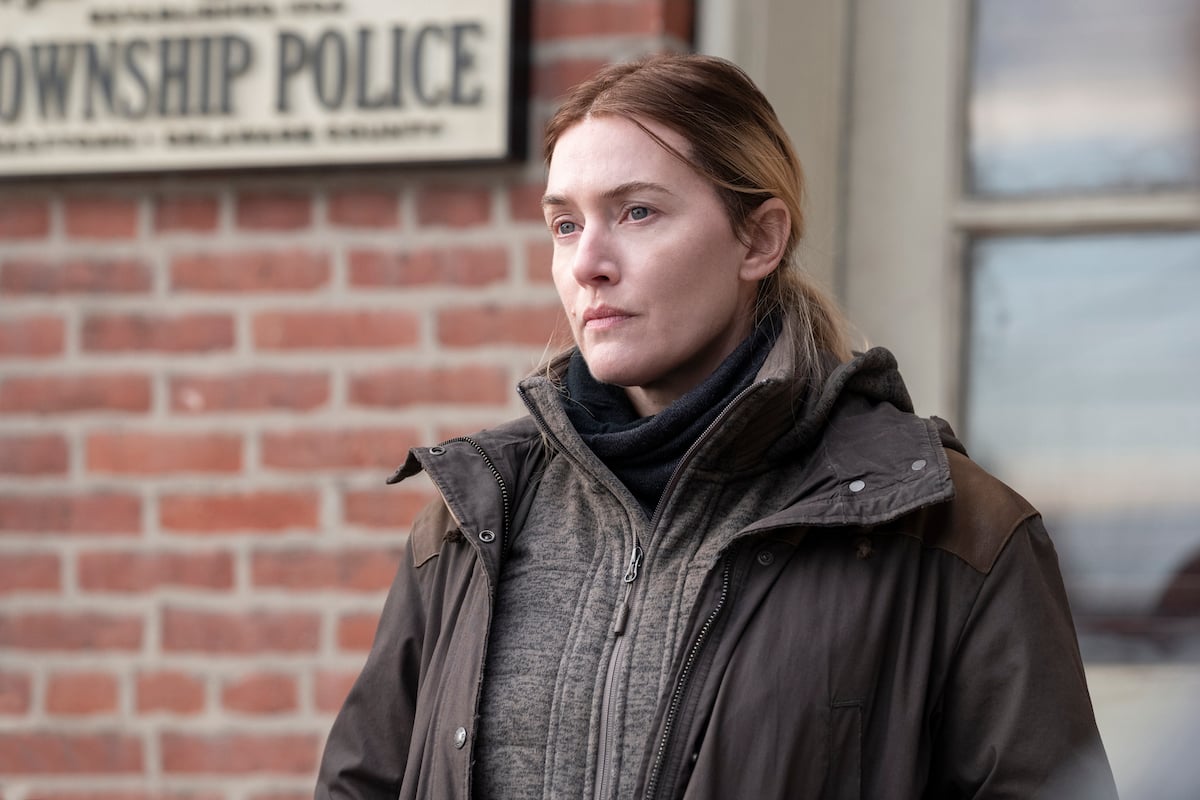 Winslet plays Mare Sheehan, a detective in the small town of Easttown, Pennsylvania, in this limited series. As local law enforcement, Sheehan knows everyone and they know her. Instead of dialing 9-1-1 people in town call Winslet's character.
Sheehan's connections to everyone in Easttown get complicated when a young mother is found dead. She's tasked with leading the investigation. There to help is another detective, Colin Zabel, played by Evan Peters. He quickly learns Sheehan's relationships complicate the case. 
Meanwhile Sheehan's dealing with family drama. She doesn't get along with her live-in mother (Jean Smart) or her teenage daughter (Angourie Rice). Her ex-husband, Frank (David Denman), lives next door. She's raising her grandson after her son's tragic death, which she refuses to talk about. 
Kate Winslet says Mare Sheehan's 'like me'
During a May 2021 IndieWire interview, Winslet explained her own Zoom attire — black leggings and bare feet — isn't too far removed from the character she plays on Mare of Easttown. The award-winning actor said she's much more laidback in her personal life which is something she recognizes in Sheehan. 
"Mare Sheehan is — she's kind of disgusting," Winslet said. "She's a hot mess most of the time, she doesn't give a sh*t what she looks like, she's kind of stopped caring what people even think about her."
Winslet continued, saying her character didn't give much thought to her looks. 
"We made decisions creatively that this was a woman who looked at herself in the mirror when she brushed her teeth in the morning and would not look in the mirror again [all day]," she said. "That's just who she is. That's like most busy mothers I know — that's like me. It really is."
"But listen, I'm much more like Mare Sheehan than any of the characters I've ever played in any period films," Winslet added. "Newsflash: I don't live like those people. I live much more like Mare."
How the Oscar winner prepared for her 'Mare of Easttown' role
Although Sheehan's style and make-up-free face are close to Winslet's real life, the accent is where the two vary. Winslet disguises her English accent on the TV show.  Before filming began in Pennsylvania she spent months working on her Mare of Easttown accent. The actor met with locals and also worked with a dialogue coach. 
When cameras started rolling, Winslet was never too far away from the accent. She listened to recorded dialogue tapes during her commute to and from set as well as in between scenes and in the dressing room. "It was just absolutely constant, this trickle of sound in my ear," Winslet told TVLine in April 2021. 
Mare of Easttown airs Sunday nights on HBO and HBO Max.