Marilyn Monroe Drove Tony Curtis Nuts While Filming 'Some Like It Hot'
Complete with a scandalous affair and wild behavior from Marilyn Monroe, the filming of Billy Wilder's 1959 classic comedy Some Like It Hot has become a bit of a Hollywood legend. For co-star Tony Curtis, it also meant being asked about Monroe for the rest of his life.
Even though some of his quotes have been taken out of context, Curtis admitted that filming steamy scenes with one of the sex symbols of the 1950s was anything but what you would expect.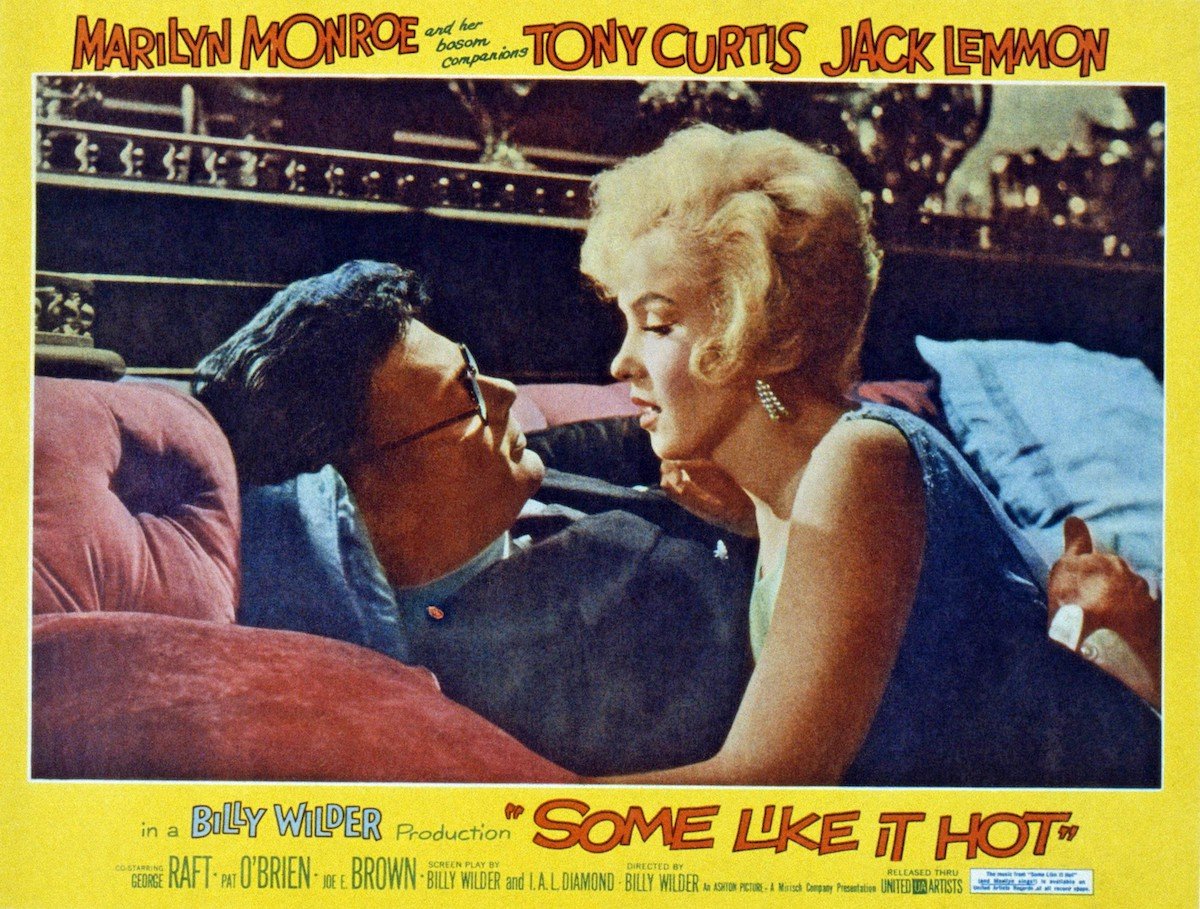 Tony Curtis apparently compared Marilyn Monroe to Hitler
An oft-circulated quote attached to Curtis has him making an extremely awkward comment about Monroe. When Curtis was once asked what it was like kissing the Hollywood icon, he told The Guardian he answered the question by saying, "It's like kissing Hitler."
But many years later, Curtis explained that the Hitler comment was always supposed to be a joke, as Curtis considered the question too stupid to take seriously.
But Curtis' reaction to the quote has also evolved over the years, as captured in an extremely candid 2001 interview with EW. "Everybody quotes me as saying that kissing Marilyn was like kissing Hitler. I never said that. I said kissing Marilyn was like f—— her, the way she would grind against me." He also told the Daily Mail that "She nearly choked me to death by deliberately sticking her tongue down my throat into my windpipe."
Monroe may have gone a bit over the top at times in her portrayal of Sugar, though director Billy Wilder was drawn to her uncontainable talent. "She had kind of an elegant vulgarity about her," Wilder once said (per Mental Floss). "That, I think was very important. And she automatically knew where the joke was." Even though she could be difficult to work with, Wilder and Curtis understood there was no replacing Monroe.
Curtis had a very dramatic affair with Monroe
Along with giving some clarity on the Hitler comment, Curtis also dropped a bombshell in his interview with EW. When asked about kissing Monroe, Curtis responded, "Oh, I did more than kiss her." Curtis added that he had a brief fling with Monroe in 1949, a time when she was very new to Hollywood.
Though the initial relationship only lasted for a month or so, Curtis and Monroe once again sparked up some romance on the set of Some Like It Hot about a decade later. At the time, Curtis was married to Janet Leigh (Psycho) and Monroe was married to playwright Arthur Miller (Death of a Salesman).
The affair also ended in stunning fashion, as detailed by The Guardian in a summary of Curtis' 2009 memoir. When it looked like the secret was about to be exposed, Curtis and Monroe sat down with Miller to come clean. It was at that moment that Monroe told both Curtis and Miller that she was actually pregnant. "I just stood there," Curtis remembered saying. "The room was so silent that I could hear tires screeching on Santa Monica Boulevard."
To get through the rest of filming, Curtis was told to leave both Monroe and Miller alone as much as possible. After production wrapped, Curtis learned that Monroe suffered a miscarriage. For Monroe, the miscarriage was her second in just three years and she also suffered an ectopic pregnancy during that span (per Biography).
Monroe apparently struggled during the filming
Even though Wilder would insist on Monroe's onscreen brilliance, she was very difficult to manage at times during filming. On top of being regularly late, Monroe was apparently drinking heavily during production. Per Best Life, Curtis even said she was drinking champagne out of coffee mugs during one of the most famous scenes of the movie. "She spilled some on me and I knew it was champagne," Curtis said.  
Monroe also really struggled with her lines, including some very basic dialog. According to Slash Film, it got so bad that co-star Jack Lemmon and Curtis even began making bets about how many takes Monroe would need to get her lines right. Wilder was also not too thrilled that Monroe was taking direction from her acting coach Paula Strasberg—not to mention the occasional note from her famous husband.
Despite some praise for her natural ability, Wilder was very harsh when asked about working with Monroe again after Some Like It Hot. In addition to comparing Monroe's brain to Swiss cheese, Wilder said, "I have discussed this with my doctor and my psychiatrist, and they tell me I'm too old and too rich to go through this again."
But what seemed like simple bad behavior from a Hollywood star proved to be more of a cry for help. Despite the film being an enormous commercial and critical hit, it also ended up being one of the last times Monroe would ever be on a Hollywood set. Following Some Like It Hot, Monroe would appear in only two more movies before her tragic drug overdose in August of 1962.
RELATED: Marilyn Monroe Was Pressured Into Getting Married at 16 To Escape Her Abusive Foster Home