Marilyn Monroe Held a Humble Patriotic Job During World War II
Hollywood has a colorful history filled with incredible actors and actresses. Some of them went on to become icons — forever remembered for their beauty, grace, talent, and impeccable fashion sense. 
Marilyn Monroe was one of these exceptional stars. Unfortunately, she didn't have an easy life. Her childhood was marred by abuse and time spent in foster care. Her career was rocky, despite the fact that she was one of Hollywood's most famous actresses. Before all that, however, she spent time working hard to support the war effort during World War II.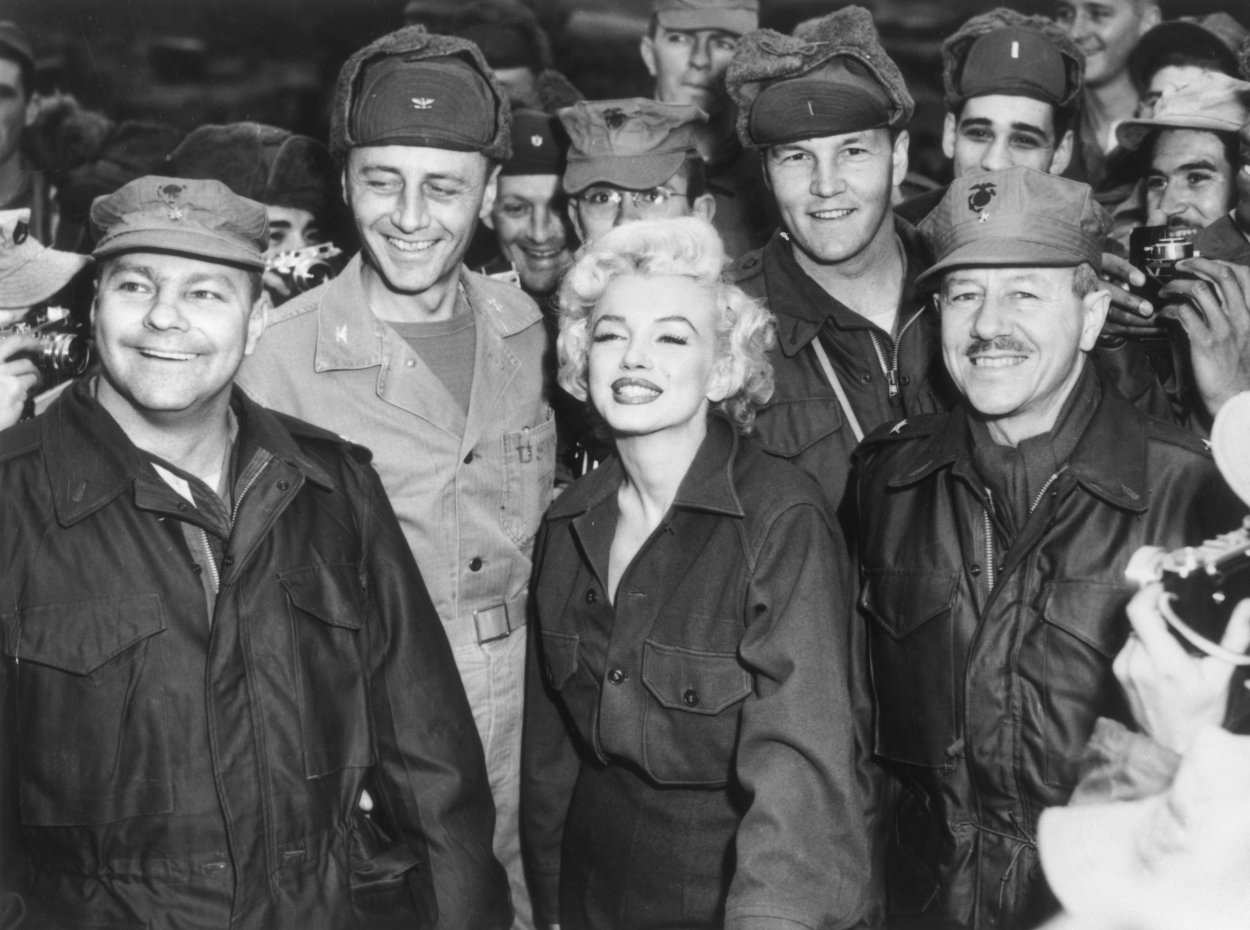 Marilyn Monroe is an American icon
Monroe was one of the first true Hollywood stars. Her curly blonde locks, dazzling smile, and stunning hourglass figure will be remembered throughout the ages. The actress led a troubled life, but she remains one of the most recognized faces in film history. 
According to Biography.com, Monroe was born in Los Angeles in 1926. Her real name was Norma Jean Mortenson, and she grew up in several foster homes. Her mother paid a family friend, Grace Goddard, $25 a week to raise Monroe.
Goddard and her husband moved to the East Coast when Monroe was seven, and were unable to take her with them. She returned to foster care until she was 16 years old. 
When Monroe was 16, she escaped an abusive life in the foster care system by marrying her boyfriend. Jimmy Dougherty was 20 years old, and they had only been dating for a few months. Monroe was desperate to leave foster care, where she had endured sexual abuse for years. They divorced in 1946, when she started becoming famous. 
It's hard to believe, but the incredible actress often doubted her own talent. She was extremely self-conscious and suffered from pre-performance anxiety. The anxiety was crippling, and often made her physically ill. Monroe was chronically late to set, which became an annoyance for co-workers and crews. 
Monro had several successful films, including Gentlemen Prefer Blondes and Some Like It Hot. By the time the '60s rolled around, however, directors were getting tired of dealing with her frequent absences and tardiness.
In 1962, the actress was dismissed from the film Something's Got to Give. Shortly after, she was found dead in her home in LA. Her official cause of death was a drug overdose, but some speculate that there might have been foul play. 
Marilyn Monroe was married three times
Monroe had no trouble attracting men, and she had an intriguing list of beaus, including Marlon Brando and Frank Sinatra. There are also plenty of rumors that she was romantically involved with JFK at one point. She was married three times, but not to any of these men. 
Her first husband was Jimmy Dougherty, who was her high school boyfriend and a merchant marine. The marriage was one of convenience for Monroe, because it helped her escape the foster system. She filed for divorce four years later, after her modeling career took off.
In 1954, Monroe married baseball legend, Joe DiMaggio. The marriage only lasted nine months, but DiMaggio continued to deliver roses to Monroe's crypt for 20 years after she died. 
Playwright Arthur Miller was Monroe's third husband. They met in 1950, and maintained a friendship until they began having an affair while Monroe was married to DiMaggio.
They married in 1956, and divorced in 1961. The couple had more than their fair share of problems, with Monroe suffering from two miscarriages and an ectopic pregnancy. 
An interesting job during the war leads to a big break
Before Monroe became a Hollywood bombshell, she was an integral part of the war effort during World War II, according to Gizmodo. In 1944 — when she was still known as Norma Jean — Monroe worked in a factory in Van Nuys.
Her job was usually spraying planes with fire retardant, but one war photographer snapped pictures of her performing another interesting task. In the photos, Monroe is seen assembling an OQ-2 radio plane — in other words, a drone.
It was the first mass-produced unmanned aerial vehicle in the world. In addition to having a really cool job, those exact photographs were the ones that led to Monroe's modeling break.