Marilyn Monroe Helped Ella Fitzgerald's Career Take Off
When it comes to famous women of yesteryear, few hold the impact on their selective fields that Ella Fitzgerald and Marilyn Monroe do. On the one hand, you have Ella Fitzgerald, a Black singer who broke through barriers and made a name for herself in a country rife with racism and discrimination. On the other, you have Marilyn Monroe, whose acting career and sex appeal helped set a standard that's still used today. However, what people might not know is how the latter helped give the former a foot in the door.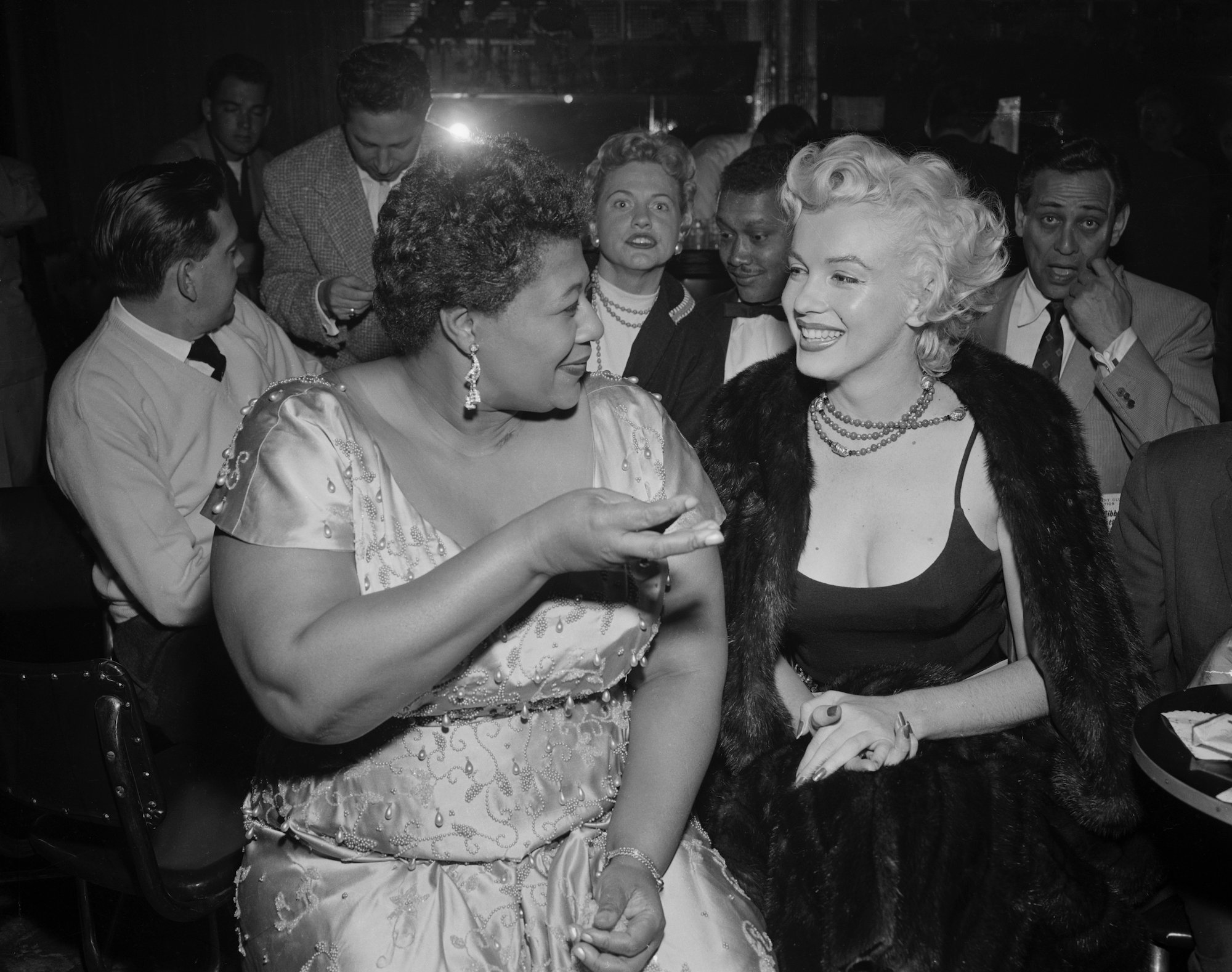 Who is Ella Fitzgerald? 
Britannica reports Fitzgerald was born in Newport News, Virginia in 1917. Growing up in a country where Black Americans were still treated like second-rate citizens, Fitzgerald had an uphill climb from birth. Despite this, she discovered a love of music early that helped make her the voice of a generation. Fitzgerald first wanted to be a dancer, but after singing at a contest in the legendary Apollo Theatre, she realized that she had a gift that propelled her to the top. 
She joined Chick Webb's orchestra, and Webb became her legal guardian when Fitzgerald's mother died soon after. When Webb's band broke up, Fitzgerald started working with Benny Goodman, Louis Armstrong, Duke Ellington, and several other behemoths of the 1940s jazz scene. She became one of the pioneers of jazz vocalists and continued working until her death in 1996 when complications arising from diabetes took her life. 
Had she not run into another famous face, however, her trajectory may have been quite different. 
Who is Marilyn Monroe? 
Marilyn Monroe was born Norma Jeane Mortenson in 1926, according to Britannica. A Los Angeles native, she grew up in the heart of entertainment. However, her upbringing was filled with many ups and downs. Her mother struggled with her mental health and was sent to an asylum. In 1942, she married a factory worker at just 16 years of age, but they divorced soon after. Around that same time, in 1946, Monroe became a famous model and secured a contract with Twentieth Century-Fox to appear on the screen. 
Starting with small roles in films like All About Eve, Monroe took off thanks to her sex appeal and screen presence. Her films Gentlemen Prefer Blondes and How to Marry a Millionaire propelled her to the A-list. In 1954, she married Yankees legend Joe DiMaggio but divorced him just a year later. In 1959, Monroe starred in her biggest film to date, Some Like It Hot, which showed that she was a real actor. 
Not long after, however, she developed a reputation due to her rumored affair with John F. Kennedy and drug and alcohol abuse. She died of an overdose in 1962, and a new generation of conspiracy theories came soon after. Looking at her next to Ella Fitzgerald, it's hard to connect the two legends. However, had Monroe not been a fan of Fitzgerald, the jazz singer may not have gotten her big break. 
Monroe and Fitzgerald's friendship
Professionally, Monroe and Fitzgerald have little in common. However, their traumatic childhoods gave them a common bond that resulted in a friendship that lasted until Monroe's untimely death. In the 1950s, Fitzgerald was a successful singer in her own right, but not yet the household name she is today. She had a hard time booking bigger clubs due to her size and race. 
Monroe was a fan of Fitzgerald's music before the two ever met, but when she heard about the singer's inability to get bigger clubs, she pulled some strings and got Fitzgerald a gig at the famed Mocambo in LA, according to Biography. This got her attention outside of the jazz circles and helped propel her to legendary status. According to Fitzgerald, she never had to play a small club again after Monroe helped her out. 
Fitzgerald was suddenly rubbing shoulders with Frank Sinatra, Judy Garland, and other Hollywood elites. This story helps highlight a different side of Monroe, who is often viewed through the lens of her looks and demons. Instead, it shows a woman who was unafraid to go against societal norms and help someone who needed their big break. The music world has not been the same since.