Mariska Hargitay Gets Checked out While Filming 'Law & Order: SVU' — Why It's Not Surprising
Mariska Hargitay is known to turn a few heads when she walks by. She's absolutely beautiful and when she's filming a scene, it's hard not to stare.
Mariska Hargitay is known to turn a few heads when she walks by. She's absolutely beautiful and when she's filming a scene, it's hard not to keep your eyes focused on her. Hargitay was recently filming in Manhattan and she turned some heads and people noticed. Read on to learn more.
Mariska Hargitay films for 'Law & Order: SVU'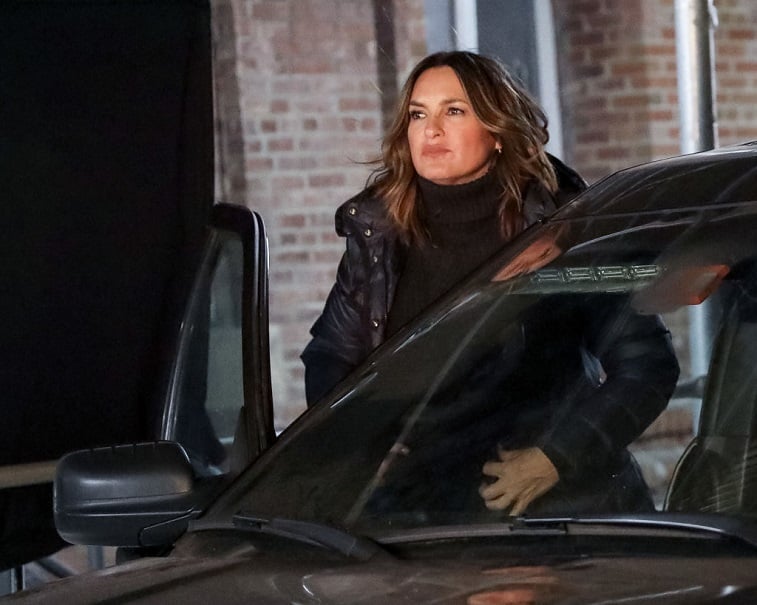 OK Magazine reports that Hargitay was recently spotted filming for Law & Order: SVU in Manhattan on Monday, January 13. Hargitay sported a mostly black outfit. She completed the look with a large slouchy bag and a long coat.
While filming, Hargitay is clearly spotted by some construction workers that may find her a little easy on the eyes. It looks like the situation may even be written into an upcoming episode since the camera was there as well. Men in hard hats stop to look at Hargitay as she walks past them and it's kind of noticeable.
Why this isn't at all surprising for Hargitay
Mariska Hargitay is more than a little famous, so people watching her is no unusual sight. Since she was also accompanied by a cameraman, it makes sense people would be staring at her wondering what was going on. These men, whether they recognized her or not, were blatantly staring at her.
Just because Hargitay is famous doesn't mean that's the only reason they were staring. As a woman, Hargitay and many women all over the world know how it feels to be stared at, cat-called, and harassed. It's ironic that she's filming for a show about sex crimes and she's being stared at though.
Mariska Hargitay founded the Joyful Heart Foundation
Hargitay herself does what she can to help women who are victims of sexual assault or abuse. She actually started her own foundation called The Joyful Heart. Hargitay had her eyes opened to what happens to victims while working on SVU. Hargitay wanted to do something to help victims heal from the trauma they experience on a daily basis.
After receiving numerous letters from survivors telling her of their stories, Hargitay set out to do something to promote healing. She wanted to answer these people and she went about starting her foundation. The mission of Joyful Heart is, "to transform society's response to sexual assault, domestic violence, and child abuse, support survivors' healing, and end this violence forever."
Hargitay is a role model
Hargitay is so much more than a successful and beautiful actress. She's also a role model and an advocate for the less fortunate and victims all over the world. She's considered a successful maker of positive change.
Unfortunately for Hargitay and being a successful woman, she's bound to be stared at on a regular basis. That's just the nature of the game, but she keeps it together and holds her head high. To Mariska Hargitay, we see you girl and we applaud you for everything you do. You do it flawlessly even while being gawked at the entire time.