Mariska Hargitay's Virtual Reunion With Christopher Meloni Has Fans Excited
Mariska Hargitay recently posted an image of her virtual reunion with Christopher Meloni along with her other co-stars in 'Law & Order: SVU.'
Fans have been patiently waiting for a reunion between Captain Olivia Benson (Mariska Hargitay), and her former longtime partner, Elliot Stabler (Christopher Meloni) in Law & Order: SVU. Well, it looks like the time is coming, as Hargitay recently shared an image that's giving fans hope for the future.
Christopher Meloni has his own 'Law & Order' spinoff coming in 2021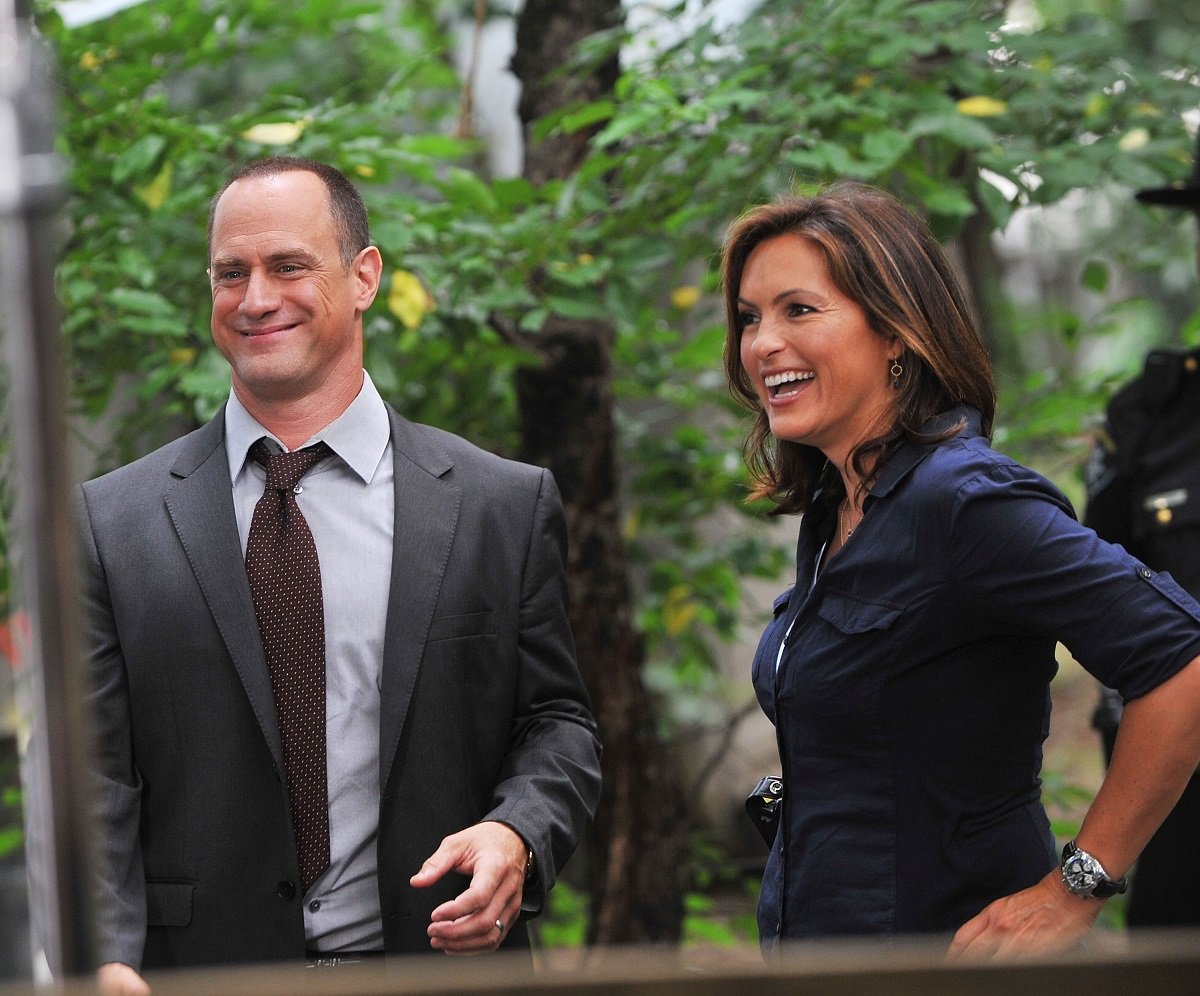 Christopher Meloni will be returning to the Law & Order universe with his own spinoff, called Law & Order: Organized Crime. It was originally scheduled for the fall of 2020, but it's been pushed back to 2021. According to Variety, there was a shakeup involving a showrunner.
Meloni left at the end of season 12 of SVU, and never returned for season 13 because of issues with contract negotiations. His character was truly beloved by numerous fans who can't wait to see his return.
Here's NBC's description of the upcoming series: "Christopher Meloni, reprising his role as Elliot Stabler, returns to the NYPD to battle organized crime after a devastating personal loss. However, the city and police department have changed dramatically in the decade he's been away, and he must adapt to a criminal justice system in the midst of its own moment of reckoning. Stabler will aim to find absolution and rebuild his life while leading an elite new task force that is taking apart the city's most powerful crime syndicates one by one."
Mariska Hargitay's virtual reunion with Christopher Meloni has fans excited
There's been talk of crossovers between SVU and the new series. Meloni is expected to make an appearance on SVU again, and it looks like the time is coming soon. He's supposed to return to SVU first before making his debut in the spinoff series, and a new image posted by Hargitay is getting fans excited for it.
Hargitay recently shared a photo to her Instagram of a table read that included Meloni. In the video call, Meloni can be seen in the upper right corner wearing a bright green shirt. Hargitay snaps the picture with her phone, and they're joined by other stars of the series including Ice-T, Kelli Giddish, Peter Scanavino, Jamie Gray Hyder, and Demore Barnes.
Hargitay's virtual reunion with her former co-star is giving fans hope to see the two together on our screens again soon. "Well…that happened…" Hargitay captioned the post on Instagram.
Showrunner Warren Leight took his own screenshot of the table read and posted it to Twitter along with a retweet that says: "Scattered around this @NBCSVU zoom screen grab: our fantastic west coast editors, our incomparable @SVUWritersRoom, our insanely adroit #SVU22 squad, New York's hardest working producing team, and the guy who started it all (top row, middle) Oh, and @Mariska and @Chris_Meloni."
Fans react to Mariska Hargitay's post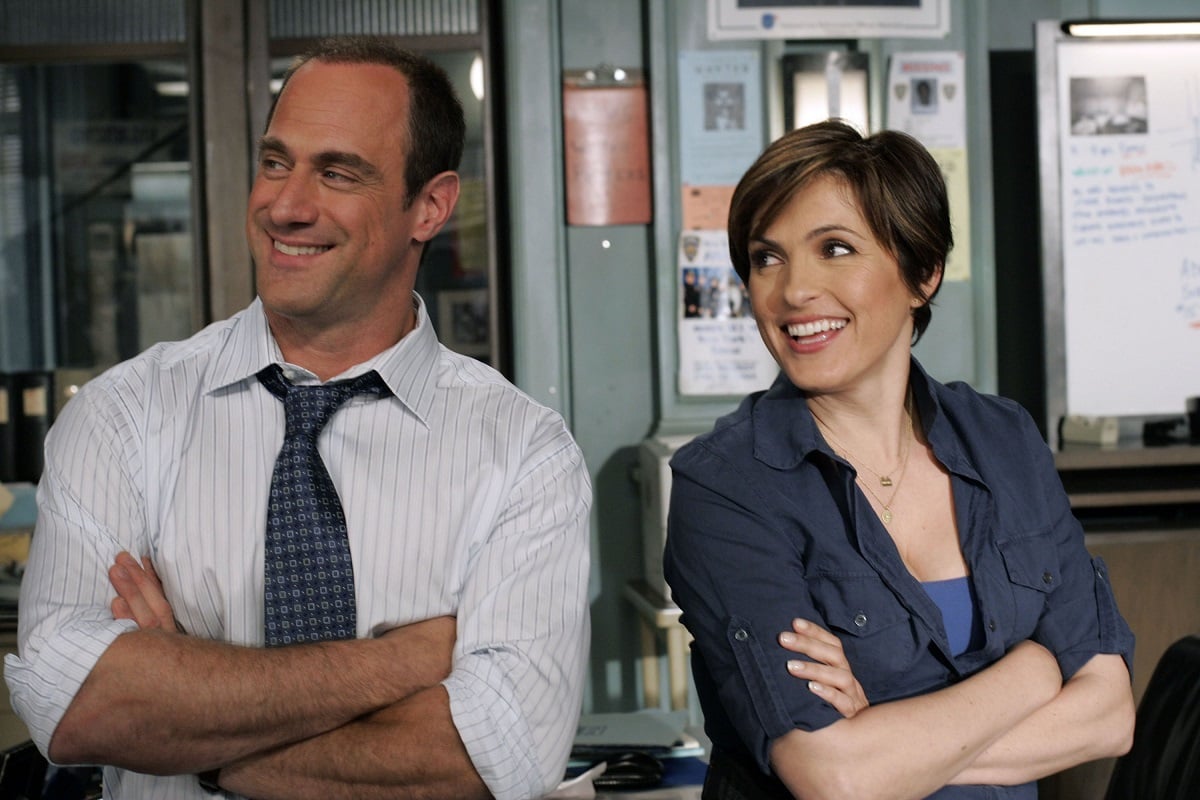 As can be expected, fans are very excited for this new bit of information, especially at the thought of Christopher Meloni's triumphant return to the Law & Order world happening sooner rather than later. In addition to people really liking Hargitay's username of "M Hermann," fans are thrilled about Meloni's appearance.
One fan spots Meloni in the upper right-hand corner of the call. "I spy with my little eye… a very familiar face in a vibrant green top!! 😜😁🥰," a fan wrote.
One fan wants a date of when to expect this reunion. "Benson + Stabler back in action. ❤️ Give me a date. 😍," they wrote.
Another fan says they've been waiting for 10 years for this reunion to happen. "I've waited 10 years for this ❤️," they said.
"Stabler is back!!!" another fan wrote in the comments.
One fan hopes they aren't being played. "Please don't play me," they said.
Another fan calls it "the reunion we've all been waiting for," adding in "OMG" at the end.
An Instagram user wrote a comment expressing their excitement. "AHHHHHH YESSSSS 💯💯💯💯💯💯💯," they said.
Fans couldn't be more thrilled at the prospect of an in-person reunion on our screens between Benson and Stabler. Hopefully, this means we won't have to wait too much longer for it.