Mark Hamill Once Revealed How Filming 'Star Wars: The Last Jedi' Reminded Him of 'A New Hope'
Mark Hamill once discussed the one scene he did in 'Star Wars: The Last Jedi' that made him think about the first 'Star Wars' film he was a part of.
Many anticipated Mark Hamill's full return to the Star Wars universe in The Last Jedi. The sequel covered new ground in the sci-fi epic, but there was one scene that specifcally reminded Hamill of A New Hope.
Mark Hamill had trouble accepting what 'The Last Jedi' did to Luke Skywalker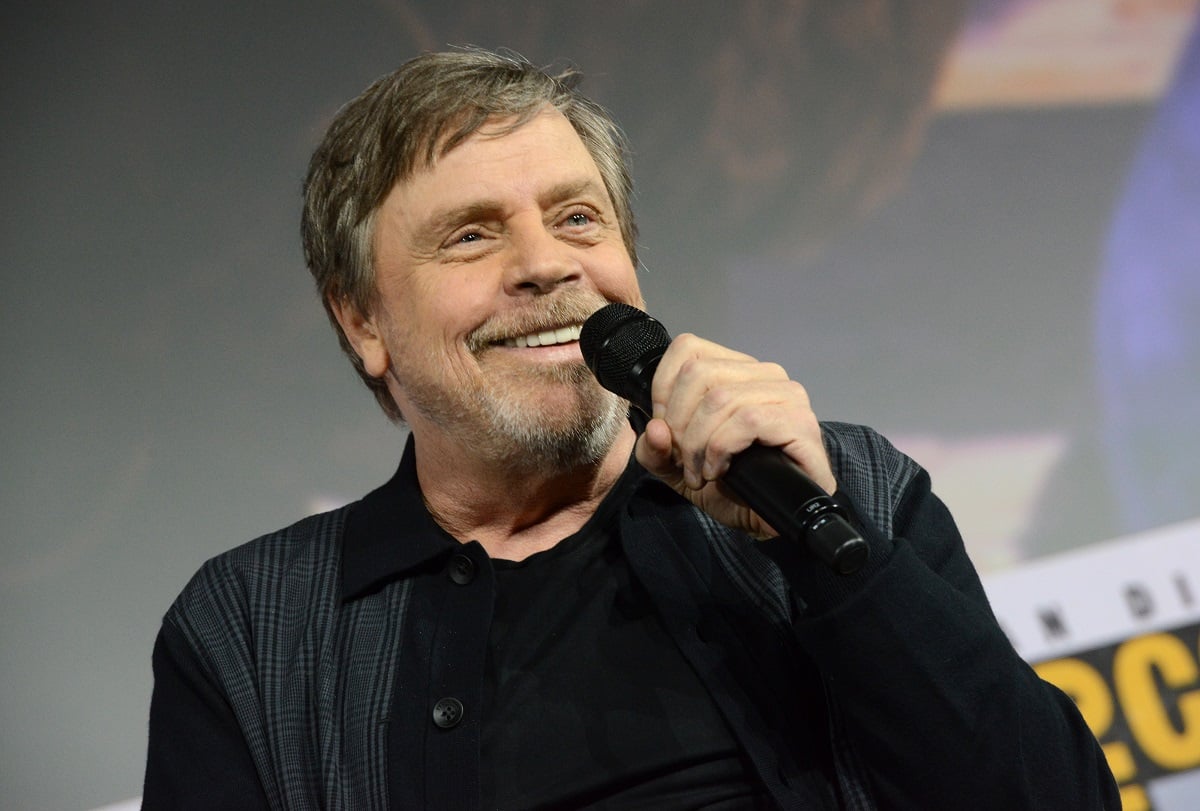 Although many would embrace the idea of Hamill returning to the Star Wars franchise, Hamill admitted he hesitated to reprise his role. So many years had passed since Hamill was last seen in Lucas' universe that the prolific actor had some reservations. When Lucas informed Hamill and his co-star Carrie Fischer that their characters would return in the Star Wars sequels, Hamill couldn't believe it.
"I was completely stunned. Carrie, not a minute went by — she slapped the table and goes, 'I'm in!' I said, 'Carrie, poker face,'" he told New York Times.
Hamill asserted that he needed to really consider the idea of returning to the franchise. Especially since he wasn't sure the sequels would've been able to capture the magic of the originals.
"No one wants to see the 50-, 60-, 70-year-old versions of us, running around, bumping heads on the Death Star," he said. "It's sad."
In the end, he decided to reprise his role if only because both Fisher and Harrison Ford returned to the franchise.
"Can you imagine if I was the only one to say no? I'd be the most hated man in nerd-dom," Hamill quipped.
Mark Hamill once revealed that filming 'The Last Jedi' reminded him of 'A New Hope'
Filming The Last Jedi created new memories for Star Wars that the prolific voice actor has looked back at fondly. But there were some experiences that reminded Hamill of shooting the original films.
"Probably the most prominent memory would be that island, Skellig Michael," he said according to Contact Music. "Because it's not easy to get to the top. Those steps are brutal and they go on for days. But when you get to the top, it transports you. It really does feel like you're in another world."
Hamill explained that he couldn't help but think about A New Hope while doing the sequence.
"I only had that experience once before and that was way back in Tunisia when we were on the salt flats," he said. "It's three-hundred-and-sixty degrees of horizon because the saltwater doesn't let any vegetation grow."
Hamill also felt like he was filming in another world entirely during the scene in question.
"It's just unearthly. There I am in my Luke costume with the belt and floating car and R2 was there, and I turned my back – the crew was filming something else – and the sun was going down. I got the chills. I really felt I was in a galaxy far, far away. I certainly wasn't on Earth," he said.
Mark Hamill had trouble accepting what 'The Last Jedi' did to Luke Skywalker
The Last Jedi wasn't always an easy film to shoot for Hamill. The veteran actor once shared in press junkets that were a few surprising changes made to Luke he didn't initially feel comfortable with.
"Luke was so optimistic and so hopeful and cheerful. Here he's is in a very, very dark place," he once said according to Deadline.
He would also voice his complaints to Last Jedi director Rian Johnson. But he realized the movies weren't his to make.
"This is the next generation of Star Wars," Hamill said. "So I almost had to think of another character … but I had to do what Rian wanted me to do because it serves the story well, … I still haven't accepted it completely."