Marlon Brando's Son Disputes Story About His Dad Making Michael Jackson Cry
In the midst of people celebrating what would have been Michael Jackson's 61st birthday on August 29, old stories are being circulated about the King of Pop and the allegations leveled against him. His celebrity friendships are under the microscope this time, namely the one he had with the late Marlon Brando. It's led to rumors that the actor made Jackson cry, but Brando's son wants everyone to know he is not on board with any of these tales about his dad or Jackson.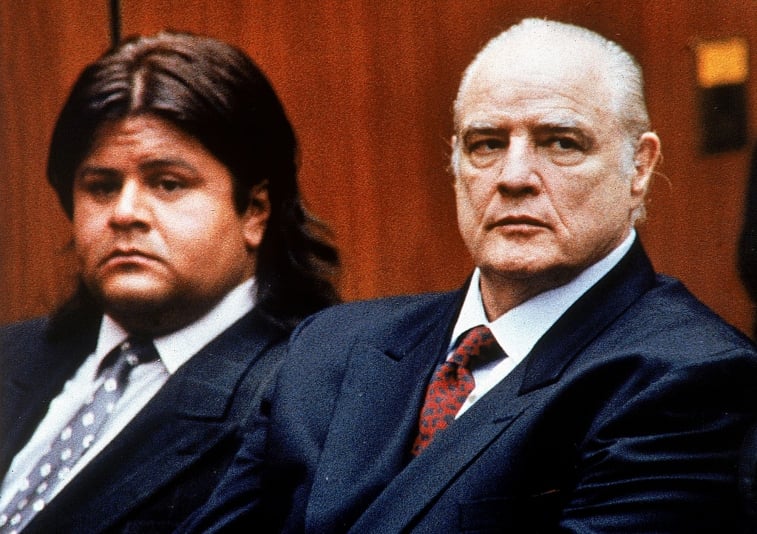 Story published this week touches on old Michael Jackson investigation
Brandon Ogborn, one of the co-creators of the podcast series, "Telephone Stories: The Trials of Michael Jackson," dug through some files and transcripts from the 1994 Los Angeles prosecutors' investigation into sexual abuse allegations against Jackson. One of the things he learned—through a transcript—was that Marlon Brando was called in to be questioned about the singer.
The details of Ogborn's findings will be discussed on the last episode of his podcast on September 1, but The Los Angeles Times interviewed him this week and published an account that said Brando made Jackson cry when the two friends were talking at Neverland Ranch. According to the outlet, the transcript was verified.
Ogborn told The Times that in his opinion, Brando was different from other people who defended Jackson because he too was rich and famous, and because "He's also a weirdo, like Michael Jackson. So he's to me a weirdo who understands another weirdo in a weird world."
Interview with Ogborn about Brando files contains previously unheard information  
Reading Brando's words from his meeting with two prosecutors, Ogborn shared that the actor said this about Jackson:
"I had asked him if he was a virgin and he sort of laughed and giggled. He said, 'Oh, Brando.' I said, 'Well, what do you do for sex?' And he was acting fussy and embarrassed.

He said he hated his father and started to cry. And I said, 'Well, who are your friends?' He said, 'I don't know anybody my own age. I don't like anybody my own age.' I said, 'Why not?' He said, 'I don't know, I don't know.' He was crying hard enough that…I tried to assuage him. I tried to help him all I could."
Ogborn reveals other notes and excerpts from the files, adding that Brando told investigators that Jackson did not curse and was very soft-spoken, something he found unusual for a man of 35. Allegedly, Brando initially believed Jackson was gay but then was unsure, telling investigators "it was pretty reasonable to conclude that he may have had something to do with kids."
As mentioned by Esquire, the case that spawned the criminal investigation was closed when the family of the 13-year-old who accused Jackson settled for $23 million.
Marlon Brando's youngest son disagrees with how his father is being portrayed
As a result of this new attention on his father, Miko Brando wrote a letter to The Times disputing what was discussed during the interview. According to Page Six, the younger Brando stated he didn't like how his father's words were being twisted:
"I was friends with Michael Jackson for over 27 years and my father adored him. I don't appreciate my father's words being twisted to imply that Michael hurt anyone."
Years ago, Miko was one of Jackson's drivers and considered a right-hand of the singer, but the elder Brando and Jackson bonded when they taught each other some skills: Brando gave Jackson acting lessons while Jackson was tasked with showing him how to dance.
There's no word or whether or not The Times will publish Miko Brando's response letter, but the 12-episode podcast that addresses the Brando situation airs on Luminary on Sunday.