'Married at First Sight': Derek Tells Katie 'F*** You' In Explosive Fight
Katie Conrad and Derek Sherman were on shaky ground even before their marriage began on Lifetime's Married at First Sight Season 10. Katie admitted she still wondered about her ex, who professed his love to her just before her wedding to Derek.
Still, Derek and Katie hit it off and seemed to have chemistry on their honeymoon in Panama. After they got back to Washington, D.C., however, it was a different story. Katie was upset that Derek hadn't fallen in love in the past. His romantic history (or lack thereof) made her think he wasn't willing to be vulnerable or give his whole heart to someone.
On the Mar. 11 episode of Married at First Sight, "Anniversaries and Secrets," Derek and Katie's arguments over love and vulnerability continued. Their explosive text fight resulted in a rather tense one-month anniversary dinner date.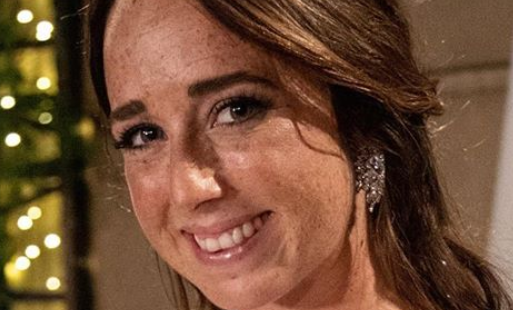 Katie told Derek she was going her keep her townhome
Katie told TLC producers she had decided to keep her townhome rather than jump fully into her new apartment and new life with Derek. Her husband, she admitted, wasn't pleased with her decision.
"I have made the decision that I'm gonna keep the townhouse that I'm living in," she said. "It didn't really go over too well…He kind of asked me why I felt so disgusted about staying with him, and I never used that word at all."

The Married at First Sight star explained that Derek's admission that he wouldn't fall in love with her before Decision Day (at the eight-week mark of their marriage) had made her afraid to try with him. "So I'm supposed to put all my eggs in that basket?" she wondered. "And that scares me."

Derek, meanwhile, shared his side of the story just hours before the couple's one-month anniversary dinner. "I don't expect us to fall in love with each other before Decision Day," he said.
But Derek still wanted to try to make things work, while Katie seemed to want to run before Derek could break her heart. "She pretty much told me she was checking out, like, 'I'm checking out right now,'" he said.

Katie added that Derek had cursed at her at the end of the argument, leaving her frustrated with him in general. "It ended up with Derek saying 'f*** you' to me, which I did not like, and I honestly felt so unimportant," she lamented.
The couple's anniversary dinner turned into another argument
As Katie and Derek headed out for dinner and drinks in celebration of their one-month anniversary, Katie was still fixated on their fight from just a few hours earlier.
"It turned into him feeling like I was attacking him for not falling in love easily, and he got really defensive," she told TLC producers.
Katie reiterated that she wasn't happy he had said, "No offense, but f*** you."
"I have realized a new boundary of mine is that I do not want to be cursed at," the Married at First Sight star asserted.

Over dinner, the couple rehashed the argument. Katie said she had felt like Derek chose to get verbally aggressive with her rather than taking her concerns seriously. Meanwhile, Derek worried that Katie had already truly "checked out" and wasn't willing to work on their marriage at all.
"We're supposed to be celebrating today, but I just don't feel like we have that much to celebrate," Katie complained.

But Derek said he'd tried to cut off the argument on purpose so they could at least have the weekend to try to build a connection and make more memories together. "The last thing that I want to do in this precarious situation that we're in is add more stress," he explained.

Katie pushed back against Derek's communication style, saying that he should have discussed how he felt instead of casting her aside. "If you had said it differently, then I would have been a lot more receptive," she said.
Derek and Katie reconciled, but tensions still ran high
The Married at First Sight couple eventually apologized to one another, with each acknowledging their part in the conflict.
"And you can't tell me 'f*** you' when we have a difficult conversation," Katie told her husband.

"Then don't tell me you're checking out," Derek shot back.

"I didn't say I checked out until after you said that," Katie claimed.
After a moment, Derek admitted the order of their statements didn't really matter in the scheme of things. "I'm not trying to make a point," he told his wife. "I am sorry for saying f*** you. Things get heated up."

"I'm sorry for saying I was checking out," Katie confessed, adding that "of course" she wasn't actually checking out of their marriage. Still, while the couple made things right in the moment, their future remained unclear. Katie clearly still felt insecure about Derek's feelings for her and ability to fall in love in general, while Derek felt like he wasn't being given a chance to grow his feelings for his wife naturally.