'Married at First Sight': Derek Tells Katie She Made It 'Really Easy Not To Fall In Love With Her' Amid Affair Reveal
Derek Sherman and Katie Conrad decided to stay together and try to make their relationship work on Decision Day at the end of Lifetime's Married at First Sight Season 10. But on the Apr. 22 reunion episode, the young couple revealed that their happy union hadn't lasted very long at all—falling apart just weeks after they chose to stay married.
Married at First Sight reunion host Kevin Frazier sat down with Derek and Katie to ask them about their breakup, including Katie's recent affair with a former fling. The usually polite and mild-mannered Derek finally threw Katie some major shade after their breakup.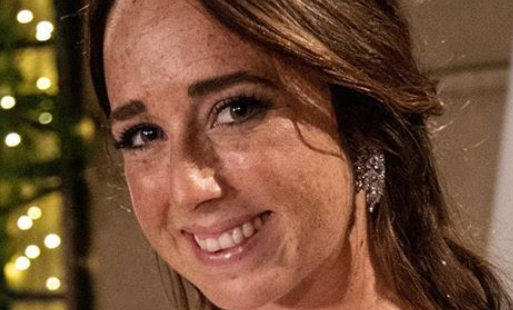 Katie and Derek revealed that they were no longer married
After reflecting on their time together during filming, Frazier asked Derek and Katie how things had gone after Decision Day. "So the big question is, are you still married?" he wanted to know.
"The answer is no," Derek replied, looking stone-faced. The Married at First Sight star explained that Katie had begun, or at least hinted at, the separation process just two weeks after Decision Day (and after the couple moved in to a new place together, to boot, and signed a yearlong lease).
"Katie kind of said, you know, I'm not really happy with where we are right now," Derek said. A few days later, she asked to be "just friends" for a while, to which he agreed.
But once the ball got rolling, Derek claimed, things quickly fell apart. "A couple of days later, it was, let's sleep in separate rooms," he continued. "So I was like, all right, let's do that to make things a little easier for us."
Still, the couple wasn't completely done trying to work on their marriage. They went out to Nashville for the concert Derek had planned after their one-month anniversary. While they were there, Katie asked if he wanted to legally separate.
Derek said he knew he and his wife likely wouldn't make it for the long haul by that point. "I'd be lying to myself if I didn't say I saw this coming," he confessed.
The 'Married at First Sight' couple argued over Katie's affair with her ex
While Derek thought he and Katie were just beginning the breakup/separation process at that point, he quickly found out that his wife had already moved on to an extent.
The Married at First Sight star told Frazier that, just shortly after he and Katie decided to separate, Katie revealed that she'd been unfaithful. "Katie kind of confesses to me how she had an affair with her ex," Derek lamented.
Frazier wanted to know if this was the same former fling who professed his love for her just before Katie married Derek—and who almost led her to call off the wedding entirely. "Was it the old boyfriend that you guys had discussed earlier?" he asked. When Katie admitted it was, the host wondered: "So there was still that emotional connection?"
Katie, who looked shocked that Derek had brought up her affair, confessed that it was more of a hookup than a relationship. "I wouldn't say it was so much an emotional connection as it was a physical connection, if I'm being honest," the Married at First Sight star said.
Then, Katie took a jab at her sex life with her ex-husband, adding, "Which Derek and I also didn't have." (The young couple had often argued about their sex life, with Katie wanting Derek to initiate more physical intimacy.) She claimed, "We weren't having any kind of physical connection at all. It had probably been, I would say, at least a month since we had been physical."
"Despite me trying," Derek shot back.
"When were you trying?" Katie scoffed sarcastically.
"That's part of the reason you said, let's sleep in different rooms, because I was trying to start something," Derek argued.
Later, Derek dropped yet another bombshell. He believed, based on what another Married at First Sight cast member had told him, that Katie had actually been unfaithful long before she confessed.
"My greatest fear throughout all of this was that she would have an affair with her ex," Derek revealed. "But then I find out, just several days ago, that literally the day after the honeymoon, she slept with him."
Another cast member—who refused to identify themselves—told him the affair actually began shortly after the honeymoon in Panama, which Katie insisted wasn't true. Still, Derek seemed convinced.
Derek said his heart wasn't broken because Katie 'made it really easy not to fall in love with her'
Meanwhile, Katie had her own harsh words for Derek. The Married at First Sight star said that she knew she wasn't ever going to fall in love with him. "I've been in love before, and I know what it feels like to build up to it, and this was not it," the 26-year-old told Frazier. "I felt like the more I got to know him, the more I was moving away from growing in love with him."
But 26-year-old Derek, who usually made a point to be diplomatic and even-handed when he spoke to his wife, finally dropped some insults of his own.
"During the show, you said you'd never had your heart broken before. Did this break your heart?" Frazier wanted to know.
"Thankfully, Katie made it real easy not to really be able to fall in love with her," Derek declared. He admitted that he "got hurt" in the process, but he insisted he'd never been close to falling in love with Katie at all.