'Married at First Sight': Fans Think Derek's Vows to Katie Were the Sweetest in the Show's History
Katie Conrad is shaping up to be one of the most controversial brides on Season 10 of Lifetime's 'Married at First Sight.' But at her wedding to Derek Sherman, the focus was all on the groom, as he delivered poignant wedding vows that made fans swoon.
Katie Conrad and Derek Sherman might be one of the youngest couples so far on Lifetime's Married at First Sight, but the MAFS Season 10 pair says they're more than ready to get hitched and start a family.
25-year-old Katie raised eyebrows among many viewers on the MAFS premiere episode, as she confessed that a recent fling who'd ghosted her in the past had reached out to her and professed his love for her. The mental health professional and family therapist even wondered if she should go through with her arranged marriage to Derek, a 26-year-old computer engineer. 
But on the Jan. 8 episode of Married at First Sight, "Here Comes the Stranger," Katie and Derek got married in grand style. And, for many diehard fans, Derek's self-written vows were some of the most memorable on the show so far.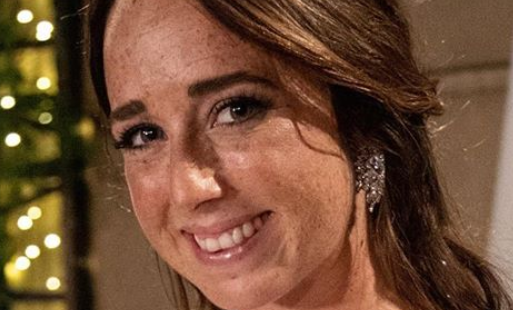 Katie put aside her 'cold feet' to marry Derek
Katie told the three Married at First Sight experts who set her up with Derek that one of the reasons she wanted to get married at a young age was her Type 1 diabetes diagnosis, which could make it challenging for her to have children as she ages. 
Another reason? Her complicated dating history. And things got even more complicated for the Married at First Sight bride-to-be when a recent flame told her he loved her and asked her to call off her upcoming wedding. 
On the Season 10 premiere, Katie told her family she was conflicted by her ex's declaration of love. 
"It's a lot of pressure for me just because I'm feeling really conflicted right now on whether to get married at first sight or not. And my head is being messed with by this other guy who told me I shouldn't go through with this," she said during her wedding dress fitting. She also said she had "cold feet" and "second thoughts" about going through with the wedding.
Still, despite her nerves, Katie married Derek on the Jan. 8 episode. "I have no idea what I'm walking into, but what I'm looking for in a match is somebody I can have that, like, deeper connection with," she told Married at First Sight producers just before she walked down the aisle with her father. If it all worked out, she said, it "would really be a fairy tale."
Derek's vows to Katie were romantic and intense
After Katie walked down the aisle to meet her groom, Derek and Katie exchanged vows they wrote themselves.
Derek, who has said on the show that he wants to find his soulmate through the MAFS process, delivered a series of heartfelt promises to his new bride. 
"These past two weeks, I have never been more nervous and excited in my entire life. Yet through the entire time, a smile has never left my face because I knew I'd be meeting you here today," the Married at First Sight star began as Katie listened intently.
He also promised Katie security and safety in their relationship. "I've been waiting my whole life to fall madly in love and marry the person I want to share the rest of my life with. Though I'll admit I never quite envisioned it like this, I'm prepared to make this the first and last time I ever get married. Even though I've guarded my heart for as long as I can remember, I give it all to you," he promised.
Katie cried as she listened to Derek's poignant vows. "Wow! I thought I was good with my words," she gushed as the wedding guests clapped. 
Fans couldn't get enough of the 'Married at First Sight' star's passion
Married at First Sight fans flocked to social media to express how much they respected Derek for his willingness to be vulnerable in his wedding vows to a stranger. 
"Thoughts on Derek's vows? Lovely and thoughtful!! He's a winner!!" wrote one MAFS fan on Twitter. Another viewer agreed, writing, "Well, Derek knocked it out of the park with those vows."
Other viewers were still worried about Katie's on-again, off-again ex lingering in the background. "Yeah Katie better screw the ex after hearing Derek's awesome vows," wrote one Twitter user. "I don't want to hear her saying another thing about the ex." 
Another MAFS fan believed Derek and Katie were mismatched after hearing Derek's promises for complete commitment. "She doesn't deserve Derek y'all… nope…those vows weren't for a girl still caught up on her ex," the fan insisted.