'Married at First Sight': How the Experts Matched the Season 9 Couples Together
The experts of Married at First Sight have the tough job of matching strangers to get married. This all happens after interviews, workshops, and evaluations.
So why did Pastor Calvin Roberson, Dr. Pepper Schwartz, and Dr. Viviana Coles match Season 9's couples? Here are the reasons they gave and more.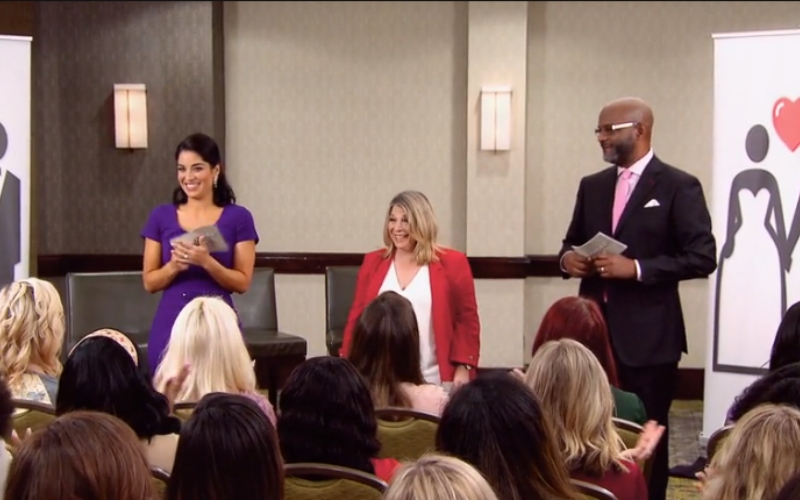 Iris Caldwell and Keith Manley love to help others
Iris Caldwell is a non-profit program coordinator and a virgin because of her religious beliefs. Keith Manley is a mentor/coach and also happens to be religious.
"Iris and Keith could very well go the distance because they both love to help others. They both have healthy communication skills and positive family systems that support them," explained Dr. Coles. She also noted that they took Caldwell's virginity into consideration.
"And because Iris has shared with us that she hasn't had sexual intercourse it was important to us as experts to match someone who is kind, patient, and understanding."
Elizabeth Bice and Jamie Thompson are passionate
Jamie Thompson has shown to have a long list of things he was looking for in a wife. Elizabeth Bice also seems like a big personality.
"Elizabeth and Jamie are going to make a great couple because they both have so much passion," said Pastor Roberson. "She is a force of nature. Jamie also is a passionate and driven person. He's been quite successful in his career."
He did note that their personalities could backfire. "Now the challenge is that they're going to have to learn to contain their passion, understand that their passion should drive them together not apart. With this in mind, I believe they can be one of our long-lasting couples."
Amber Bowles and Matthew Gwynne are active
Matthew Gwynne used to be an international basketball player. Amber Bowles is an athletic middle school teacher.
"Amber and Matt are a perfect pair because they both deeply want to create a commitment with someone special," explained Dr. Schwartz. "They both are active people who want an active lifestyle. They both are avid travelers."
The married couple has a huge height difference, which could be awkward. However, the sociologist revealed why they matched them anyway.
"They are different sizes, but he has said he has dated somebody for a long time who was her height so that gives me more strength in that match. If Matt can plant roots in Charlotte and give Amber the security she needs, then I think the sky's the limit for this couple."
Deonna McNeill and Gregory Okotie share strong core values
Gregory Okotie and Deonna McNeill seem to be another religious couple. McNeill also noted that she hasn't dated for years.
"Deonna and Greg are a match made in heaven because they both share strong core values," said Pastor Roberson. "They both have educational compatibility, motivational compatibility, and they have spiritual compatibility. I believe that they are going to be our next power couple."
Hopefully the experts are right and many of the couples decide to stay together on Decision Day. Fans will have to wait and see.