'Married at First Sight': Katie Accuses Derek Of Neglecting Her Once the Cameras Were Off In Reunion Sneak Peek
Katie Conrad and Derek Sherman had quite the roller-coaster ride on Lifetime's Married at First Sight Season 10. The young couple hit it off at their wedding and seemed to have more than their fair share of chemistry and passion on their honeymoon in Panama. But when they returned to Washington, D.C., things between them seemed to fall apart almost immediately.
Katie accused Derek of being emotionally immature and of acting differently towards her when the cameras were off. On Decision Day, Derek and Katie decided to stay together—but both seemed doubtful and anxious about their choice.
In a sneak peek of the Apr. 22 Married at First Sight reunion episode from TV Insider, Katie and Derek told the reunion host, Kevin Frazier, about their marital woes since deciding to stay together around five months earlier.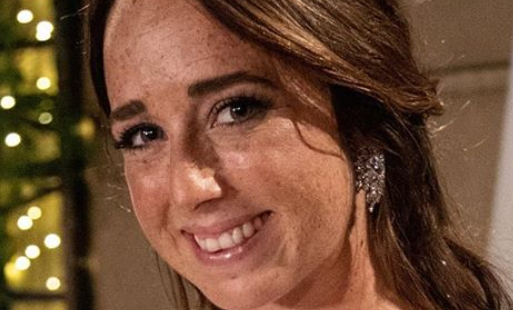 Derek told Frazier he and Katie didn't have 'much time for each other'
Katie and Derek sat down with Frazier for what appeared to be a tense reunion in TV Insider's exclusive preview clip.
"What has marriage been like since Decision Day?" Frazier wanted to know, five months after the fact.
Derek, 26, seemed to tread carefully as he replied. "Right after Decision Day, we moved into our new place," the Married at First Sight star began nervously. "You know, we're trying to do little dates here and there, but we really don't have that much time for each other at this point."
Katie, also 26, was much less diplomatic. She accused her husband of returning to his old life and even of not acting married as soon as Lifetime producers headed home. "I felt as though the cameras were gone, and he very much went back to his life from before this happened," she lamented in the sneak peek.
Katie hinted that she felt abandoned by her husband
Throughout Season 10, Katie often accused Derek of neglecting her emotionally and of not putting in enough effort. The mental health professional even referred to Derek as a "boy" due to his lack of initiative in their marriage.
Katie claimed that these problems only became more serious once Derek wasn't worried about a production crew following him. "He was out until 11, sometimes midnight," she said. "He said he was working late, which I was fine with, but there was very little communication."
Derek's lack of communication and follow-through left Katie feeling lonely in her relationship. "You know, he didn't really tell me when he was going to be home late, didn't tell me when he was going to be home," the Married at First Sight star said sadly. "I didn't even know if I should make dinner. I felt like he went back to doing school and doing work, and it was like, right back to the way things were."
"So you felt left out," Frazier ventured.
But Katie thought the problem went even deeper than that. She seemed to hint that Derek was purposely sabotaging the relationship, or that he'd only said "yes" on Decision Day in order to make himself look good.
"I just felt like he didn't really want to make it work," she said as Derek looked on, stone-faced and unreadable. "I felt like he said that. I felt like he was saying the right things, but he wasn't showing me any of that."
Derek seemed to accuse Katie of cheating on him in another preview clip of the reunion
Derek and Katie's mismatched communication styles often resulted in explosive fights through the season. Frazier wondered if Katie had approached her husband about her concerns respectfully and clearly.
"But of course, marriage is very hard," he said in the reunion preview. "Do you then turn to your husband and say, 'Honey, let's reel it in. I need you here?'"
Katie claimed she did, which brought up yet another ongoing problem in her marriage to Derek—her underlying feeling that he took her for granted and didn't feel that he had to fight for her.
"We had this conversation, and I was like, you are not even acting like you have to win me over at all," the Married at First Sight star complained. "You're just assuming that you already have me. That was something that we struggled with as well."
Derek looked unsure, but he agreed that he probably could have put in more effort to make Katie feel wanted and appreciated. "And I was like, okay. I kind of realized the error of my ways," he said. "I don't automatically have her, and I do have to win her over."
Still, this likely won't be the only, or even the primary, problem between Derek and Katie that will be addressed on the Apr. 22 Married at First Sight reunion episode. In one preview clip, Derek accused Katie of cheating on him with her ex—even having a full-blown "affair." Whatever the case, viewers should be in for plenty of drama between one of the franchise's youngest couples ever.