'Married at First Sight': Which Couples and Former Cast Members Appeared On the 'Where Are They Now?' Special? What Did They Reveal?
On Apr. 29, eight former 'Married at First Sight' couples and cast members sat down with Lifetime host Kevin Frazier for an update special, 'Married at First Sight: Where Are They Now.' Here's a rundown of each couple's history and what they revealed on the surprising episode.
Lifetime's Married at First Sight has started branching out in recent months, as former cast members develop devoted followings and spinoffs launch. On Apr. 29, Kevin Frazier—who also hosted the Married at First Sight Season 10 reunion—sat down with eight former couples and cast members from the previous nine seasons to catch up during an update special, Married at First Sight: Where Are They Now?
From happy couples' updates on babies and home ownership to arguments between soon-to-be-divorced exes and appearances by controversial participants, the drama (and cuteness) was real! Here's a rundown of the eight Married at First Sight couples and cast members who sat down with Frazier for the special—and a bit about what each of them had to say.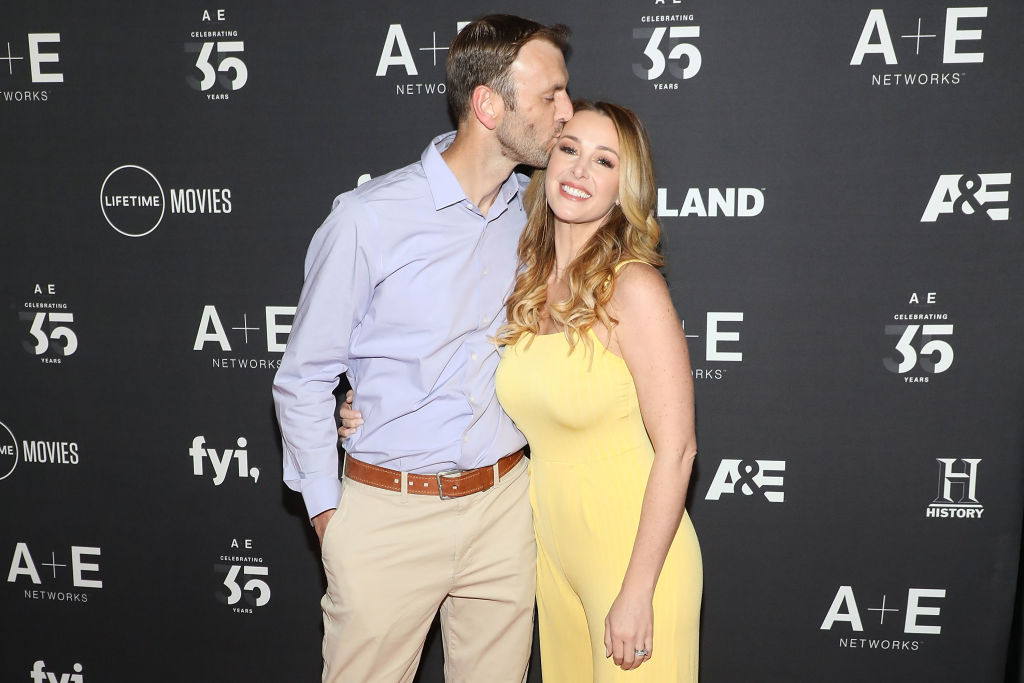 Jamie Otis and Doug Hehner
Jamie Otis and Doug Hehner, from Season 1, are likely the most well-known couple from Married at First Sight. After all, Jamie appeared on ABC's The Bachelor before her stint on the Lifetime show, and she now regularly hosts Married at First Sight: Unfiltered.
Doug and Jamie are happily married today, and they're proud parents to young daughter Henley. Jamie (who recently had a COVID-19 scare but ultimately tested negative for the virus) is now pregnant with their second child, a boy.
The couple opened up on Where Are They Now? about the pain of the two miscarriages they suffered before Jamie's current pregnancy, as well as Jamie's rocky journey to finding her father. When she finally discovered who he was, she tragically realized that he had already passed. "It's the most devastating thing, and I'm still trying to come to terms with it," Jamie admitted. "But, I mean, I guess that's life, right?"
Samantha Role
Samantha Role was a controversial cast member on Married at First Sight Season 3 due to her poor treatment of her husband, Neil Bowlus.
Now married to husband Chris Wise, Samantha wanted to appear on the reunion to publicly apologize for her treatment of Neil and own up to her mistakes. "Watching some of the things that I did and some of the things that I said, I was just disgusted with what I saw, because I'm not that person anymore," Samantha confessed.
She even credited Neil with her growth as a person and as a wife. "Being married to such a great man like Neil, I never would have been able to become the person that I am today," Samantha gushed to Frazier.
Neil even had a special video message for Samantha, to reassure her that he no longer harbored any resentment or ill will towards her. He wished her the best of luck in her family life and offered her some much-needed closure in an emotional clip.
Ashley Petta and Anthony D'Amico
Ashley Petta and Anthony D'Amico were a well-matched, beloved couple on Married at First Sight Season 5. The happily married pair shared the story of Ashley's emotional labor with their daughter, Mila Rose.
At 37 weeks pregnant, Ashley was warned that her little girl's growth had slowed significantly, putting her pregnancy, and her baby's health, at risk. During this difficult time, Anthony credited his wife with serving as his strength. "She was probably reassuring me more than anything," he confessed.
"I do think that this has probably been the only time in our relationship that I was more calm than Anthony," Ashley agreed.
Ultimately, though, all went well after Ashley was induced. The new mom called her daughter's birth "the moment that her dreams came true." The couple hopes to have another baby in the future.
Jephte Pierre and Shawniece Jackson
Jephte Pierre and Shawniece Jackson, from Boston, had a rocky beginning on Married at First Sight Season 6. Jephte found it difficult to open up to his wife, and the couple separated not long after filming wrapped. Because Shawniece was pregnant with their baby, Laura, the pair decided to stay together to co-parent…but eventually, they got back together.
And while the tumultuous couple told Frazier they were in a much better place now, they still weren't wearing their rings. Jephte told Frazier he wanted to start over from the beginning with his wife and propose on his own, without the influence of the show.
"Our first go-around was so tough, so we decided, to alleviate some pressure, that we would make it our own," Jephte said on the special. "And I decided that I wouldn't wear a ring until I got down on one knee and proposed to her myself.
Molly Duff
Molly Duff was married to Jonathan Francetic on Married at First Sight Season 6. The couple never consummated their marriage, and many viewers criticized Molly for her harsh treatment of her husband. Jon even claimed on the show that Molly's behavior towards him was "emotionally abusive."
But after the couple got divorced on Decision Day, their story wasn't over. Jon was seen out and about in Boston with none other than Dr. Jessica Griffin, a former Married at First Sight expert who hadn't exactly taken kindly to Molly's behavior towards her husband.
Molly admitted that she hadn't exactly been pleased about what she saw as Dr. Jessica's "bias" during their marital counseling sessions. Still, she told Frazier she moved past the situation and wished her ex—who is now engaged to Dr. Jessica—only the best.
"I had always felt like Jessica didn't like me…I had always felt like there was this bias to back up Jon," Molly told Frazier during the special. Later, though, she said, "I think now that I've had an opportunity to talk to both of them, you know, I've kind of moved on from the situation. It's been two years at this point. They're happy together. They wish me well, from what they've said, so there's just no reason to hold on to any of that negativity."
Bobby Dodd and Danielle Bergman
Bobby Dodd and Danielle Bergman quickly became the best-loved couple on Married at First Sight Season 6. And it looks like they worked out their biggest disagreement, as Danielle ultimately decided to be a stay-at-home mom to their daughter while Bobby served as the family provider.
But Danielle's pregnancy and childbirth experiences were far from peaceful. The Married at First Sight star was diagnosed with severe preeclampsia and HELLP syndrome. Her liver began to shut down, and she was at risk of seizures.
Bobby revealed that he'd even overheard the nurses suggested that her life was at stake during the harrowing experience. He'd gone so far as to plan to name their daughter "Danielle" if anything happened to his wife.
"I kept asking the question, am I going to leave with both of them?" Bobby said of their time in the hospital. "They just kept giving me the generic answer of, 'We're gonna do our best to make sure that both of them go home with you.'"
Despite their terrifying experience, Bobby and Danielle hope to have more children. They are proud parents of little Olivia, now one year old.
Elizabeth Bice and Jamie Thompson
Season 9's Elizabeth Bice and Jamie Thompson had one of the most tumultuous relationships in Married at First Sight history. Their explosive fights and off-and-on relationship led many viewers to believe they probably wouldn't make it. (And their relationship resulted in one of the show's most famous phrases ever: "basic Caucasian sex.")
But the couple's passion apparently matched their volatility. Despite a few makeups and breakups along the way, they're still together and possibly planning to have a child in the future. Reflecting on their rocky relationship, Jamie said they hadn't known how to channel their passion and emotional, fiery natures in productive ways.
"I think a lot of it is passion," Jamie told Frazier. "We're passionate people, we're vibrant people, and we didn't know how to channel that…Now we've learned how to channel that passion into building a relationship."
Elizabeth added that she and her husband had both been "very selfish people" when they first got married.
"We knew we wanted to be married, but I don't think we realized how much we needed to change in order to make another person work in your life," the Married at First Sight star said. "And I think that's what a shocking part of this experiment is. Yes, you do realize you have to start to rearrange your life, but when that actually starts to happen, no one can prepare you for that."
Amber Bowles and Matthew Gwynne
Amber Bowles and Matthew Gwynne, hailing from North Carolina, had a passionate start on Married at First Sight Season 9. But their relationship soon fell apart, as Matt started to push Amber away and even spent entire nights away from her without his ring on.
Amber suspected Matt of doing more than just partying when he was out. Her suspicions were confirmed when friends told her they'd seen her husband getting flirty and physical with other women at bars.
However, the couple still isn't divorced—in part due to North Carolina law, which requires that you be legally separated for at least a year before filing for divorce. Amber, who has a new man in her life, claimed that Matt refused to sign the papers she'd sent him three times. She asked Matt to sign the papers with a notary during filming, but he refused yet again.
"There's a right and there's a wrong way to do things," Matt pushed back. "It's just unprofessional to do this here."
"Okay, well, I'm not trying to be professional. I'm trying to get divorced!" Amber exclaimed. "We have no cordiality. I am not friends with you. I want a f***ing divorce now."
And Matt showed he certainly hadn't changed: After Amber finally stormed off in frustration, he also left the stage, bragging that he was about to go "kick it with an IG model."