Martha Stewart's Pool Photo 'Thirst Trap' May Have Led to New Man in Her Life
Martha Stewart's sultry Instagram photo she snapped from her pool last summer may have turned the head of at least one eligible bachelor.
The photo, which she said was somewhat of an accident, produced a flood of messages from men, she recently shared during an appearance on Watch What Happens Live with Andy Cohen. Host Andy Cohen asked if those DMs led to someone special, she said no. But then teased, "I shouldn't say no. I mean yes, but I'm not going to tell you."
Why did the Martha Stewart pool selfie go viral?
Stewart said she was having fun in the pool while quarantining in July 2020 in her East Hamptons home. She included a long landscape of the pool and her gorgeous backyard, but also a shot of her by the side of the pool looking sexy and sultry.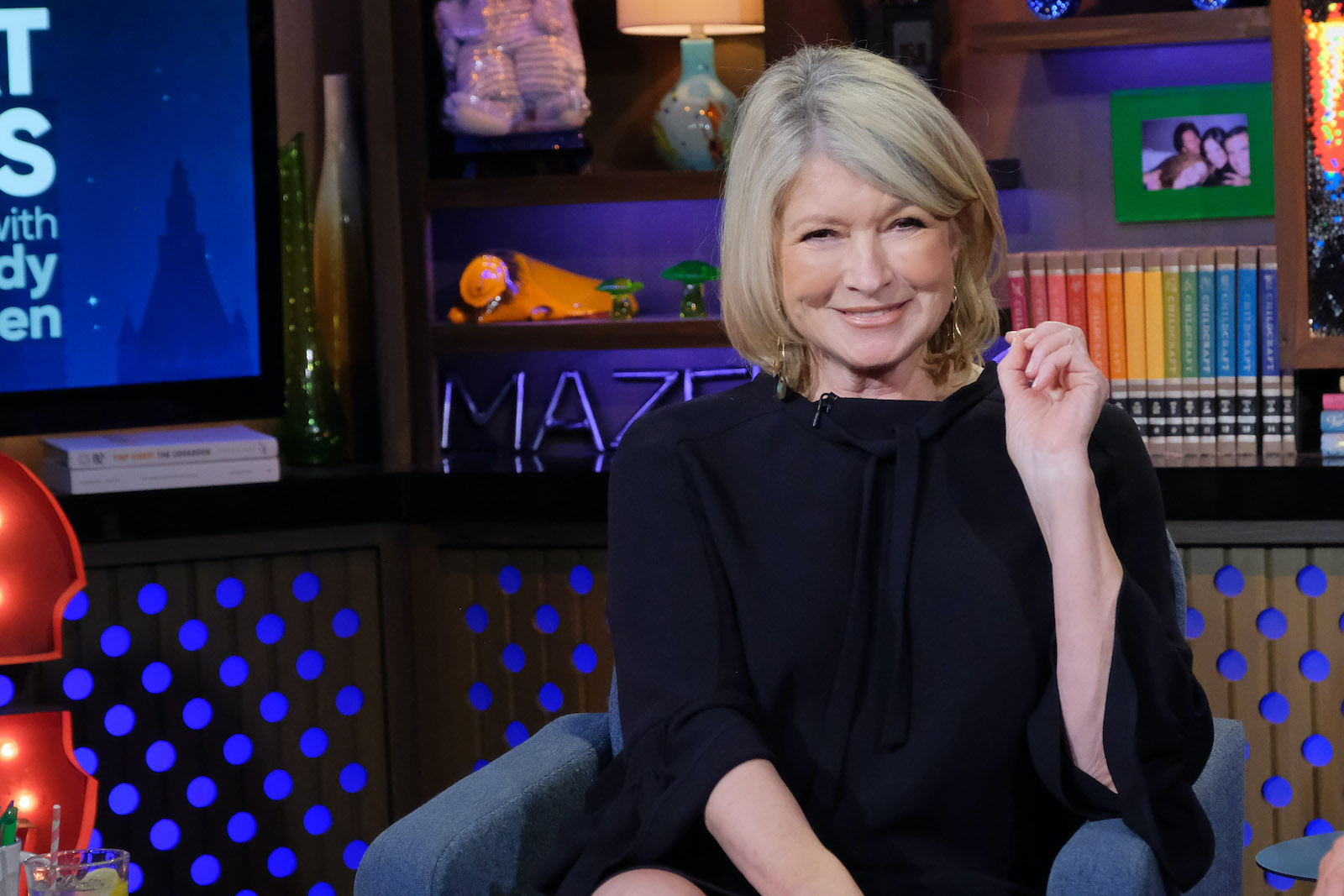 "My pool in East Hampton is the place to be on a 89 degree day!" she captioned the sizzling image. "When I built the pool thirty years ago it was designed to be as chlorine free as possible, with a natural concrete finish-no paint- and it fit in a long narrow space between the house and the property line. I made it extra deep for diving and with no protruding steps so we could really race the length without worrying about obstacles. After all these years, It is a fun place to swim!!!"
The photo garnered more than 240,000 likes on Instagram and comments like, "here is the orig thirst trap photo that broke the internet" from one fan.
Martha Stewart said the pool photo was a 'mistake'
Stewart said she was trying to get a good photo of a planter at the end of the pool and ended up being pleasantly surprised with what she ended up getting.
"I took a pool selfie photo by mistake," she told People. "I was trying to take a picture of the beautiful turquoise planter at the end of the pool, but the camera was on me, so I just snapped it. It looked so good, so I posted it. I didn't know what a 'thirst trap' was, but now I do. Now I'm looking for the next thirst trap. I love doing those promiscuous, provocative things because it's just fun."
Comedian Chelsea Handler recreated the photo and ribbed her for the joke. So Stewart responded. "Dear Chelsea, I'm so happy that you like my post well enough to emulate it," Stewart wrote on the Instagram share. "I do think my pool is a little bit prettier than yours and that my facial expression is a little bit more relaxed. Nevertheless you are a beautiful girl and F**KING too young to be emulating me. Continue with your comedy, your humor, and your amazing ability to gather around you political liberals. We need it! Love Martha."
Martha Stewart is definitely in on the jokes
Speaking of humor, on WWHL, Stewart also addressed Katie Couric's remark in her memoir about how she got a sense of humor after going to prison. "You know, Katie's an old friend and old friends can say anything they damn well please," she said.
But then joked, "And I still wrote to her and said 'What the hell?'"
Cohen wondered if she didn't think she had a sense of humor pre-prison. She replied, "I've always had a sense of humor and I will continue to have a sense of humor." And added, I think people didn't know me well enough to know if I had one or not, I guess, but I've always had a great sense of humor."