Marvel Finally Reveals How They Cast the Avengers
Marvel Studios' head casting director, Sarah Finn, just revealed how she cast each of the Avengers. Finn has been a part of the Marvel Cinematic Universe (MCU) since Iron Man, and has been involved in all of the studios' major castings over the years. From Chadwick Boseman to Robert Downey Jr., here is how the MCU's biggest stars landed their iconic roles.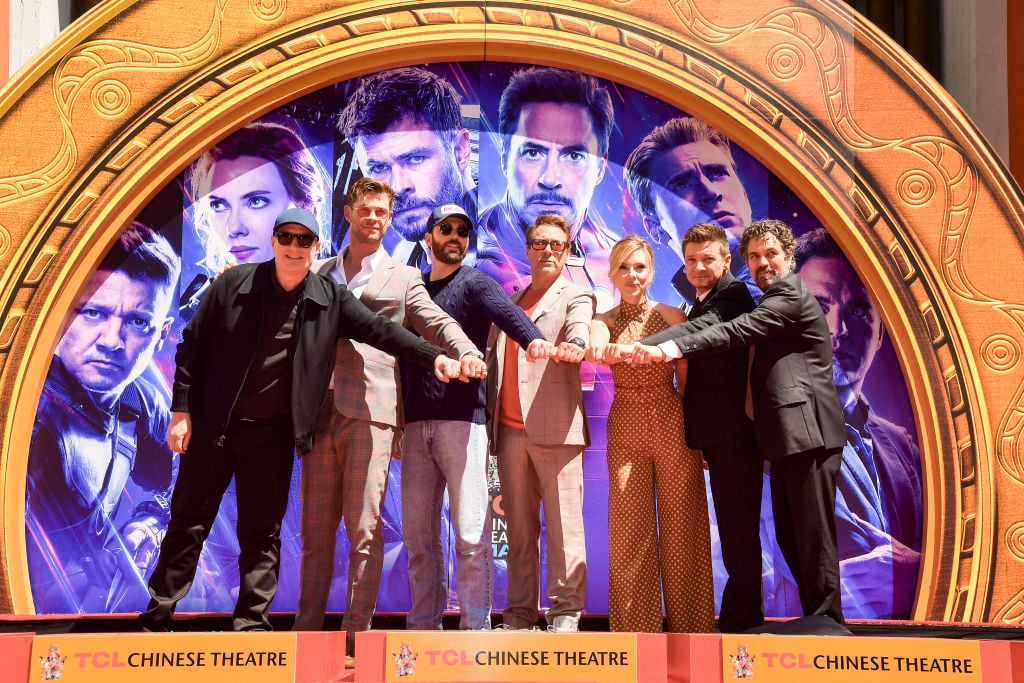 Robert Downey Jr.
Robert Downey Jr.'s 2008 movie, Iron Man, kicked off the first phase of the MCU, so casting for the eponymous character was crucial for the studio's future success.
At the time of the casting, Downey was experiencing some legal and personal problems that almost lost him the Marvel role. He was also taking a chance on a studio that had yet to produce any movies.
For Finn, she admitted that casting the Oscar-nominee was completely unexpected. But at the end of the day, it worked out for both parties. Not only did Downey lead Marvel into the first four phases of the MCU, but he also took home a large fortune for his involvement (including a $50 million payday for The Avengers).
Chris Evans
According to The Hollywood Reporter, it took Finn a long time to find the right person to play Captain America. The studio wanted to get Chris Evans for the part, but he kept turning them down.
"It was a nail-biting time," Finn explained about trying to get Evans to agree to the role.
Despite the rejections, Marvel was convinced Evans was the right man for the job. And so the studio kept pursuing the actor until he caved.
"He had a sense of humor, he had depth, he had a beating heart and a nobility," Finn shared. "Ironically, his very reluctance to take the part showed how perfect he was to play Captain America."
Chadwick Boseman
Chadwick Boseman's first attempt to land a part in the MCU was a complete failure. The actor originally auditioned for Drax in Guardians of the Galaxy, and although he did not get the part, he left an impression on Kevin Feige and his team.
Fast forward a few years and Boseman received a call from Marvel Studios while he was on the red carpet for the premiere of Get On Up.
Boseman's manager informed him that Feige and Joe and Anthony Russo, who directed Captain America: Civil War, were on the phone and wanted him to play Black Panther in their film. Boseman immediately accepted the offer and landed his own solo project a few years later.
Chris Hemsworth
Out of all of Marvel's castings, Chris Hemsworth may have endured the most rigorous test of them all.
Thor director Kenneth Branagh forced Hemsworth to complete several auditions and even made him recite Shakespeare before giving him the role.
The actor did not get the offer to play Thor until 2009, and Finn recalled that it was a lengthy process.
"It didn't happen overnight," Finn explained. "But by the end of it, everyone, including Chris, agreed that he was the perfect person to bring Thor to life."
Scarlett Johansson
When Scarlett Johansson was cast to play Black Widow in Iron man 2, she did not have a reputation as being a kick-ass action star in Hollywood.
One reason why Marvel took a risk on Johansson is that they never expected her character would play such a prominent role in the MCU. Finn admitted that when they cast the Lucy star, they thought she would not appear in more than two movies.
"Maybe it would have just been in one or two films," Finn stated. "But I think her take on the character was so compelling and thoughtful that it grew to where she's really becoming a selfless leader, which is not where Natasha starts."
Johansson is currently getting ready for the premiere of her character's first solo film, Black Widow, which is set to open in theaters on May 1.
Tom Holland
Finding the perfect actor for Spider-Man was one of Finn's most difficult tasks as Marvel's main casting director. The web slinger is one of Marvel's most popular characters, and the studio had already struggled with finding an actor.
With that in mind, they accepted over 2,000 auditions before settling on Holland. But before they offered him the part, they made him and Downey perform a chemistry test.
Downey was very involved in Holland's casting and wanted to make sure they worked well off each other before moving forward.
Chris Pratt
Chris Pratt is easily one of the more surprising castings for a Marvel superhero. Before he landed the role of Star-Lord, Pratt had made a name for himself playing the part of Andy Dwyer on Parks and Recreation.
His character on the comedy was not in superhero shape, which made Guardians director James Gunn hesitant about casting him. But that all changed when the two finally came face-to-face, and their immediate bond ultimately convinced Gunn that Pratt was perfect for the Marvel role.