Marvel's 'Avengers 5' Is Reportedly Coming in 2023, but Will Be Much Smaller Than 'Avengers: Endgame'
Marvel will reportedly release 'Avengers 5' in 2023, but they plan to make the next saga on a much smaller scale than 'Avengers: Endgame.'
Marvel is reportedly looking to downsize Earth's Mightiest Heroes when Avengers 5 hits theaters in 2023. The studio announced its full lineup for Phase 4 of the Marvel Cinematic Universe (MCU) this summer and Avengers 5 was left out of the mix. Instead, Marvel is launching a slew of new franchises, and some of the characters are expected to team up to create a new Avengers team. But rather than face a galactic threat, the new ensemble is expected to face a much smaller villain on Earth.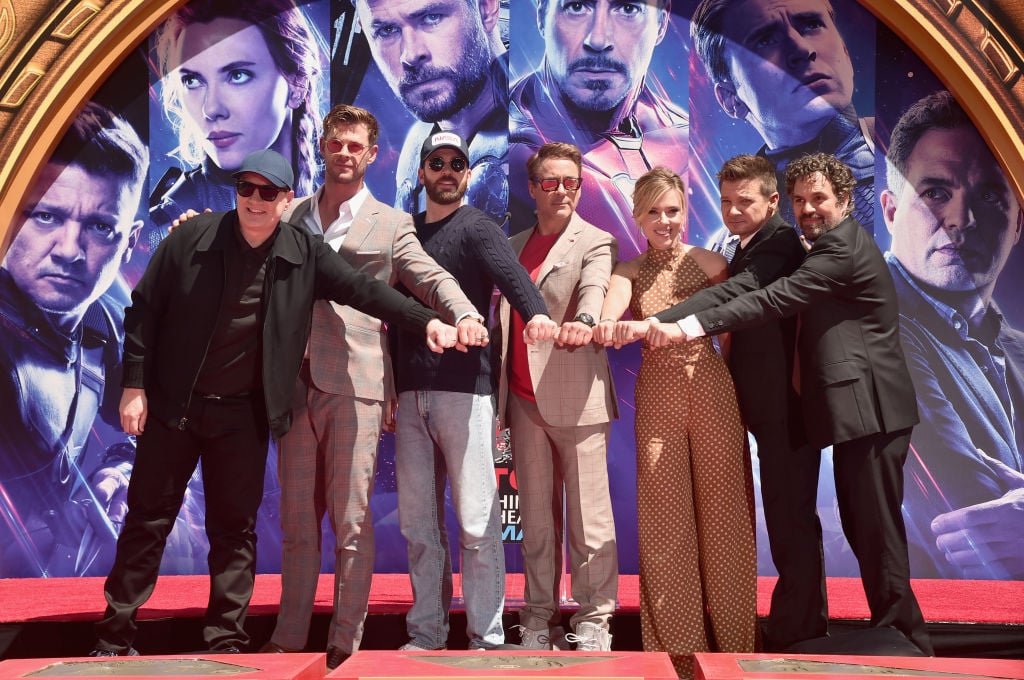 Inside Marvel's plans for Avengers 5
Each of the first three phases of the MCU featured at least one epic Avengers movie, which concluded this year with Avengers: Endgame.  With that in mind, fans were a little confused when the studio did not include an Avengers title in Phase 4. As it turns out, Marvel has other plans when comes to Earth's Mightiest Heroes.
According to We Got This Covered, Marvel wants to release the next chapter in the Avengers franchise by 2023 at the latest.
Inside sources claim that Avengers 5 will feature a whole new roster mixed in with a few familiar faces. Returning characters include Falcon/Captain America (Anthony Mackie), Captain Marvel (Brie Larson), Spider-Man (Tom Holland), Doctor Strange (Benedict Cumberbatch), Scarlet Witch (Elizabeth Olsen), and Jane Foster/Thor (Natalie Portman).
The new franchises that are set to launch in 2020 and 2021 are expected to add some new characters to the team, including Black Knight (Kit Harington), She-Hulk, and Shang-Chi.
It is important to note that none of these reports have been confirmed and that everything related to Avengers 5 should be taken with a grain of salt.  That said, the insider also noted that the villain in Avengers 5 is not going to be a major threat, which means Marvel is planning on dialing it back a bit.
For a reference, the source compared the upcoming film to The Avengers and Avengers: Age of Ultron.
Marvel dishes on upcoming projects
The good news is that Marvel will be releasing another Avengers project. Following the success of Endgame, it's a no brainer to continue the franchise.
And with three of the original characters now out of the MCU — Captain America (Chris Evans), Tony Stark (Robert Downey Jr.), and Black Widow (Scarlett Johansson) — it makes sense to bring new characters into the fold.
It also makes sense that Marvel will be taking a step back from the Avengers storyline after releasing two movies over the course of two years.
In a recent interview, Endgame producer Trinh Tran opened up about Marvel's upcoming projects and revealed that the studio is focusing on the new franchises set to debut in Phase 4.
"Our focus right now is to make sure that the titles that we've released in Phase 4… obviously those stories are going to be new, exciting, different and can connect with the audience like the other movies have been," Tran shared.
Tran added that Marvel hopes to get back to the level of Infinity War and Endgame over the next ten years. With a slew of new titles set to launch over the next two years, the studio will have plenty to draw from.
The bad news is that it sounds like Avengers 5 will not pick up on the same level as Endgame, which probably means a lesser villain to start.
We'll also have to wait a few years until the project opens in theaters. But hopefully, it will be worth the wait.
What's next for the MCU?
While we might have to wait until 2023 to see Earth's Mightiest Heroes back in action, there is plenty to look forward to in Phase 4 of the MCU.
The next film in Marvel's lineup is Johansson's Black Widow, which is set to open in theaters on May 1. The movie will be followed by The Eternals, starring Angelina Jolie, Richard Madden, and Kit Harington.
Marvel also has a bunch of television shows launching over the next few years, including WandaVision, Falcon and the Winter Soldier, Loki, What If?, and Hawkeye.
It's gonna be a very busy next few years for Marvel fans, not that we are complaining.
Marvel has not confirmed any of the rumors surrounding Avengers 5.