Marvel's 'Blade' Trilogy: Just in Time Help You Plow Through Quarantine
This era of social distancing and self-quarantining has made it necessary to learn how to roll solo. And keeping to ourselves has created an opportune time for a movie binge as we slow the reach of the coronavirus by staying home. With that in mind, fans now have a chance to revisit Marvel's Blade movie trilogy, the franchise centered around a superhuman vampire slayer. Here's how to watch all three movies while you're homebound.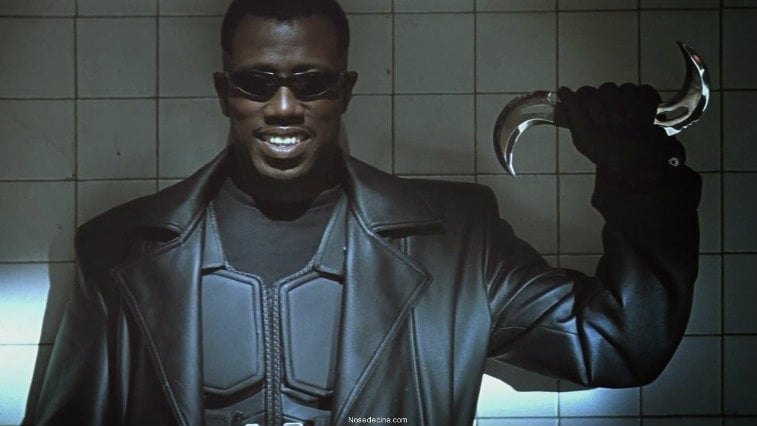 The 'Blade' backstory is rooted in comics
Blade (1998) and its sequels, Blade II (2002) and Blade: Trinity (2004), are based on the Marvel comics of the same name. Action star Wesley Snipes originated the role of Blade, the day-walker and vampire slayer with a knack for martial arts.
The Blade movies appeal to action lovers and comic book aficionados alike. But unlike most of the other content in Marvel's catalog, the Blade films earned an R-rating due to violence, blood, gore, and colorful language.
In the alternate universe where Blade exists, a virus is to blame for vampirism. With that in mind, this trilogy can be a temporary escape from current woes. The Blade series is a solid choice for movie buffs banking extra alone time due to self-quarantining during a real-world pandemic.
The 'Blade' trilogy will air on TV
Fans can only hope that the COVID-19 coronavirus outbreak will subside soon. But until then, while we continue social distancing in the interest of health and safety, here's where fans can catch the Blade trilogy on cable.
Blade on AMC:
Tuesday, April 7 at 7 p.m. on AMC
Wednesday, April 8 at 2:45 p.m. on AMC
Blade II on AMC:
Tuesday, April 7 at 9:45 p.m. on AMC
Wednesday, April 8 at 5:30 p.m. on AMC
Blade Trinity on AMC:
Wednesday, April 8 at 12:15 p.m. on AMC
Thursday, April 9 at 10:01 a.m. on AMC
The entire Blade trilogy back-to-back on IFC:
Blade on Sunday, April 12, at 6:15 p.m. on IFC
Blade II on Sunday, April 12, at 9 p.m. on IFC
Blade Trinity on Sunday, April 12, at 11:30 p.m. on IFC
The 'Blade' trilogy is available to stream
Blade, Blade II, and Blade: Trinity are available to rent or own from various streaming platforms, including Amazon Prime Video, Google Play, and YouTube Movies.
Blade stars Snipes, Stephen Dorff, Kris Kristofferson, and N'Bushe Wright. Snipes and Kristofferson return for Blade II and are joined by Ron Perlman and Norman Reedus. The final installment, Blade: Trinity stars Snipes, Kristofferson, Jessica Biel, and Ryan Reynolds.
The future of the series is bright
At the July 2019 Comic-Con convention, Marvel announced that they will reboot the Blade franchise. This time, Mahershala Ali will star as the title character. Fans may recognize Ali from his Academy Award-winning roles in Moonlight and Green Book.
When asked about the reboot, Snipes said, "Congratulations and Salaam to Mahershala Ali, a beautiful and talented artist whose expressions I look forward to experiencing for many years to come," as reported by ComicBook.com.
Read more: The 5 Greatest Lone Wolf Movies to Help Get You Through Quarantine