Marvel's Chris Evans Is Not the Only 'Avengers: Endgame' Star that WB Wants to Bring Over to the DCEU
Warner Bros. is reportedly looking to snag several of Marvel's top stars as it tries to emulate its long-time rival. Although nothing official has been confirmed, sources say that WB wants Chris Evans to join the DCEU, along with two more of his Avengers: Endgame co-stars. Who else does WB want to bring over to the DCEU in the near future?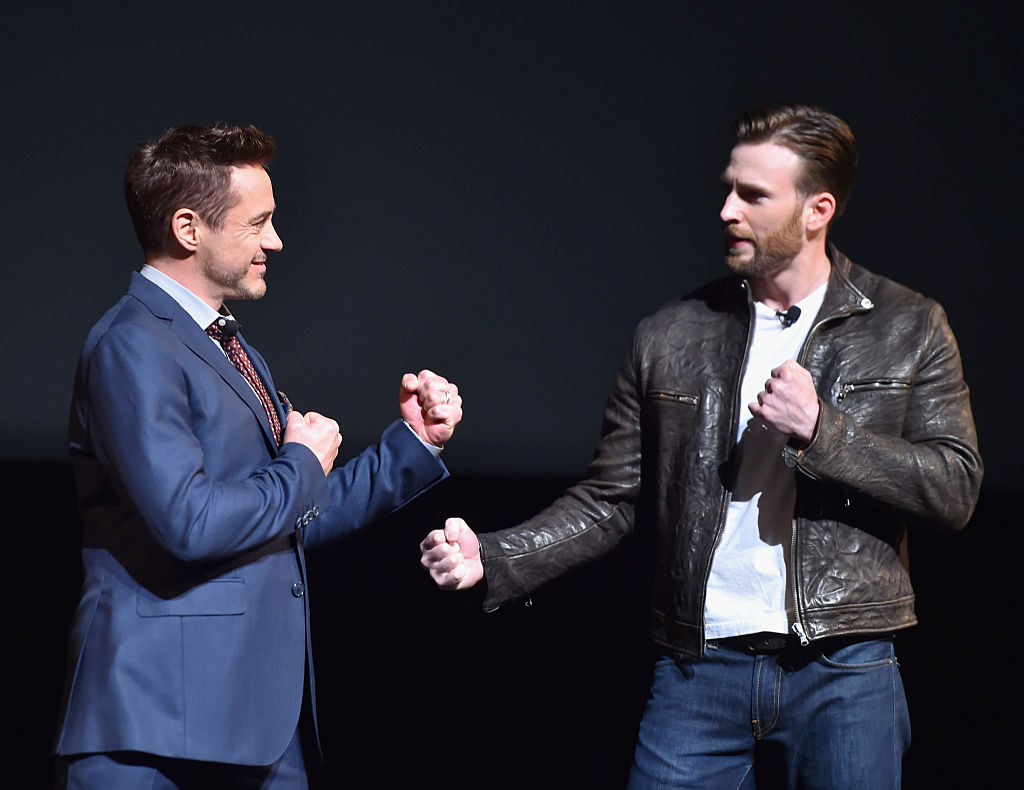 DCEU is following Marvel's lead
Marvel has experienced unparalleled success with the Marvel Cinematic Universe. In 2019 alone, the studio had three movies that made over $1 billion at the box office, including Captain Marvel, Spider-Man: Far From Home, and Endgame.
DC, on the other hand, has largely sputtered with launching the DCEU. Although DC has enjoyed some successful movies, such as Wonder Woman, the desire to build success quickly has led to major flops like Justice League.
That said, the departure of Zach Snyder has given DC a slight boost at the box office. And it sounds like the studio is doing everything in its power to copy its rival's success, even if that means bringing some of Marvel's top actors to the DCEU to make it happen.
WB wants to bring these 'Avengers: Endgame' stars to the DCEU
An inside source told We Got This Covered that DC wants to cast Marvel's Chris Evans (Captain America), Chris Pratt (Guardians of the Galaxy), and Chris Hemsworth (Thor) for future roles in the DCEU.
It should be noted that the studio has not signed any contracts with these actors, but producers do have a good idea about what roles they want them to play.
The source claims that DC wants Hemsworth to play the part of Ted Kord, a.k.a. the second Blue Beetle. This comes after reports surfaced that Hemsworth was going to play the lead in the Green Lantern reboot.
The insider says that DC has ditched that idea and is looking to give Hemsworth the other role. Rivals aside, there are not any rules against somebody playing a part in the MCU and the DCEU, though it is difficult to see Hemsworth going to DC with his upcoming appearance in Marvel's Thor: Love and Thunder already set in stone.
DC wants Marvel's Chris Evans for this role
As far as Evans is concerned, the insider claims that DC is hoping he will take on the lead for Green Lantern. Evans, of course, has not commented on the reports, though there is nothing holding him back from joining the DCEU.
The actor gave up his spot in the Marvel Cinematic Universe after the events in Avengers: Endgame. With Evans not scheduled for any future appearances in the MCU, it would not be a huge shocker if he agreed to join the DCEU as Kyle Rayner.
Unfortunately, the source did not reveal any specifics about what DC is offering Evans. If the studio is willing to pay him a substantial contract, fans could see Evans lead the DCEU into a completely new era.
That said, Chris Evans seemed pretty tired of playing a superhero on the big screens when he left Marvel, so DC might have a hard time convincing him to join up.
Will Chris Pratt leave the Marvel Cinematic Universe?
When it comes to Pratt, the insider says that DC wants him to play Booster Gold in an upcoming stand-alone movie. The studio has been looking to launch the franchise for years and recently hired Greg Berlanti to helm the project.
The studio reportedly wanted Ryan Reynolds to accept the part but he turned it down. Reynolds is currently working on Deadpool 3 for Marvel, which could be one reason he turned it down.
The same could be said about Pratt, who will be reprising his role as Star Lord in Marvel's upcoming Guardians of the Galaxy Vol. 3. The only difference is that Pratt's next project is a few years away from development.
Evans, Hemsworth, and Pratt have not confirmed the reports surrounding their involvement in the DCEU. Landing any one of these actors would be a big deal for DC and could reignite its old rivalry with Marvel.