Marvel's 'Guardians of the Galaxy': How James Gunn Changed Drax for Dave Bautista in 'Vol. 2'
Dave Bautista made his way from the wrestling ring into acting with early roles on TV episodes of Smallville and Chuck, and movie roles in Wrong Side of Town, Riddick and The Man with the Iron Fists. Marvel's Guardians of the Galaxy solidified his movie career. Thanks to the superhero movie, Bautista got roles in Spectre, Blade Runner 2049, Stuber and, coming soon, My Spy.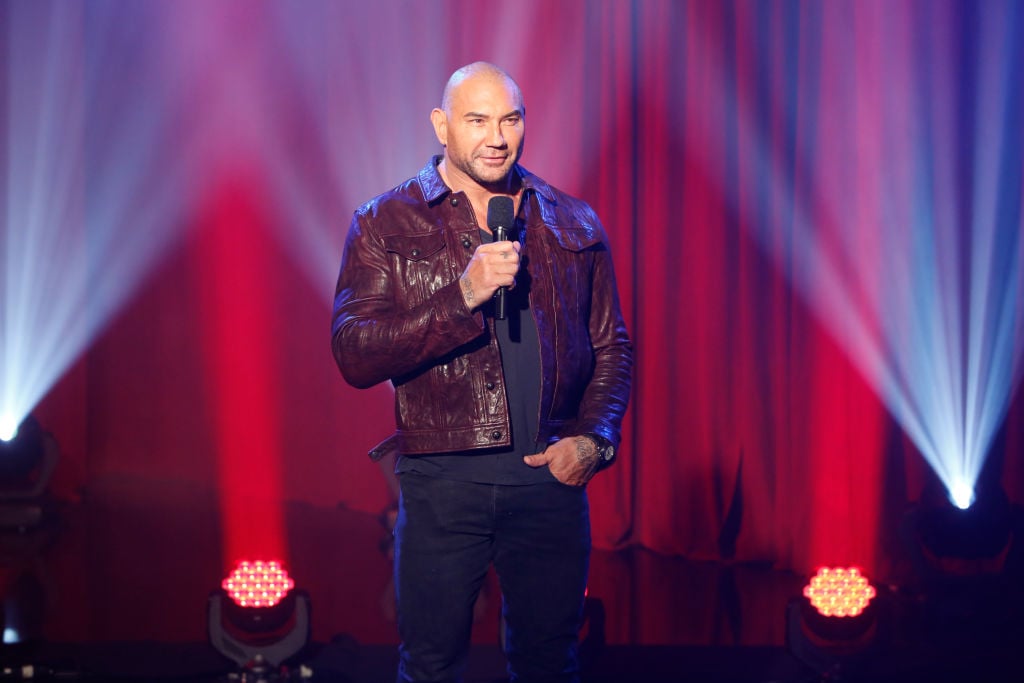 Bautista said that writer/director James Gunn adapted to his comic talents in the sequel, Guardians of the Galaxy, Vol. 2. He was on Michael Rosenbaum's Inside of You podcast on May 5 and discussed the difference between the two Marvel films.
Dave Bautista focused on the drama in the first 'Guardians of the Galaxy'
When Bautista got the role of Drax, he saw it as a dramatic part. This was a man whose whole family died. He wanted revenge on Ronan the Accuser (Lee Pace).
"The stuff in the first film that I looked forward to was the dramatic stuff," Bautista told Rosenbaum. "Like, Drax talking about his family being murdered right in front of him. That scene, the really hard scene, was cut out. It was cut out of the film because it was. It was just kind of slow and dark but that was kind of the stuff I was looking forward to."
Gunn gave Drax some of the best lines in Guardians of the Galaxy, like the single word "metaphor." Other bits like "Nothing goes over my head. My reflects are too fast. I would catch it." took a few tries to get them right.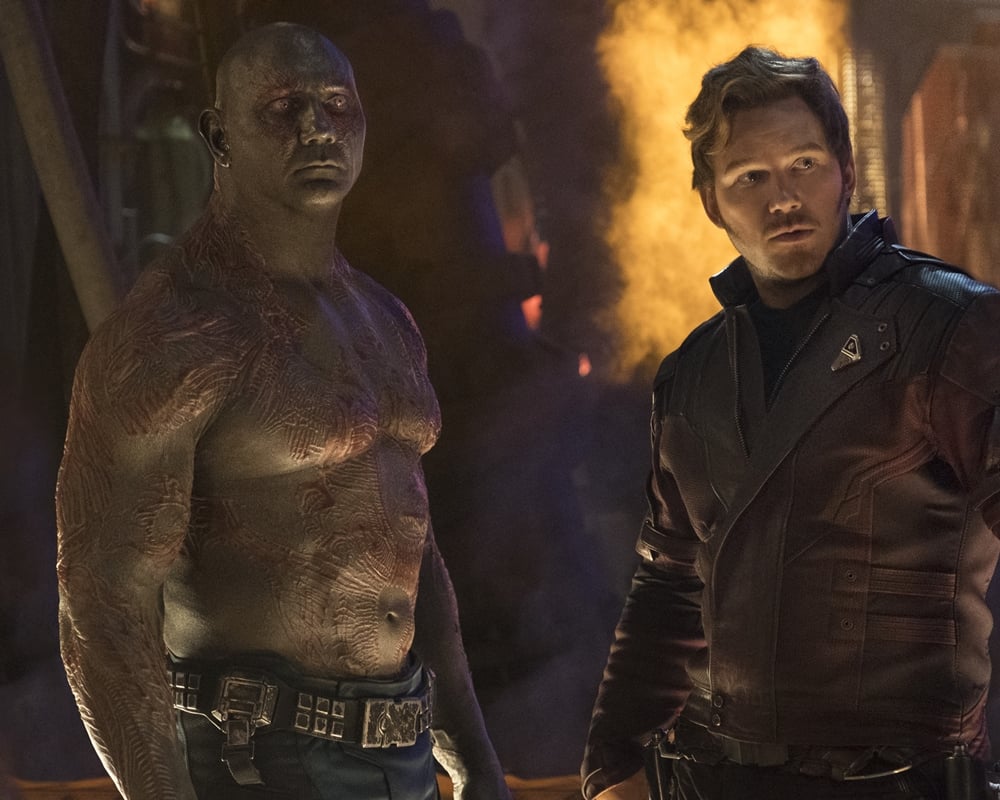 "In the first film, the comedic stuff was a challenge for me," Bautista said. "I struggled with it. Some of that stuff they reshot like 'nothing goes over my head,' because they really wanted to get a sense of Drax being such a literal character. I never would have thought, man. I still don't. It's hard for me. I don't find myself funny so it's hard for me to."
James Gunn wrote Drax funnier in 'Guardians of the Galaxy, Vol. 2'
By Guardians of the Galaxy, Vol. 2, Gunn knew how Bautista got the laughs in Vol. 1. He added Mantis (Pom Klementieff) as a foil for Drax's comedy in the sequel.
"Drax was written very differently in the second one," Bautista said. "The second one, I think James kind of tapped into my humor a little bit on the first one and decided he wanted to put more of that in the second one."
Now, Dave Bautista wants to do a full comedy
Bautista is more comfortable with comedy since Guardians of the Galaxy. Stuber and My Spy are comedies, and Bautista has an idea for a funny movie with his My Spy co-star. Kristen Schaal plays his partner in My Spy and Bautista wants them to play love interests in another movie.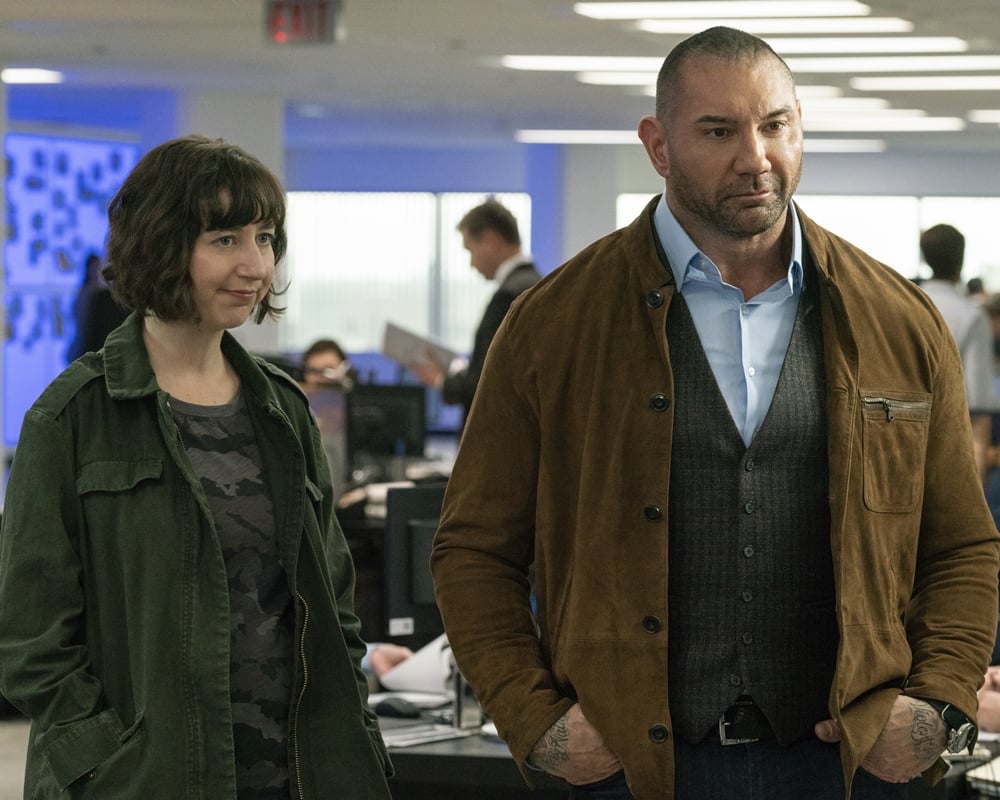 "You know what I want to do?" Bautista said. "I want to do a rom-com. I want to do a rom-com with Kristen Schaal more than anything in the world. I'm dying to do this rom-com. I will get this done. Somehow I will get this done."