Matt Barnes Reveals What Really Happened During His Fight With Derek Fisher Over 'Basketball Wives' Star, Gloria Govan
From a viewer's standpoint, Basketball Wives star Gloria Govan's relationship with NBA player Matt Barnes seemed rocky from the start. Govan's cast members often felt the same and it was proven further after she and Barnes called off their 2010 wedding. Govan insisted that things between her and Barnes were fine and she was fiercely defensive of their relationship.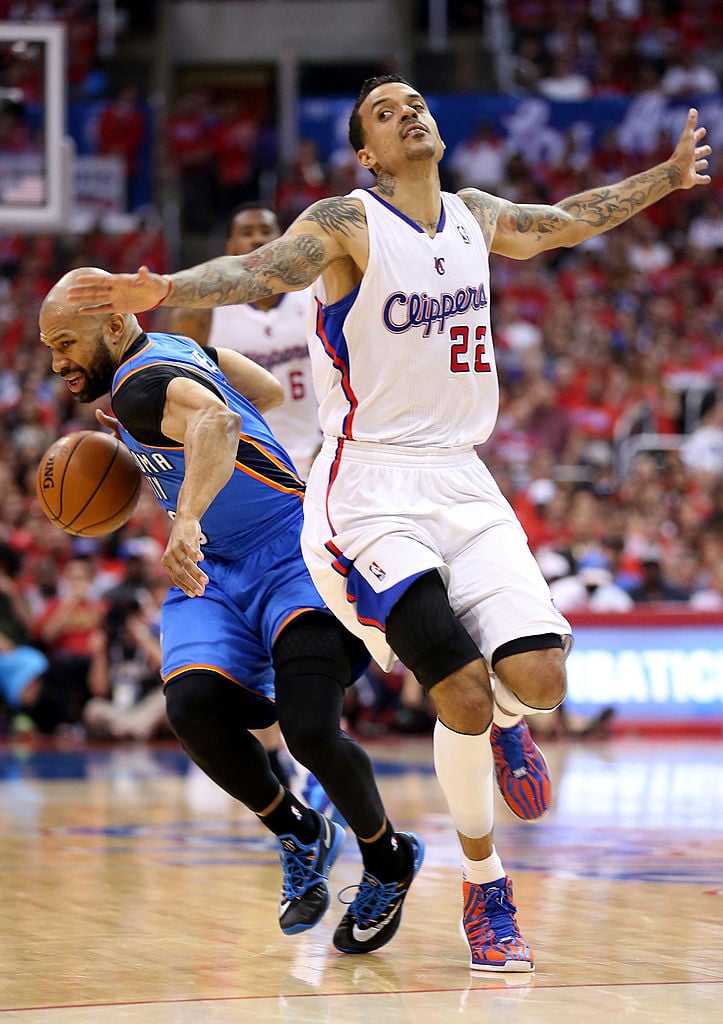 Govan eventually left the Miami franchise of Basketball Wives and transferred to the Los Angeles franchise. She and Matt split for several months before reconciling and getting married in 2013. Their marriage was short-lived and the break up was dramatic, involving fights over what parent would get primary custody of their twin boys and a battle over child support payments. Barnes would later admit he never liked being on the show.
Things became really nasty after Barnes discovered that his former teammate, Derek Fisher, and Govan were dating, leading to an all-out brawl between the two men. Both have rarely spoken about it and things seem to be cordial between the two now but a recent Vlad TV interview with Barnes revealed what led to the fight between him and Fisher.
Matt Barnes says 'Basketball Wives' contributed to issues in his relationship with Gloria Govan
Barnes admitted to Vlad that though he doesn't blame the show for he and Govan's breakup, being on a reality series did not help. The two began appearing on the Miami franchise in its inaugural season. Barnes was reluctant to do so because he felt their relationship was not as solid as it should have been at that time and they were raising infant twin boys.
"It [being on the show] was a mess from the beginning," Barnes claimed.  "They never wanted to see me, Gloria and the twins happy. They wanted to see like me and Gloria fighting, and Gloria fighting with the other girls, and early on it was just like, I'm not with this sh-t." 
Barnes said he tried to get Govan to quit after season one but her contract would not allow it. He also said that the scrutiny from viewers added to the pressure. I just think once you open up that book to allow people to look at your private life, you can't get mad when people comment on it," he said. "We gave them access to our life so we can't cuss everyone out in the world who has something to say that I don't like about my family."
Matt Barnes talks discovering former teammate and friend, Derek fisher, was dating his ex Gloria Govan
Barnes says that although he was the one to pull the trigger on his marriage to Govan, the breakup of his family sent him into a serious depression that affected him on and off of the court. He depended on marijuana to get him through and had a series of fines he was slapped with for outbursts during games but the situation with Fisher was the tip of the iceberg.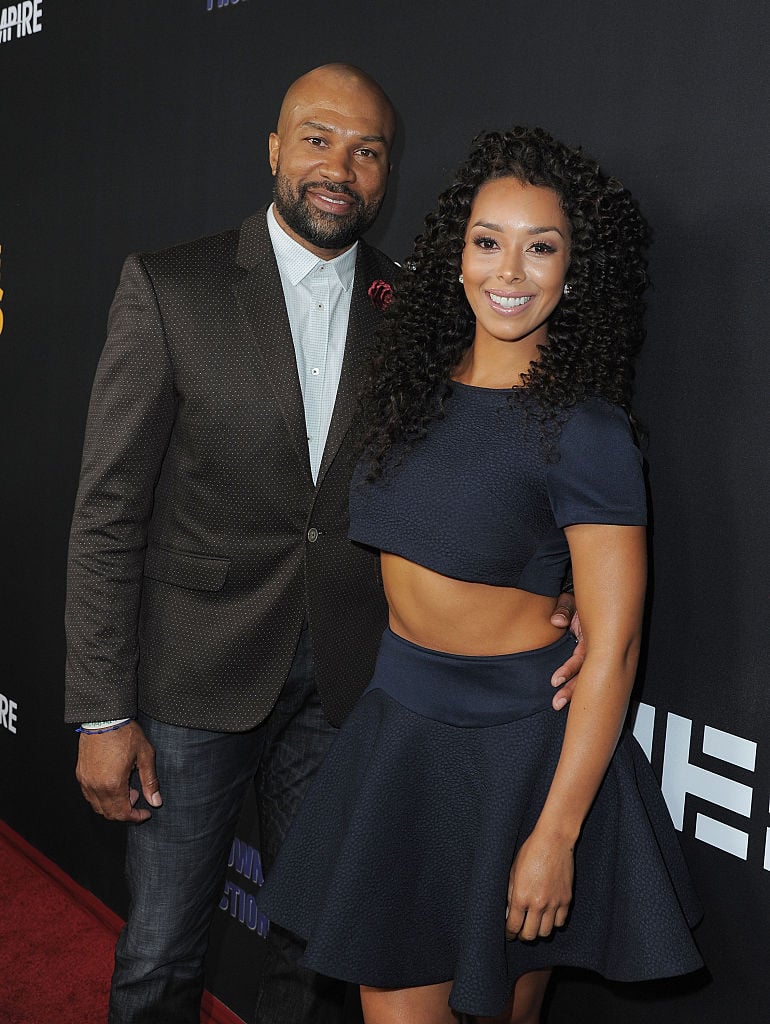 Barnes told Vlad that at one point, he and Fisher were friends but things changed when he discovered Fisher, who was married at the time, was dating Govan without his knowledge. Barnes was upset but not as pissed as he would be when he found out that Govan and Fisher were living together in Barne's home. Barnes claims he found out about Govan and Fisher's secret relationship during a custody visit with Govan and the boys. While Govan stepped out of the car to grab lunch, her entire conversation with Fisher was overheard by Barnes as she mistakenly left her Bluetooth connected to the car's speaker. 
"I'm like "Yo I fu**ing know this voice and I'm hearing 'baby I miss you, I can't wait to see you again and we had so much fun in New York' and I'm like what the f**k, that's Derek's voice. So that's the first time I'm like what the f**k is going on?"

Vlad TV
Barnes says Govan knew that she was caught and he asked Govan who she was speaking to. The Bluetooth was still connected when Govan got in the car and Barnes said that he sent Fisher a warning that there would be an issue when he finally saw him face to face before Fisher hung up the phone.
Matt Barnes details his fight with Derek Fisher
After accidentally overhearing the Bluetooth phone conversation between Fisher and Govan, Barnes tried his best to ignore the situation, at least temporarily for the sake of his twins. That changed when one of his twins called him to tell him that Fisher was at the home he once shared with Govan…a home that Barnes was still paying for. Barnes was infuriated that Fisher was spending time with his sons despite never having a conversation with Govan or Fisher about it.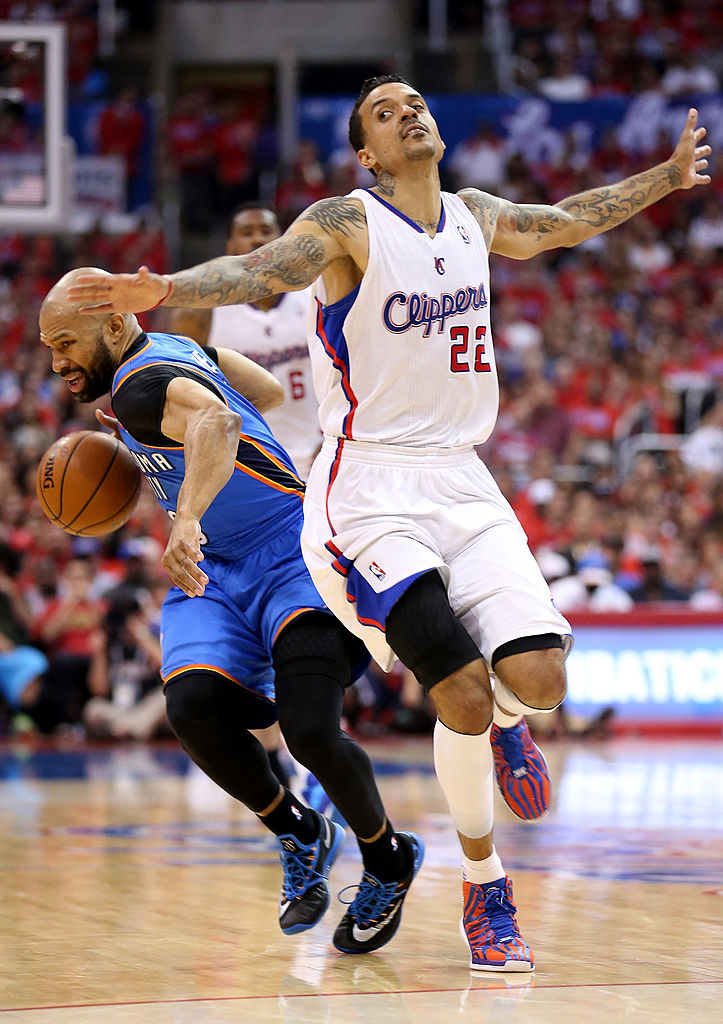 As messy as the situation is, Barnes hilariously recalled how he drove halfway to Govan's house, with a flat tire while bumping 2Pac Shakur to confront Fisher. In the middle of Govan's backyard dinner party, Barnes jumped the gate to Govan's home and punched Fisher after seeing him and Govan hugged up, allegedly knocking Fisher into a sliding glass door. Party attendees, including Fisher's security guard from the Lakers, interjected and broke up the fight despite Barnes' attempts to get at Fisher.
Barnes left the home after being notified by the security guard that cops were called and headed to the residence. Barnes was subsequently suspended for two games from The Grizzlies. Fisher, who was on the coaching staff of the New York Knicks at the time, had skipped training camp and allegedly lied to his team that he was visiting family when he was really with Govan. Fisher was relieved of his coaching duties not long after the incident. 
Luckily, Barnes and Fisher were able to squash their beef in the best interest of the children. Whew!