Are Matt Damon and Brad Pitt Friends in Real Life?
In a recent BBC Radio 1 interview, Brad Pitt admitted he gets mistaken for another blockbuster actor Matt Damon as the two have appeared in a few movies together, namely the entire Ocean's trilogy.
While they probably have a good working relationship, are Pitt and Damon friends in real life?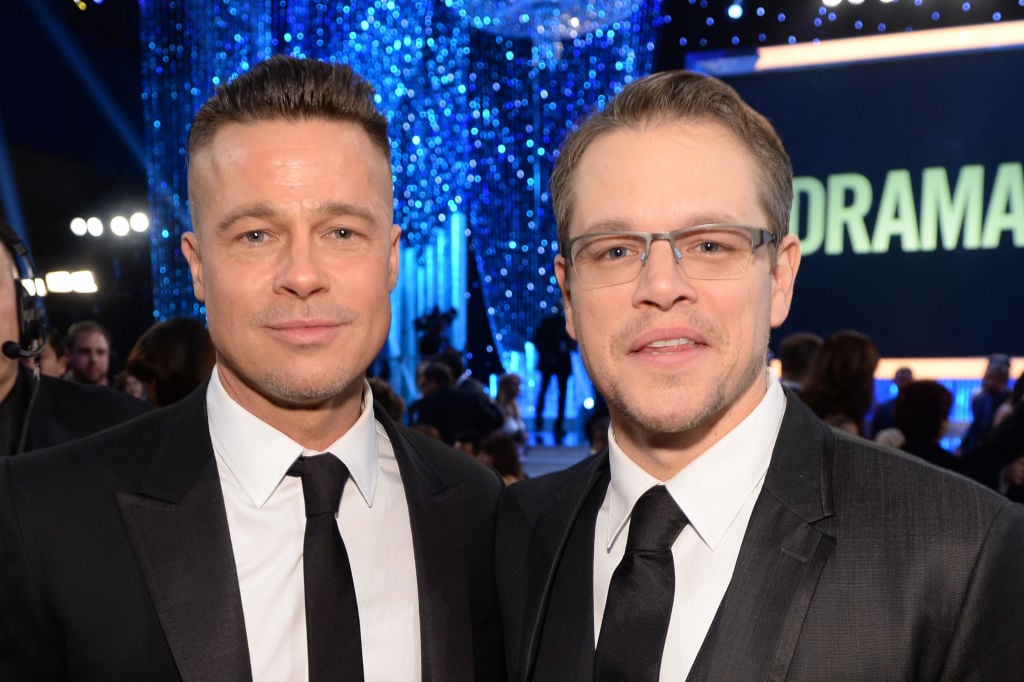 Matt Damon's award-winning acting career
Originally from Cambridge, Massachusetts, Matthew Paige Damon first got his start in acting by appearing in high school theater productions. Damon made his film debut in romantic comedy Mystic Pizza at the age of 18.
He then went to Harvard University and continued appearing in student plays until he dropped out, only 12 credits short, to star in Geronimo: An American Legend (1993).
While in college, he wrote Good Will Hunting with childhood friend Ben Affleck, and they sold it to Miramax in 1994. Three years later, it debuted to critical acclaim and won an Academy and Golden Globe Award for Best Screenplay.
Additionally, Damon earned a solo Academy Award nomination for Best Actor. The success of the movie shot Damon to international fame, and he landed several roles in films including Saving Private Ryan (1998), The Talented Mr. Ripley (1999), lead character Jason Bourne in the highly successful Bourne franchise (2002 – 2016), and the Ocean's trilogy (2001 – 2007).
His work in Invictus (2009) and The Martian (2015) earned him Academy Award nominations, and he has received Emmy nominations for his production on reality series Project Greenlight (2015) and drama Manchester by the Sea (2016).
Brad Pitt's award-winning acting and producing career
From Shawnee, Oklahoma, William Bradley Pitt was an active participant in the swimming, golf, tennis, debate teams, and school musicals in high school. He then chose to go to the University of Missouri and major in journalism with a focus on advertising.
He then decided to follow his love of movies to Los Angeles, where he started taking acting classes, only two weeks shy of filing for graduation. Pitt appeared in a few films and shows before finally breaking through in Thelma & Louise (1991) as a "sex symbol."
His first true career-making role came from the biographical film A River Runs Through It (1992) before winning a Golden Globe Award for Best Supporting Actor for his work in 12 Monkeys (1995).
He continued to star in big-budget productions, including cult classic Fight Club (1999), and joined the Ocean's trilogy alongside Damon. Pitt also starred in the hugely successful films Troy (2004), Mr. & Mrs. Smith (2005), and World War Z (2013), and his performance in The Curious Case of Benjamin Button (2008) and Moneyball (2011) both earned him Academy Award nominations.
Pitt also owns production company Plan B Entertainment which has three Academy Awards under its belt for The Departed (2006), 12 Years a Slave (2013), and Moonlight (2016).
Are Matt Damon and Brad Pitt friends in real life?
From 2001 until 2007, then 38-year-old Pitt and then 31-year-old Damon starred in the entire Ocean's series together, where they used to pull pranks on each other and co-star George Clooney.
Pitt also produced The Departed in 2006, which included Matt Damon in one of the lead roles. In 2011, the real-life fathers decided to jump into the kid's scene and get involved with Happy Feet Two, where they lent their voices to Will and Bill the Krill.
Other than their movie appearances together, there haven't been any signs of the two just hanging out anywhere. Therefore, there's a possibility the two may only be friendly to each other on set, but not close friends in real life.