Matt LeBlanc Kissed All 5 of His 'Friends' Co-Stars While Playing Joey Tribbiani
Many television sitcoms have at least one stereotypically oversexed character as part of their ensemble cast. On NBC's Friends, that man was Joey "How you doin?" Tribbiani.
Joey (Matt LeBlanc) made everyone simultaneously laugh and roll their eyes thanks to his over-the-top antics. He hit on women all the time, often aggressively, and cycled through dates throughout 10 seasons of the series. The Friends star had a soft spot for the females in his life — he did grow up with seven sisters, after all — but he wasn't above making sexist comments.
And that's why it's not too shocking to learn that Joey kissed all 5 of his co-stars at various points during Friends. Rachel, Phoebe, Monica, Chandler, and Ross all experienced a small piece of Joey's endless libido.
Joey and Rachel have a controversial relationship on 'Friends'
Friends starts out with the relationship between Ross and Rachel being the central focus. However, they eventually break up, and that's when Joey and Rachel take a chance on romance. Only the fans weren't totally in love with the idea at all.
But Rachel and Joey first kiss long before all that. In "The One With All the Resolutions" in season 5, the pair kiss as a way of providing cover for Chandler and Monica's secret relationship. Since they want to kiss at midnight on New Year's Eve, Rachel and Joey pucker up too so it's not weird.
They also kiss more when they're dating.
Monica and Joey kiss as part of an alternate reality
There are quite a few "what might have been" episodes on Friends and in one of them, Monica hooks up with Joey instead of Chandler in that London hotel like she'd been intending to. A flash-forward scene of the scenario shows Monica and Joey dating, with her cooking lots of food and him gaining weight.
The would-be couple shares an on-screen kiss in "The One With the Truth About London." And she also kisses him to thank him for working at Alessandro's to help her out.
'Friends' co-stars Phoebe and Joey kiss all the time
Out of all the Friends castmates, most fans assumed Phoebe and Joey might end up together in the end. And maybe it's all the kissing that makes them think that way.
The Friends first lock lips in "The One With Two Parts, Part 2" when Joey mistakes Phoebe for her identical twin sister Ursula, Friends Wiki reported. And then they kiss again for experimental purposes in "The One With Barry and Mindy's Wedding."
Phoebe and Joey kiss three more times throughout the series, making her the most-kissed co-star of them all.
Joey even kisses his best friend Chandler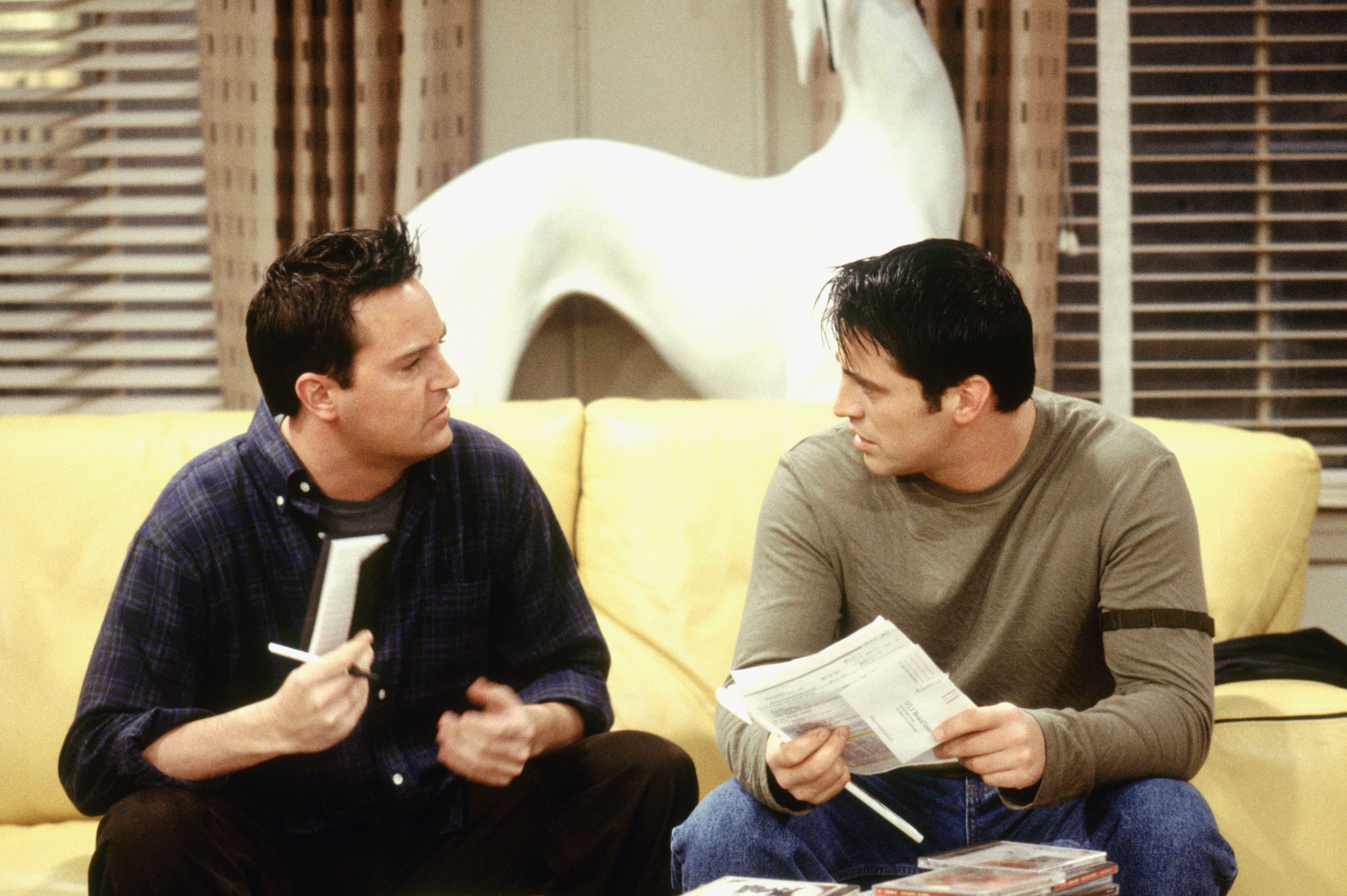 Though he's a stereotypical lothario, Joey is secure in his sense of self and feels no compunctions about kissing his best friend and roommate, Chandler.
The duo kiss on New Year's in "The One With the Monkey."
Ross and Joey kiss twice on 'Friends'
Finally, Joey kisses his friend Ross not once but twice.
The first time is during "The One With Barry and Mindy's Wedding" while Ross is helping Joey prepare for an audition. And then he kisses him again, in a way, when kissing Rachel in "The One After Joey and Rachel Kiss." While kissing Rachel, Joey hallucinates that it's Ross instead and freaks out a little bit.
Looking back, it's not even slightly surprising that Joey is the one who kisses all his Friends castmates.