Matthew McConaughey Bought a Motorcycle 'to Get Comfortable' Before 1 Beloved Movie
It's been almost 20 years since the movie How to Lose a Guy in 10 Days premiered. The film stars Matthew McConaughey and Kate Hudson. They give a dazzling performance as Ben and Andie, two people who embark on a "relationship," all the while not knowing that the other is involved in a bet. McConaughey's character is a charming, suave kind of guy who rides a motorcycle. The actor makes it look easy. But many fans may be surprised to learn that McConaughey bought a motorcycle specifically for this role.
Matthew McConaughey played motorcycle-riding Benjamin Barry in 'How to Lose a Guy in 10 Days'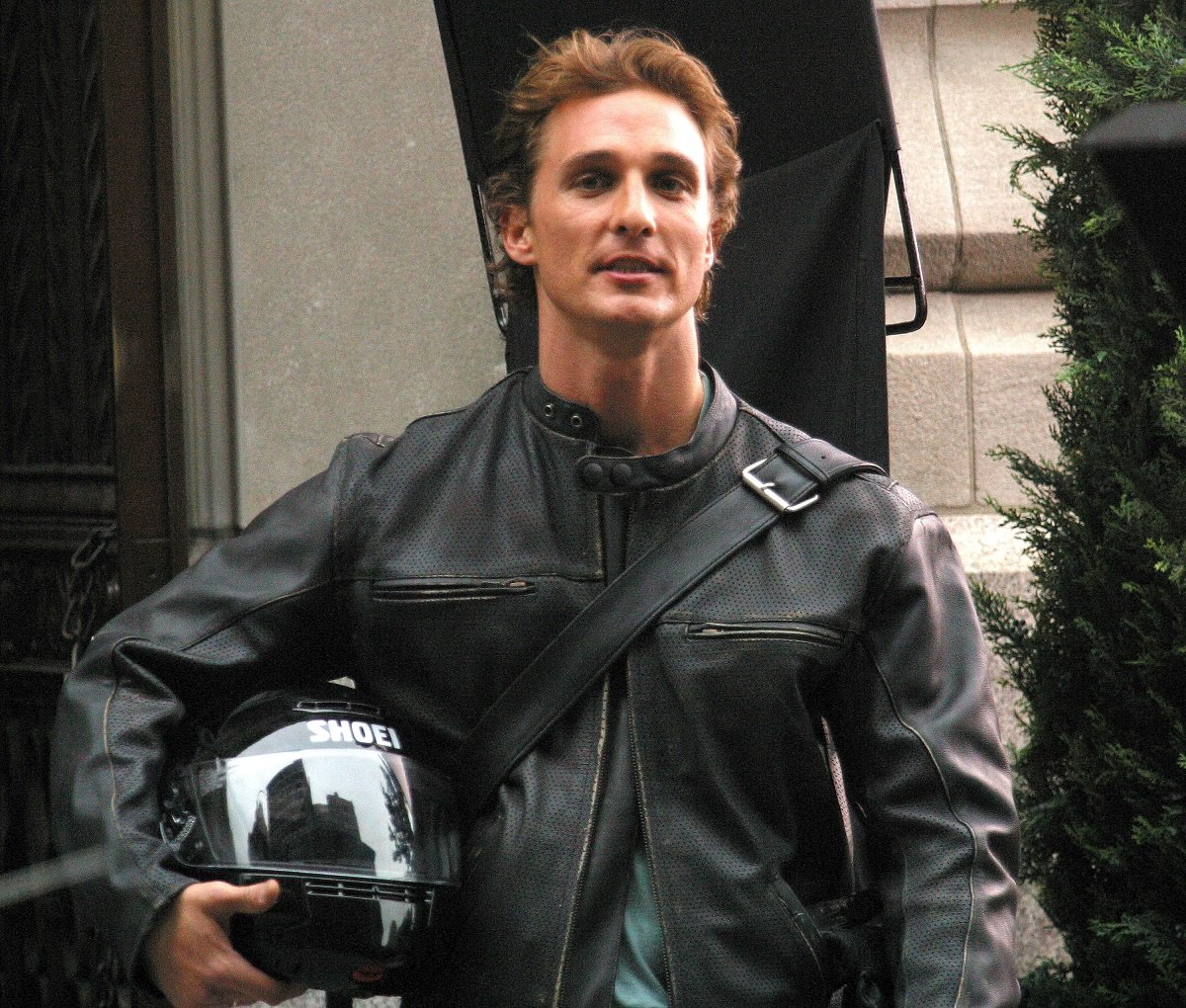 McConaughey played Benjamin Barry, an advertising executive who is trying to land a big diamond campaign at work. After telling his co-workers that he can make any woman fall in love with him in only 10 days, they pick out Andie Anderson at a bar and tell him that if he completes the bet, the campaign is his. Anderson herself is on a mission to prove how certain mistakes can cause a woman to drive away a man as research for her work as an advice columnist for a popular women's magazine. And neither knows what the other person is up to.
Ben is a smooth-talking, sports-loving guy who does his best to charm Andie from the start. His motorcycle is a big part of his character, and he takes Hudson's character for a ride immediately after they meet. Fans will also remember the scene on the boardwalk in Staten Island, where he attempts to teach her to ride, and it is obvious at that point that the two of them are falling in love. Perhaps the most memorable scene, however, is when Barry chases Anderson's cab at the very end when he tells her he loves her.
Why he bought the motorcycle
In the film, Matthew McConaughey makes motorcycle riding look natural as if he'd been doing it forever. It turns out the actor wasn't that experienced. He prepared for the role by taking his research to the next level. McConaughey bought a motorcycle and spent time learning to ride it. So, why did he go to such great lengths to get into character?
"I wanted to get comfortable on a motorcycle because I've seen too many people ride motorcycles or someone ride a horse in films where I'm like, 'You don't really ride a horse. You don't really ride a motorcycle," he told E! News. Looks like his efforts paid off, and he enjoyed it, too. In fact, McConaughey still rides one to this day.
What else has McConaughey done to prepare for roles?
How to Lose a Guy in 10 Days was not the only movie that McConaughey went above and beyond to prepare for. When he starred as Ron Woodroof in Dallas Buyers Club, the actor knew that he had to look the part. His character, after being diagnosed with AIDS early in the film, lost a lot of weight due to his condition. So McConaughey switched to a diet of egg whites, vegetables, fish, and tapioca pudding to lose 50 lbs.
"I did not torture myself," he told Joe Rogan. "I was militant. The hardest part was making the damn choice." He also stopped exercising and drank "as much wine as I wanted" to prepare. After going from 188 lbs to 135 lbs., McConaughey insisted important to the film. "It was my responsibility," he explained. "If I looked how I look now and played Ron Woodroof from Dallas Buyers Club, you are out of the movie the first frame." Now, that's dedication.
RELATED: Matthew McConaughey Almost Had a Very Different Job in Hollywood